DOES UNICEF HAVE FUNDRAISERS GOING DOOR-TO-DOOR?
Yes. UNICEF Canada has been conducting door-to-door fundraising campaigns across the country since 2004. We have partnered with Globalfaces Direct (GFD), Public Outreach and The TNI Network Inc. (TNI) to run these campaigns. These campaigns are part of UNICEF's fundraising strategy to create awareness, and to empower Canadians to advance the rights of every child, everywhere.
DOES UNICEF have fundraisers on the street?
Yes. UNICEF Canada has been conducting street fundraising campaigns with our partner Public Outreach. Similar to our other face-to-face campaigns, UNICEF aims to connect Canadians and provide them with the opportunity  to advance the rights of every child, everywhere.
We are currently running street fundraising campaigns in Montreal, Quebec; Kitchener, Ontario; and Waterloo, Ontario.
Why is UNICEF Canada doing FAce-to-FAce fundraising right now?
COVID-19 is a global pandemic affecting Canadians, but also vulnerable children and families around the world. UNICEF is on the frontlines of this pandemic and relies entirely on support from donors to continue this work. Donor support provides necessities like food, safe water and shelter, and helps us to reach vulnerable children with healthcare and vaccines, child protection and education..
What precautions ARE UNICEF taking to keep donors and fundraisers safe?
While speaking with donors, fundraisers will follow the best practices described by the World Health Organization and leading health authorities, including wearing personal protective equipment and keeping two metres of distance.
This includes but is not limited to:
Masks
Hand sanitizer
Doorbell ringer for door-to-door fundraisers
Custom COVID-19 related gear including buttons, lanyards and hats.
Each fundraiser is equipped with sanitizer and wipes. While no physical contact is permitted, they have been trained and instructed to use these sanitization materials before and after every interaction to clean their hands, tablets and phones as additional precaution measures.
HOW DO I KNOW IF THE FUNDRAISER REALLY IS FROM UNICEF?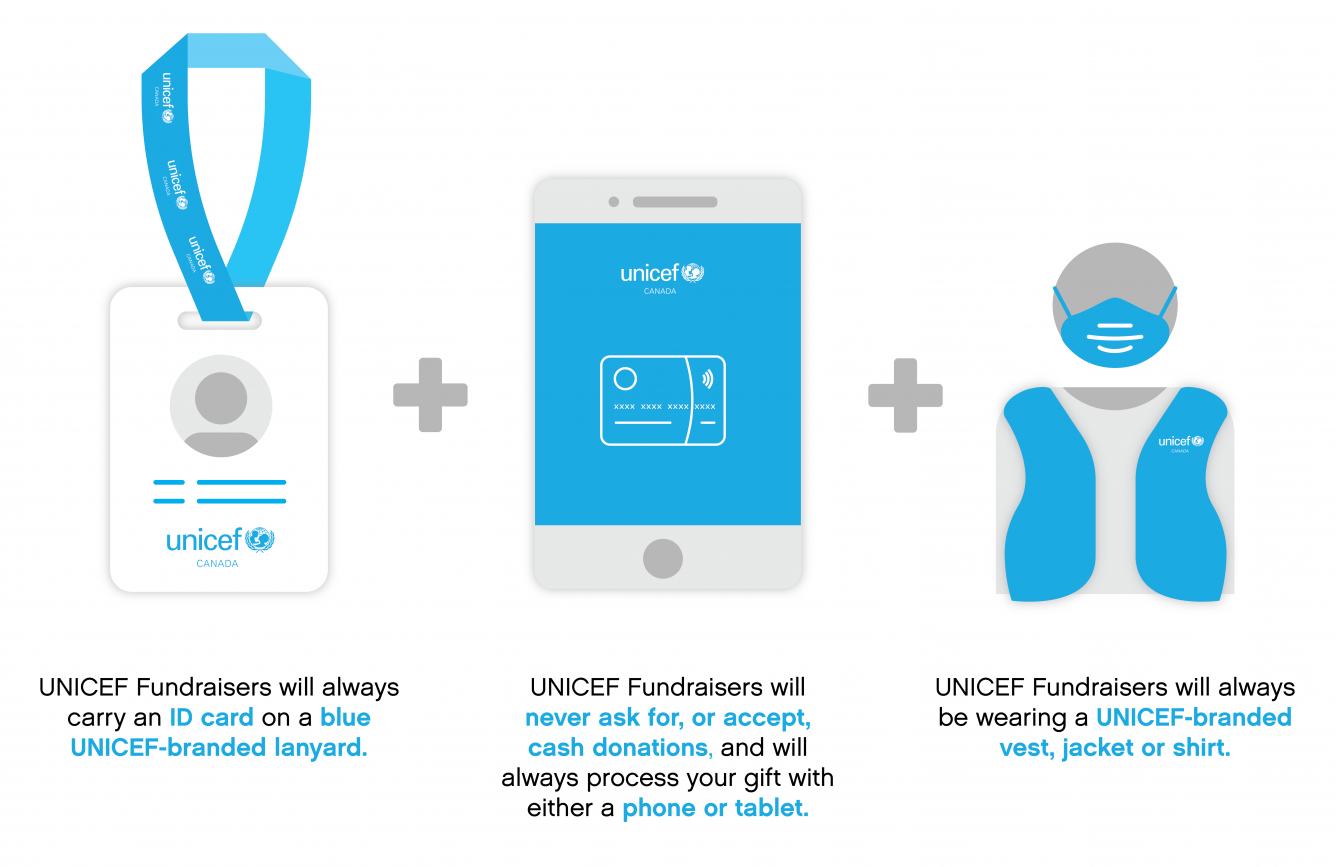 You will recognize our fundraisers by their UNICEF-branded cyan blue vests, t-shirts or jackets. They will also have lanyards and materials that are clearly branded with the UNICEF Canada logo. Fundraisers will be carrying a touchscreen tablet computer. These fundraisers have been hired by us to recruit new supporters and to help Canadians join our most powerful giving program – our Monthly Giving program.
All fundraisers use tablet technology to record and enter donor information. Any data that is transmitted is done so in accordance with provincial and federal privacy and security protocols. As part of our safety protocols, you may receive a call from GFD from 833-715-0941, TNI from 855-967-0970 or Public Outreach from 647-495-9767. This call is part of our contactless sign-up process.
UNICEF Canada's fundraisers will ask for your credit card or banking information to set your donation. They may ask for a void cheque to assist in locating the banking information required for a monthly donation. Fundraisers will never ask for or accept cash donations.
WHERE WE ARE
In which cities are UNICEF canvassers currently fundraising? See the list below:
Alberta
Beaverlodge
Calgary
Clairmont
Edmonton
Fort McMurray
Grand Prairie
Rocky Mountain House
St. Albert
British Columbia
Abbotsford
Aldergrove
Belcarra
Burnaby
Chilliwack
Comox
Coquitlam
Courtenay
Cowichan Station
Delta
Esquimalt
Ladysmith
Langford
Langley
Langley City
Langley Township
Maple Ridge
Merville
Metchosin
Mission
Nanaimo
Nanoose Bay
North Saanich
North Vancouver
Oak Bay
Pitt Meadows
Port Alberni
Port Coquitlam
Powell River
Qualicum Beach
Saanichton
Shawnigan Lake
Sooke
Surrey
Tsawwassen
Victoria
West Vancouver
White Rock
Manitoba
Brandon
Morden
Portage La Prairie
Steinbach
Winnipeg
Nova Scotia
Ontario
Amherstview
Brampton
Brighton
Burlington
Elliot Lake
Espanola
Etobicoke
Grimsby
Hamilton
Kingston
Kirkland Lake
Lambton County
Napanee
Niagara Falls
North Bay
North York
Orangeville
Sarnia
Toronto
Waterloo
Quebec
LaSalle
Petite-Patrie
Montreal
Saint-Hubert
Saskatchewan
Aberdeen
Davidson
Estevan
Martensville
Melfort
Melville
Prince Albert
Regina
Saskatoon
Wadena
Warman
Yorkton
DOES UNICEF USE Telefundraising?
Yes. UNICEF Canada has been running telefundraising campaigns across Canada since 2004. We have partnered with Fundraising Direct, Globalfaces Direct and Stratcom. Our telefundraising agents will be calling from their call centres in Montreal, Toronto and Vancouver. Occasionally, we may call you from other centres or directly from our National Office in Toronto.
They may contact you to provide updates on our programs, to engage with you about urgent fundraising needs, and to discuss how you can contribute through our Monthly Giving program. When speaking with donors over the phone, the fundraisers will be able to provide information that only the donor and UNICEF would know, such as the amount and date of your last donation.
What phone number is being used? 
Calls may show from the following numbers:
647-478-0474 (Fundraising Direct)
514-360-2064 (Fundraising Direct)
647-483-0172 (Fundraising Direct)
514-360-2353 (Fundraising Direct)
647-495-9767 (Public Outreach)
855-967-0970 (TNI)
866-767-6464 (TNI)
833-314-0106 (Globalfaces Direct)
833-341-0106 (Globalfaces Direct)
514-312-0441 (Globalfaces Direct)
587-885-0671 (Globalfaces Direct)
613-515-0182 (Globalfaces Direct)
647-479-0356 (Globalfaces Direct)
778-832-0164 (Globalfaces Direct)
819-484-0216 (Globalfaces Direct)
833-715-0941 (Globalfaces Direct)
844-844-5685 (HCB)
833-844-8988 (HCB)
833-989-9989 (HCB)
855-708-7008 (HCB)
833-708-7008 (HCB)
844-708-7008 (HCB)
833-685-5565 (HCB)
833-283-2333 (HCB)
833-493-2333 (HCB)
844-407-7878 (HCB)
DOES UNICEF USE Text messages/sms?
Yes. UNICEF Canada has various text message/SMS campaigns. Our Text to Donate campaigns are hosted by Mobile Giving Foundation Canada (MGFC). Our partner, Fundraising Direct, will occasionally reach out to supporters and donors through text message/SMS to support our ongoing campaigns.
Tax receipts for donations given through Text to Donate will be issued by Mobile Giving Foundation Canada (MGFC). Please visit the MGFC website or contact them at 1-855-643-6431 for more information. 
WHY USE EXTERNAL FUNDRAISERS?
Both our telefundraising and face-to-face fundraisers provide UNICEF Canada with a safe and secure method for engaging Canadians. It is a cost-effective way of raising funds to support our programs in 190 countries, and it allows us to connect with donors on an individual level. Speaking to donors one-on-one allows donors to ask questions and learn more about our programs in a way that we could not offer without our partners. All UNICEF Canada external fundraising agencies are expected to engage in honest, respectful and effective fundraising to ensure results for children, and an enjoyable work experience for their employees. They are expected to follow strict quality guidelines set by UNICEF Canada, are completely non-commission based, and they offer a competitive entry-level wage.
DO EXTERNAL FUNDRAISERS REALLY KNOW ABOUT UNICEF'S WORK?
Our face-to-face campaigns are carried out by professional agencies that specialize in this type of fundraising. To ensure our fundraisers are knowledgeable ambassadors for UNICEF Canada, we hold regular meetings, briefings and training workshops to teach them about our history, ideals and programs. We take pride in the knowledge, enthusiasm and quality of our fundraisers. As well as raising support for the world's children, our fundraisers share stories of the impact that donors are making with thousands of people in all parts of the country.
WHAT IS THE COST OF USING EXTERNAL FUNDRAISERS?
UNICEF partners provide the most cost-effective ways for us to reach Canadians, right where they are. Only with the support of Canadians across the country we can reach the most disadvantaged children with life-saving aid – whenever and wherever the need is greatest.
IS MY INFORMATION SECURE?
All information collected to become a UNICEF Canada Monthly Donor is used directly for tax receipting purposes and to update our donors on how their donations are making an impact. All information will remain confidential and will not be shared with any other organization. Your contact preference can be changed at any time simply by calling us at 1-800-567-4483.
I STILL HAVE QUESTIONS ABOUT UNICEF'S FUNDRAISERS
If you can't find the answer to your question on our website, or if you have any concerns about a fundraiser or someone representing UNICEF Canada, please contact us at 1-800-567-4483.