Over 90,000 children have fled the violent conflict in Syria to date. As a child survivor of war in the region, I want to give you some insight into what life is like for these children right now.
For many, the memories of the violence and destruction they survived will remain vivid for years, if not forever – much like a scar. Infants, toddlers and teens have been forced from their homes and their loved ones. Their new home is a tent or an empty classroom in a public school. Some are staying in remote villages, sharing shelters with the poorest of the poor in Lebanon.
Many witnessed killing. Many heard the piercing sound of rockets passing overhead and lived with the knowledge that those rockets likely killed people, possibly someone they knew, when they landed. Many watched their streets, playgrounds and schoolyards transformed into battlefields.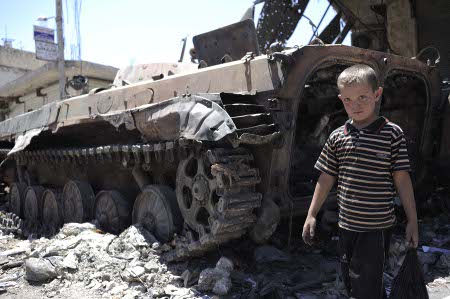 © UNICEF/NYHQ2012-0697/Romenzi
A boy walks by a destroyed armoured personnel carrier, surrounded by rubble, in a town affected by the conflict.
Physical relocation is one small part of what these children need to recover. They also need a reason to hope and a place to feel safe – a place to play, chat and share their feelings. They are fragile and vulnerable, but at the same time they are surprisingly resilient – they could arrive at a refugee camp at night and start to play tag in the morning.
Wherever they are, UNICEF is there, providing them with the things they need to survive: water, vaccines, shelter, nutrition, education, and psychosocial support through camps and child-friendly spaces.
But what these children need most is our support.
Donating to UNICEF is a great opportunity to teach Canadian children about empathy and child rights. The displaced child has exactly the same rights as our own children, yet his or her rights are being violated in multiple ways. Linking the realities of kids here to kids there is, in itself, an act of hope. Peace and security are responsibilities these children will one day share.
To every parent who has taken a child on an overnight trip this summer, think about how much you packed before going – water, snacks, diapers, wipes, the little blanket, the first aid kit, fever medication, extra clothes, and the list goes on – even though you knew you would not be far from a store and you would be back home after the trip. Then, think about those mothers who had to leave their homes and possessions behind and take their children to another country, with no idea when or if they would be back. They are people like you and me.
For all these reasons, I am so profoundly relieved that UNICEF is there, on the ground right now, helping those mothers and children find food, comfort, medicine and a place to rest their heads.
Bayan Yammout, OCT
UNICEF Canada Ambassador
PS. If you are interested in helping, too, please donate at unicef.ca/syria.
In the News
[The Toronto Star] Syria's refugee children cope with trauma of war
[CBC] UNICEF struggles to help Syrian child refugees in Lebanon
[Toronto Star] Syria: Aid agency makes urgent plea for help for families fleeing violence
[CBC] Canada open to expanding Syrian humanitarian aid
More like this
On the Ground in the Za'atari Refugee Camp
Syria's Refugee Children Cope with Trauma of War
Syrian Volunteers Rise to the Occasion
Share
---
Categories:
Geographic Regions: