Clean air for children in Bayankhongor
---
Ms. Handarmaa's Ger – a traditional Mongolian yurt (a type of portable round tent) – stands out from the other gers in the neighborhood in Bayankhongor province. Unlike her neighbors, Ms. Handarmaa's ger has a ventilation pipe instead of a chimney, an air filter on the door, an energy-efficient electric heater instead of a traditional coal stove and extra layers of insulation around and under the ger.
All these additions came as a package called CHIPS (Cooking, Heating, Insulation, Products and Services) which are designed to improve energy efficiency and indoor air quality as well as reduce outdoor air pollution. 
While Ulaanbaatar, the capital of Mongolia, is mentioned frequently in international news as the city with the worst air pollution, the air quality in provincial capitals like Bayankhongor is often just as bad as Ulaanbaatar.
Air quality levels in Bayankhongor can reach 600 μg/m3 during winter which is 24 times higher than acceptable levels.
A thick smog of toxic particles, which results from burning coal in heat-only boilers and stoves in over 7,000 households covers up the blue sky and surrounding valley. Pollution at these levels is a serious health risk, especially for children and pregnant women, affecting pregnancy outcomes, brain development and respiratory functions.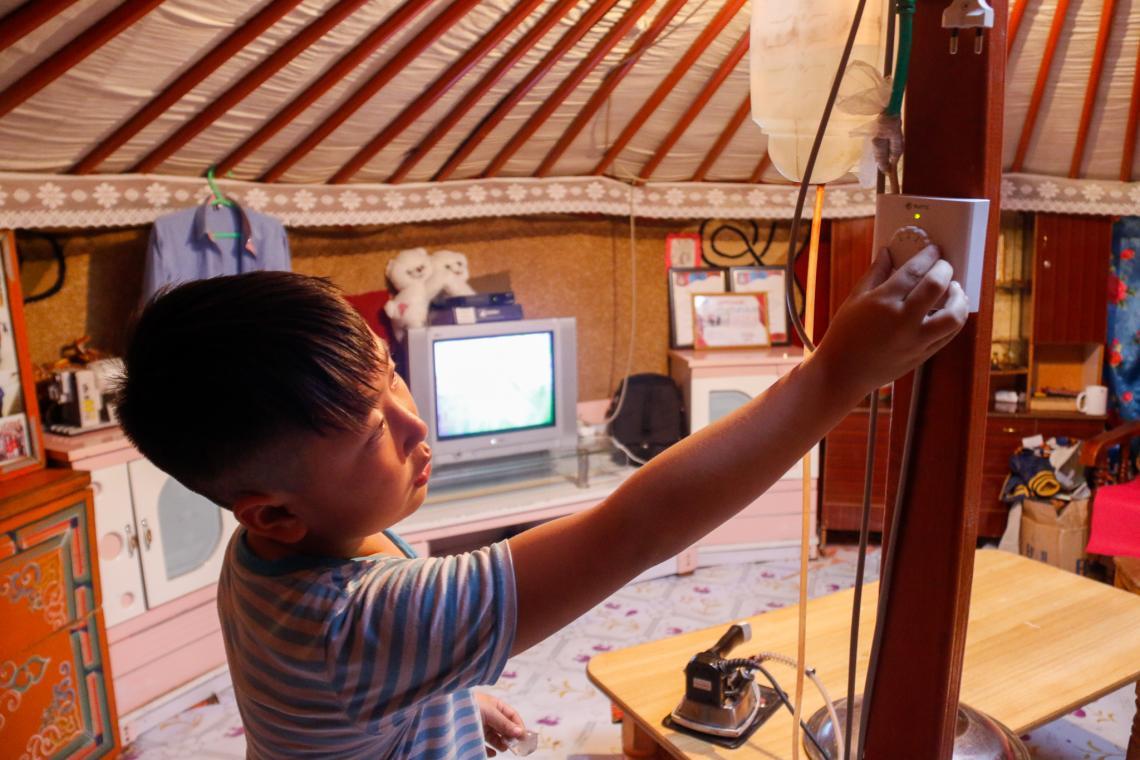 How did UNICEF get involved?
In 2018, UNICEF and the local government set an ambitious goal to transform Bayankhongor into the first Smog Free City in Mongolia by 2022. As part of this programme, leading international and local scientists and experts created CHIPS to showcase an affordable yet effective solution to remove chimneys and eliminate the use of coal in people's homes. These efforts were implemented with the financial and technical support of the Swiss Agency for Development and Cooperation, Moncler, Government of Netherlands and Canada's Manitoba Council for International Cooperation.
Produced by local entrepreneurs that received specialized training, CHIPS were introduced to 200 of the most vulnerable households in Bayakhongor this winter. So far, the response has been very positive.
Following the positive feedback from the initial households, the local government has committed its own budget to support another 100 households with CHIPS this winter. In addition, the local government has also used its own budget to upgrade the electricity network in the targeted neighborhoods to make electric heating possible.
"We… installed [the] CHIPS package about a month ago and I loved it from the very first moment" says Ms. Handarmaa, who is a mother to three young children.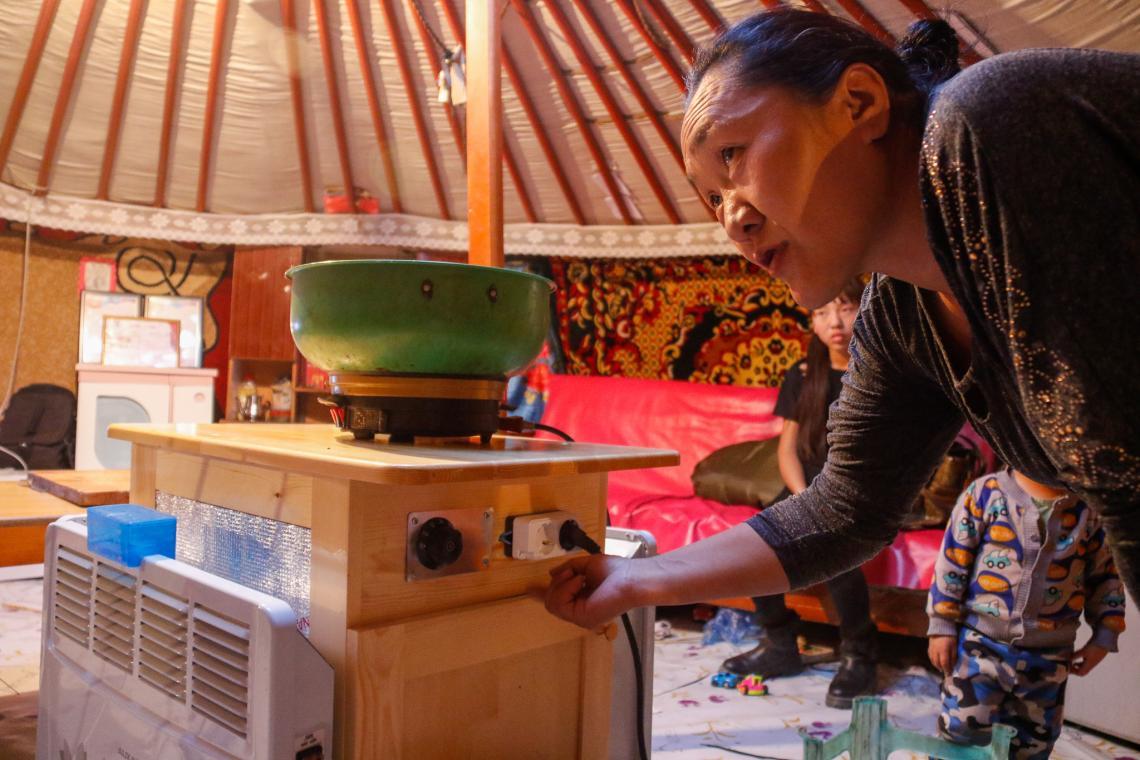 "We are very grateful that our family is one of 200 ger-households selected to have CHIPS. With CHIPS, there is no need to make [a] fire for heating or cooking. We have put away our stove. We no longer need to buy coal which means no more dust in the ger. I'm grateful that my younger son is now growing up in a better environment," she adds.
Ms. Handarmaa's family has been living in the provincial capital for 15 years. Her husband Tumenjargal works in construction and often comes home very late from work. Their two older children, 12 year old Erdentuya and 10 year old Usukhjargal, go to public school. She is a stay-at-home mom and looks after her youngest son, 2 year old Tegshjargal. From time to time, she also works part-time providing tailoring and sewing workshops.
Bringing comfort and saving money
Usukhjargal is very keen on making sure that the heater is always set on the correct temperature. When asked about what he likes the most about CHIPS in his ger, Usukhjargal describes waking up in a warm ger in mornings and not worrying about whether he would come home to a cold ger after school.
"Our ger is always warm and clean now. See? The green light means it's heating up and when the heater reaches to the temperature you set, it automatically turns off. It's very easy to use, even I could set the temperature correctly," says Usukhjargal as he sets up the thermostat installed on one of the pillars of the ger.
"CHIPS has not only saved time for us, but also money. I was happy to see that the first electric bill this winter was 70 thousand tugrugs (about $33 CAD), significantly less than I expected. In my rough estimation, we used to spend at least 100 thousand tugrugs (about $48 CAD) monthly just [for coal]," Ms. Handarmaa adds.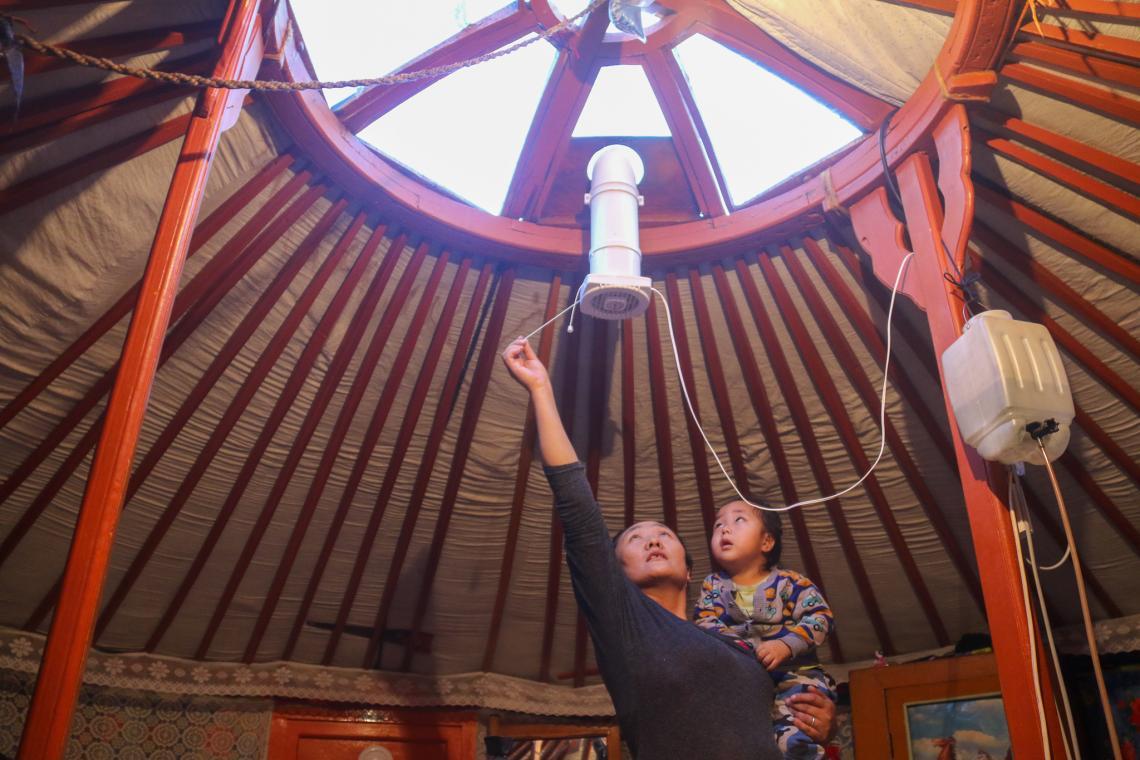 With the money saved, Ms. Handarmaa hopes to invest it in her children. She is thinking of letting her children participate in extracurricular activities more often.  
But does Ms. Handarmaa miss her coal stove? "Not at all. I'm so happy that I switched to electric heating. I never imagined the benefits of getting rid of the stove and the coal. No more smell of burning coal. No more getting out of bed in the middle of the night to refill the stove. Now we have cleaner air indoors and a warmer ger."
UNICEF will continue to work with the local government, communities and private sector to mobilize more resources and partnerships to take CHIPS to scale so that within the next few years every child in Bayankhongor will have clean air.