In recent years, there have been improvements in girls' access to education across the world. However, one of the persisting problems is their low participation and lack of opportunities to study and build their capacities in STEM (science, technology, engineering and mathematics).
Faced with this situation, UNICEF Bolivia has carried out multi-level Interventions throughout 2019 to reduce the gender gap in these areas, ensuring that girls and young people can develop the skills they need for the world of tomorrow.
Designing the future: "Science and technology in the hands of girls"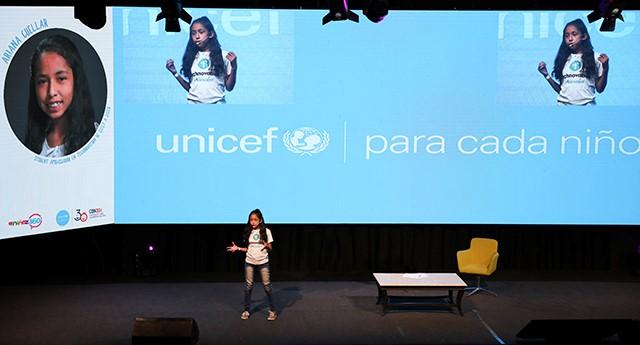 On June 4, 2019, UNICEF Bolivia held the 7th Symposium #niñez360° - which focused on the theme of girls and young women and their relationship with science and technology. More than 500 participants attended, including national, departmental and municipal authorities; private sector representatives; national and international guests; and girls and young women. Throughout the event the authorities and experts engaged with girl entrepreneurs working in the field of technology and made a commitment to generating more opportunities and resources for their training.
During the Symposium, the Technovation 2019 Awards also took place. This competition – for girls aged 10 to 18 – focuses on technological entrepreneurship and the development of apps to solve social issues. This year, 530 girls from Bolivia participated in the program and Technovation is seeking to double its outreach by 2020.
Valentina Cuzmar, a 10-year-old winner of Technovation in Bolivia, even went on to participate in the Technovation World Pitch in Silicon Valley!
Unscripted and Unstoppable
On October 11, under the slogan Girl Force: "Unscripted and Unstoppable," UNICEF commemorated the International Day of the Girl with a communication campaign and a press conference to showcase the testimonials and life stories of girls who are champions in technology, arts and sports. Bolivian girls showed their unscripted and unstoppable strength!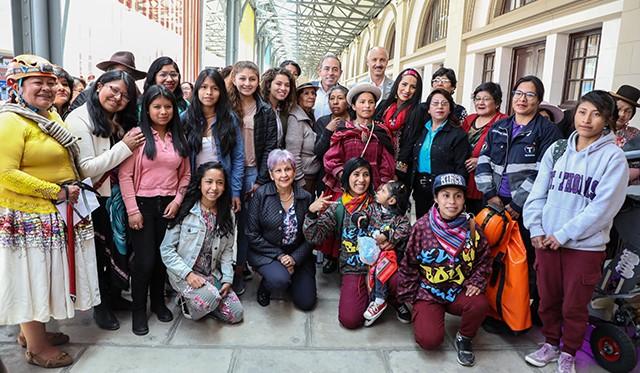 These activities were the continuation of a campaign that began on April 25 – International Girls in ICT Day – where UNICEF Bolivia, the Agency for Electronic Government and Information and Communication Technologies (AGETIC) and the Presidency of the Senate recognized women and girls who are standing out and are breaking gender stereotypes in technology, arts and sports. The campaign also debuted a direct communication channel so that girls interested in these areas can get inspired by speaking one to one with women working and studying in the same fields.
UNICEF Bolivia will be continuing to work to close the gender gap in STEM for women and girls in Bolivia through 2020, and hope that by spotlighting girls and young women who are excelling in STEM, they will inspire other girls to get interested!