Almost 1.4 million children are at imminent risk of death from severe acute malnutrition this year. Famine has been declared in parts of South Sudan and looms in Nigeria, Somalia and Yemen. Every day children are dying and UNICEF is working with partners to provide life-saving support for children and families. These are the stories of some of the children caught in this crisis.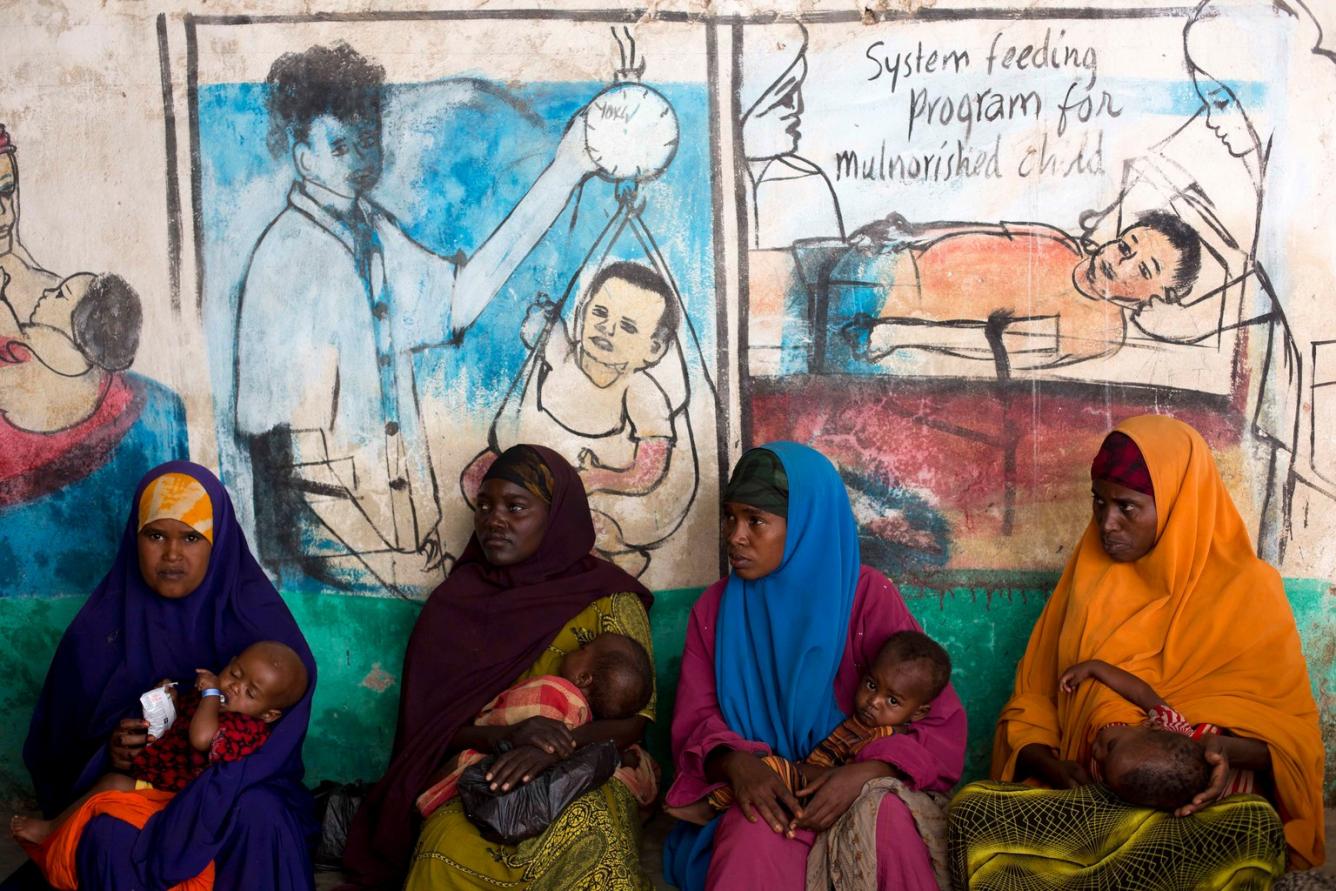 Somalia:
Severe drought is now affecting all regions of Somalia, threatening an already fragile population battered by decades of conflict. The drought is aggravating the existing chronic humanitarian crisis in Somalia with more than 363,000 children under age five acutely malnourished and 71,000 of these children suffering from severe acute malnutrition and in need of urgent life-saving treatment.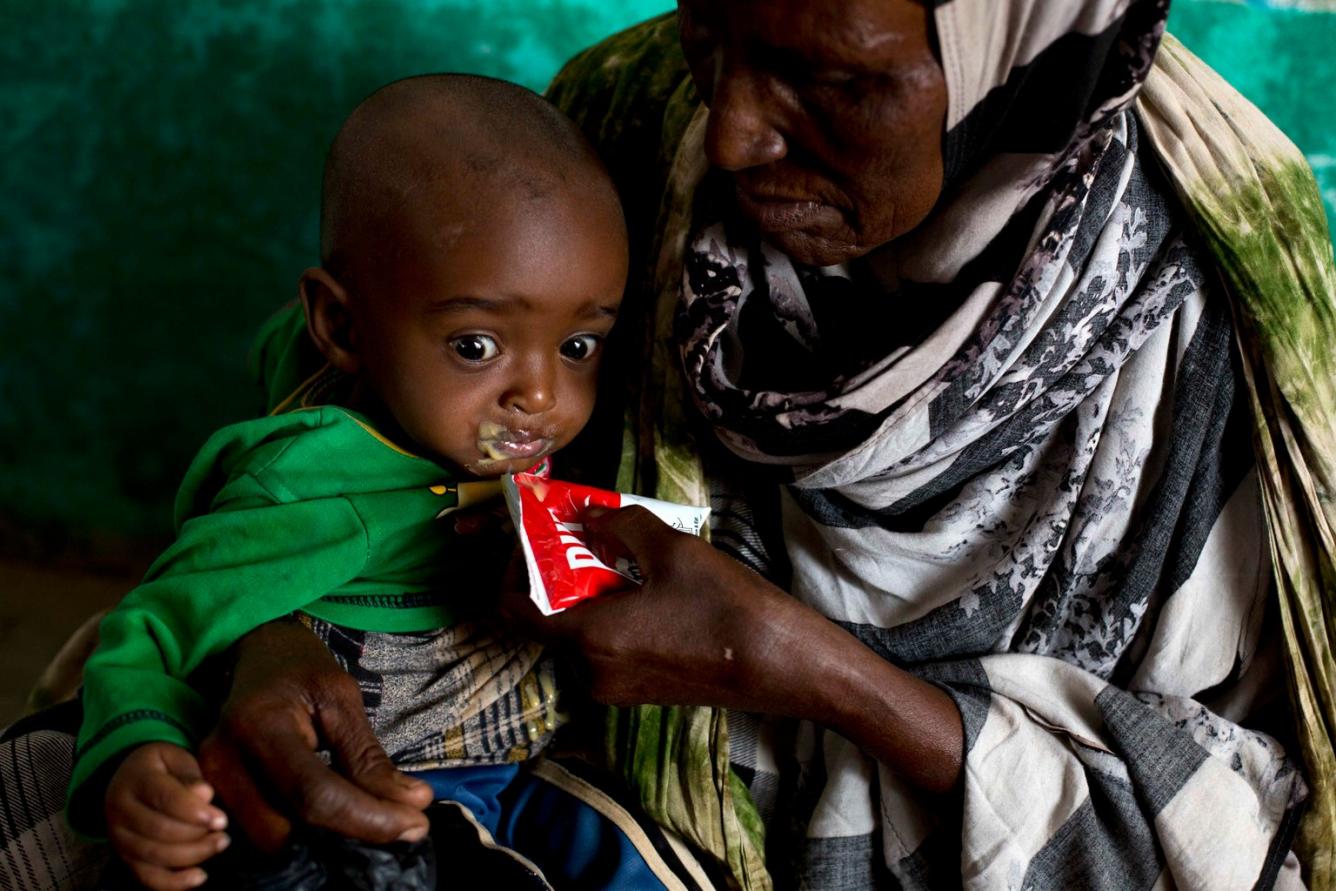 Habibo Ali feeds her grandson, Abdi Karim Plumpy'Nut, a nutritious, therapeutic peanut-based paste to treat his malnutrition at a UNICEF-supported outpatient therapeutic feeding clinic. UNICEF is currently supporting 587 outpatient clinics like this and hopes to increase the number to 700 by April.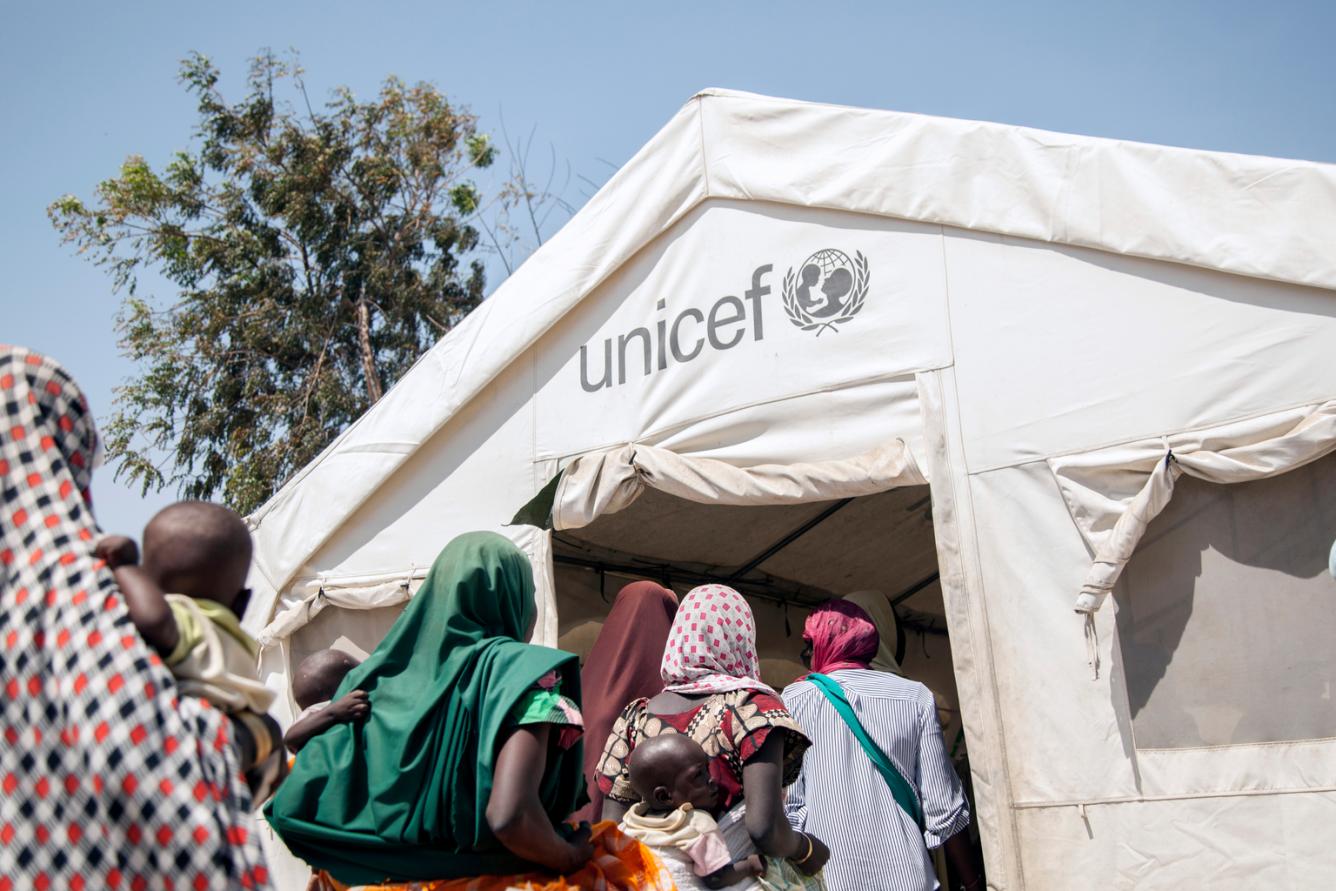 Nigeria:
In northeast Nigeria, the number of children with severe acute malnutrition is expected to reach 450,000 this year in the conflict-affected states of Adamawa, Borno and Yobi. Fews Net, the famine early warning system that monitors food insecurity, said late last year that famine likely occurred in some previously inaccessible areas of Borno states, that it is likely ongoing, and that it will continue in hard-to-reach areas.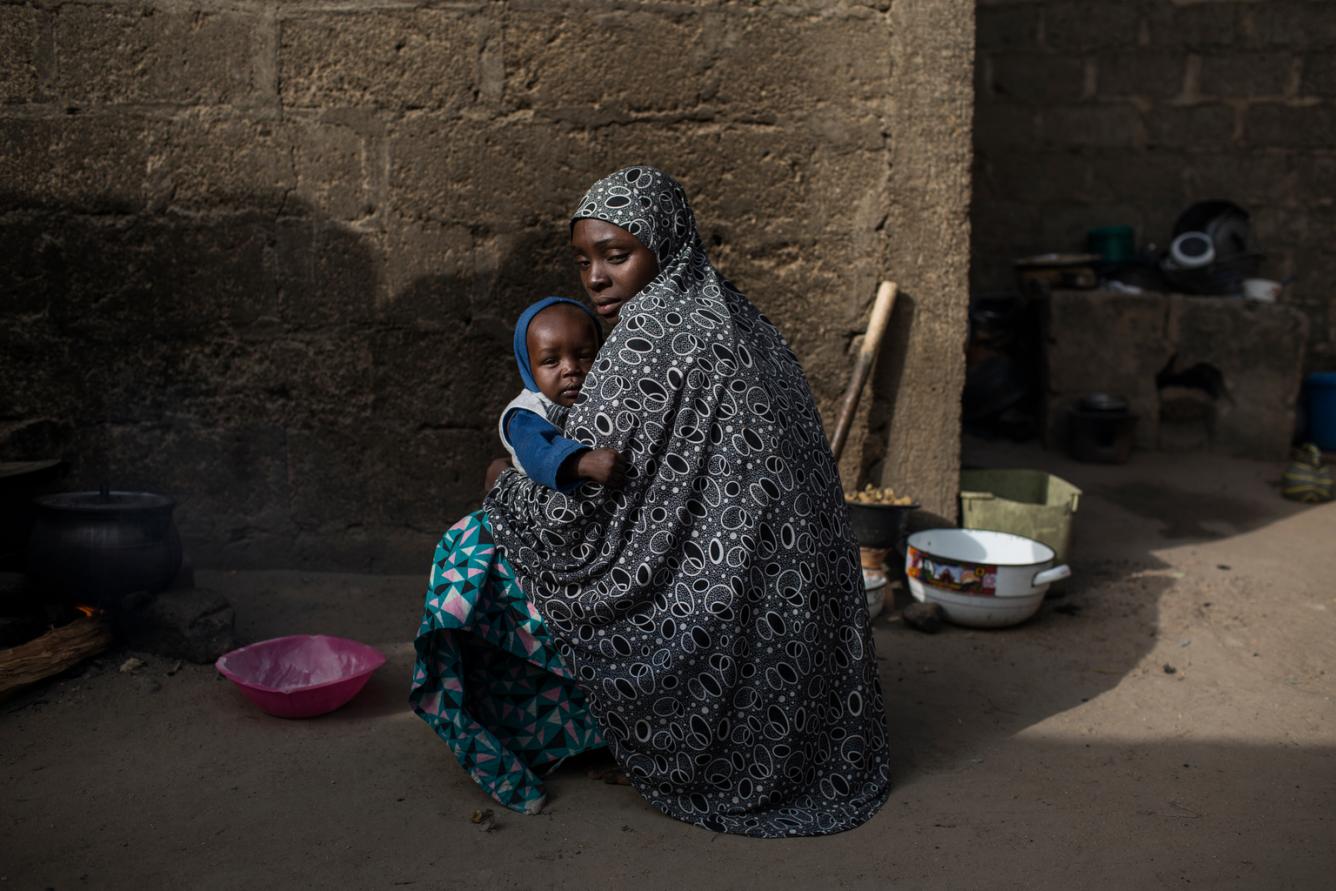 In Maiduguri, Nigeria, Fatima Mohammed, 20, holds her son as she cooks maize. Displaced from Konduga, Fatima lives in the courtyard of her extended family's home. Fatima will not eat until nighttime if she can find some food, but cooks breakfast for her children so that they can eat.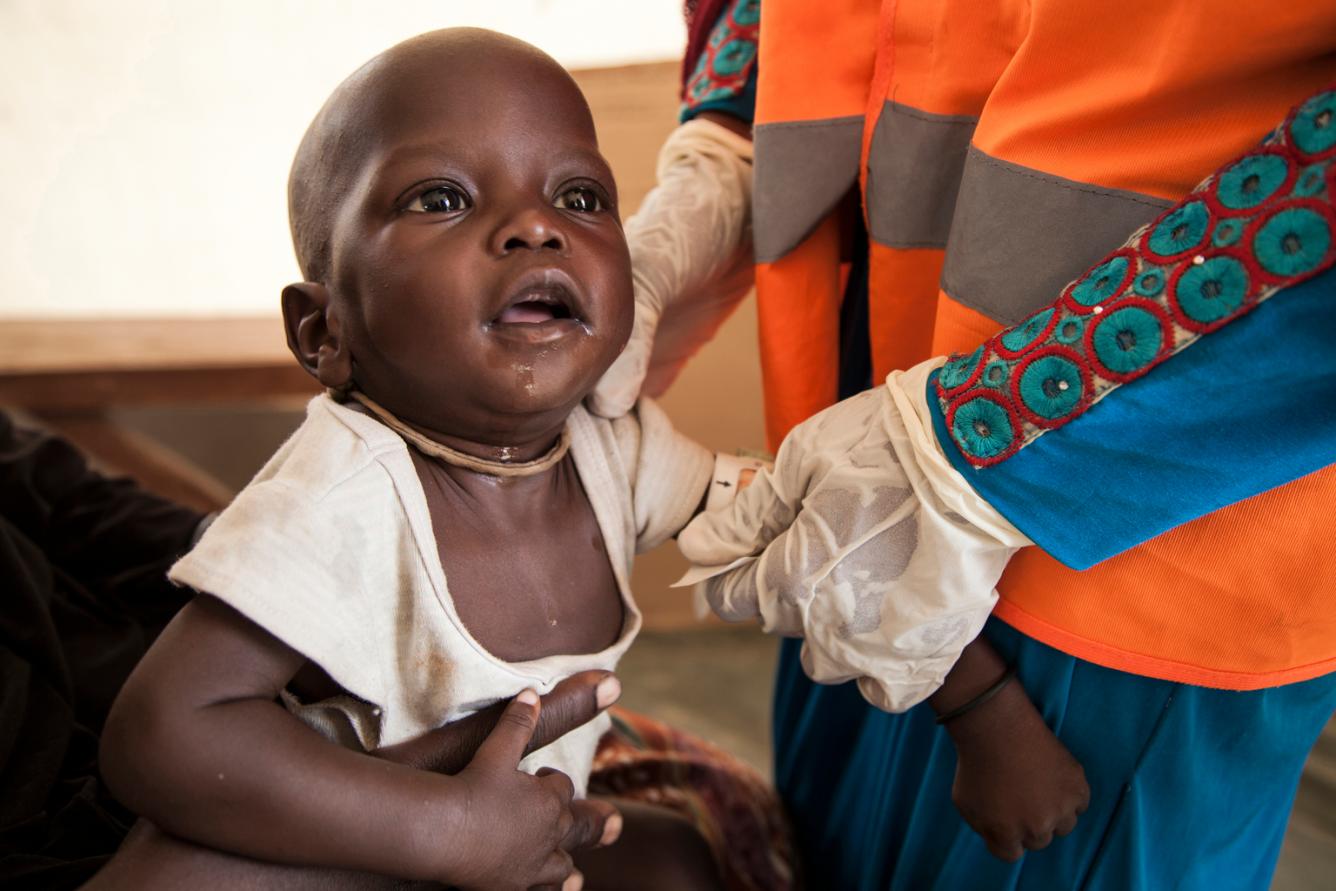 Seven-month-old Umara Bukar is assessed for malnutrition by a UNICEF Nutrition Officer at a UNICEF-supported health clinic at Muna Garage Internally Displaced Persons camp in Borno State, northeast Nigeria. More than 117,000 children with severe acute malnutrition in northeast Nigeria have been admitted to therapeutic feeding programs run by UNICEF and partners.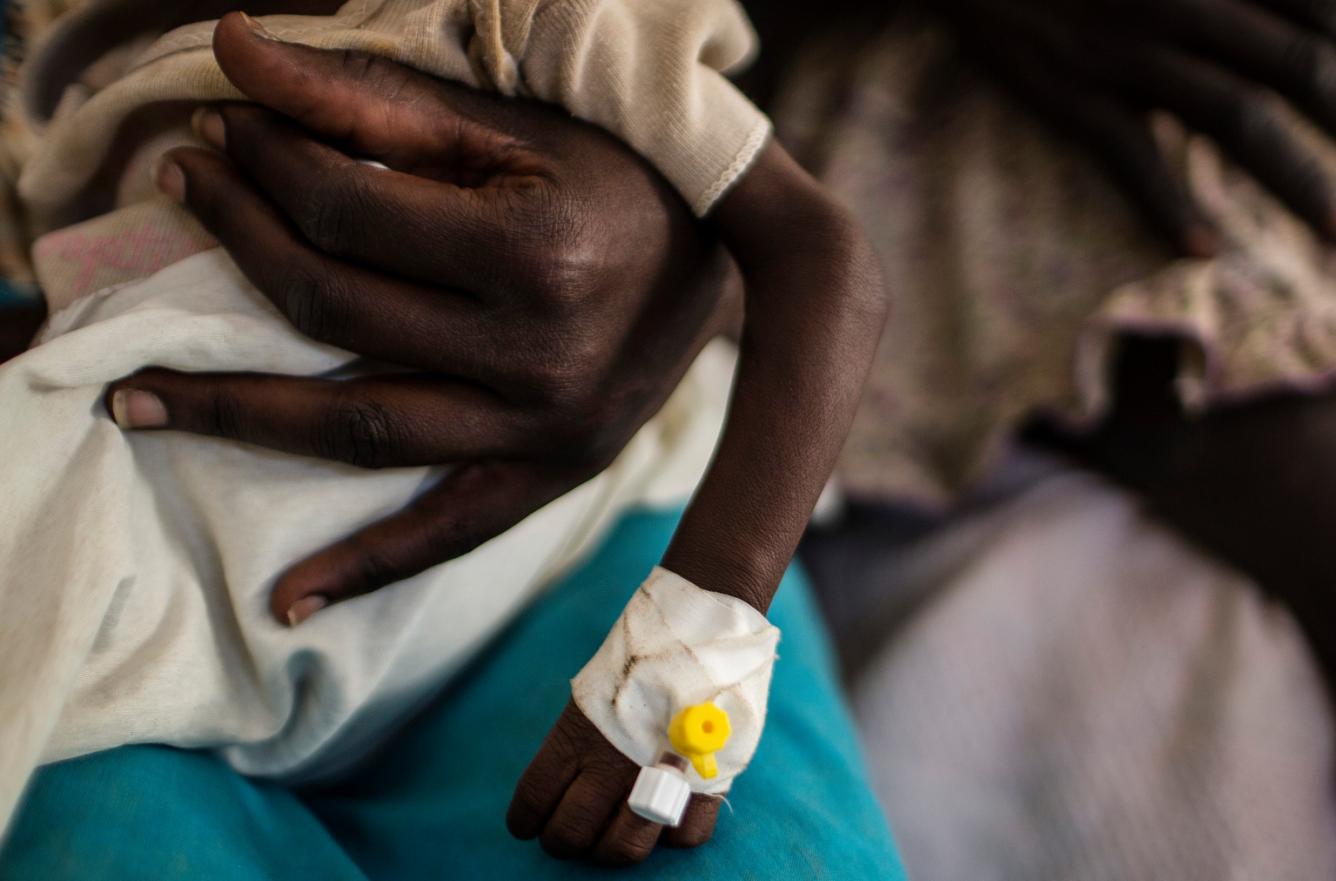 South Sudan:
South Sudan is a country reeling from conflict, poverty and insecurity. More than 270,000 children are severely malnourished. Famine has just recently been declared in parts of Unity State in the northern central part of the country, where 20,000 children live. The total number of food insecure people across the country is expected to rise from 4.9 million to 5.5 million at the height of the lean season in July if nothing is done to curb the severity and spread of the food crisis.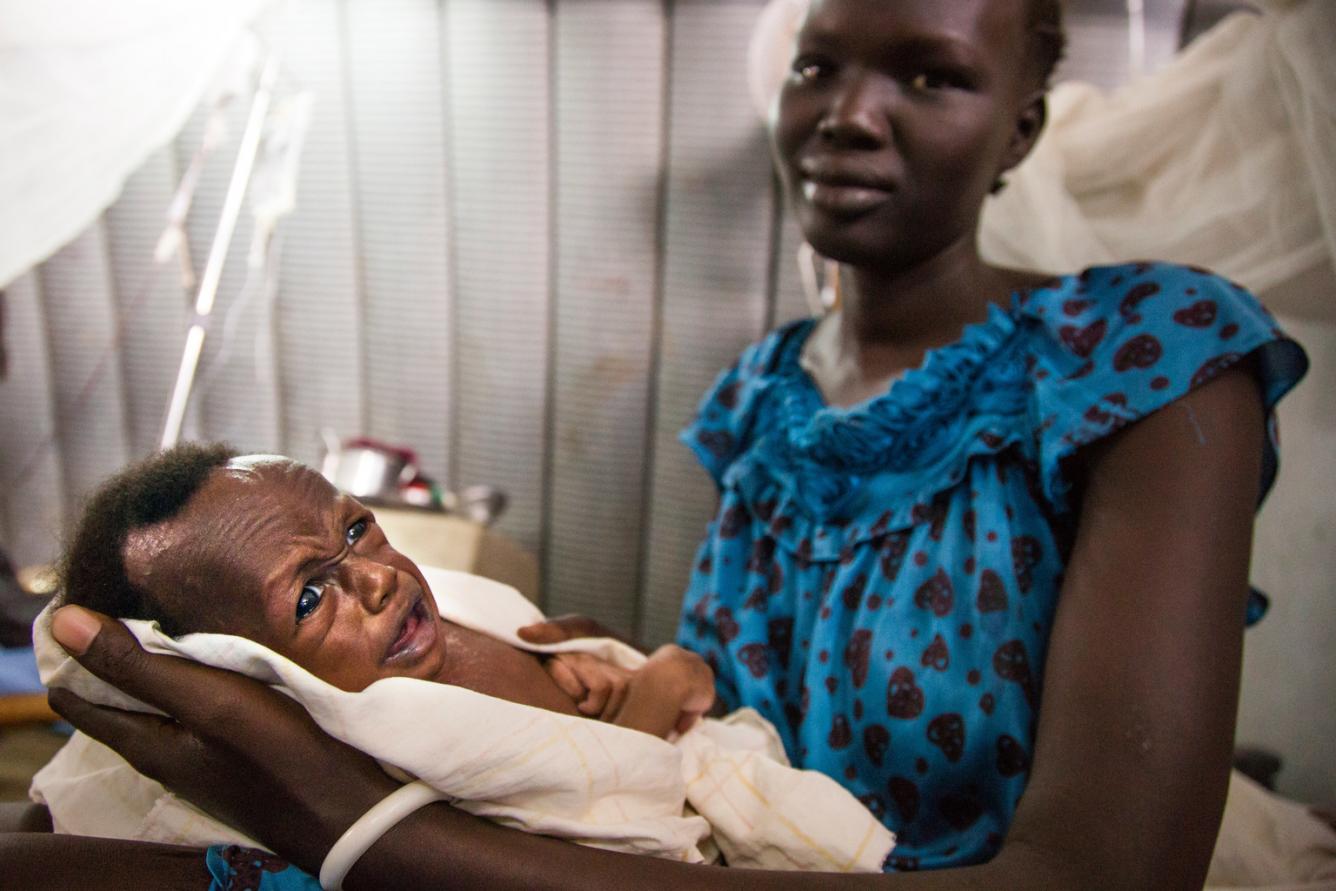 Imagine running for your life while pregnant with twins? That's Nyakena's story. Before the war, she lived with her husband in a village near Bor. When the war broke out, Nyakena woke up to her village burning and had to run for her life. After giving birth at a Protection of Civilians site, Nyakena flew to Juba in search of family. But as money ran out, she couldn't afford to feed herself or her twins. Thanks to the care from a UNICEF-supported malnutrition treatment centre, Nyakena is now optimistic her children's condition will improve.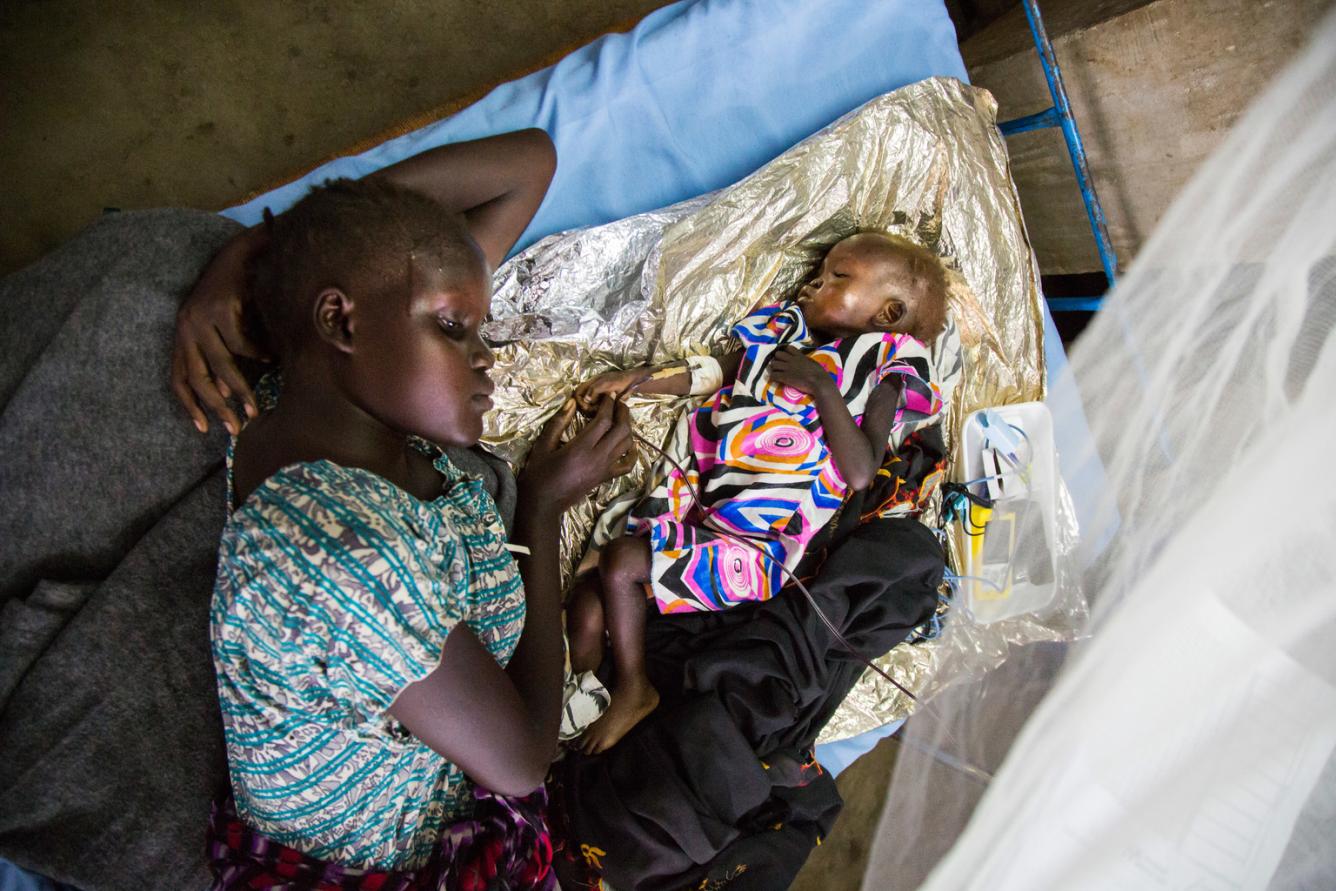 Sarah Nyawar looks at her two-year-old daughter, Nyamule Thuokhok, who is being treated for anemia and severe malnutrition at a UNICEF-supported malnutrition ward at the UN Protection of Civilians site in Juba, South Sudan.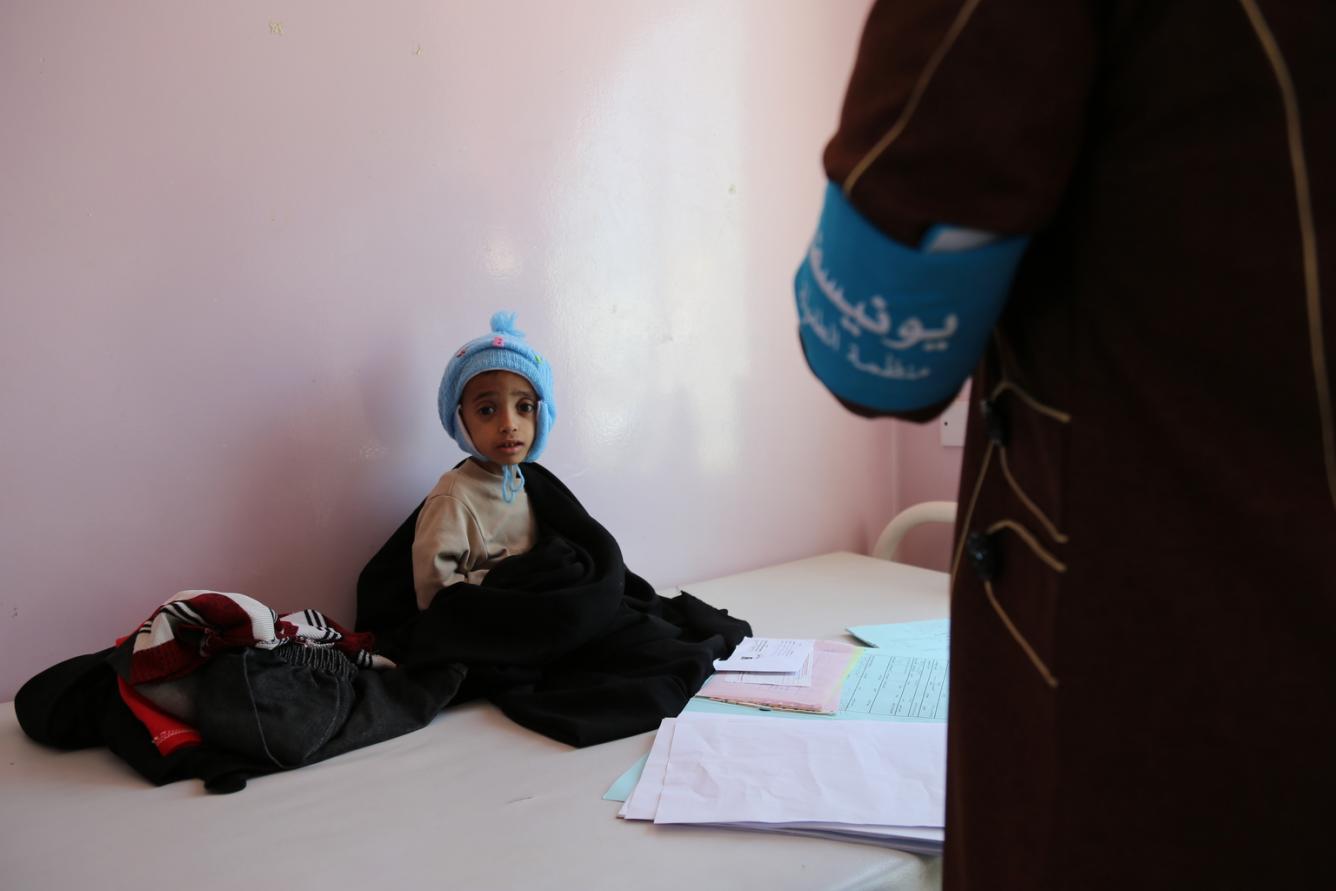 Yemen:
Across Yemen, more than two million children suffer from acute malnutrition. Of them 462,000 children suffer from severe acute malnutrition, the deadliest form of malnutrition. Health facilities are forced to close their doors because of the fighting and thousands have nowhere to go to seek treatment. It's been nearly two years now since the conflict escalated in Yemen and less than a third of the country's population has access to medical care. Less than half of the health facilities are functional. In 2016, UNICEF supported the treatment of 215,000 children suffering from malnutrition across Yemen and provided more than four million children under the age of five with vitamin supplements to boost their immunity.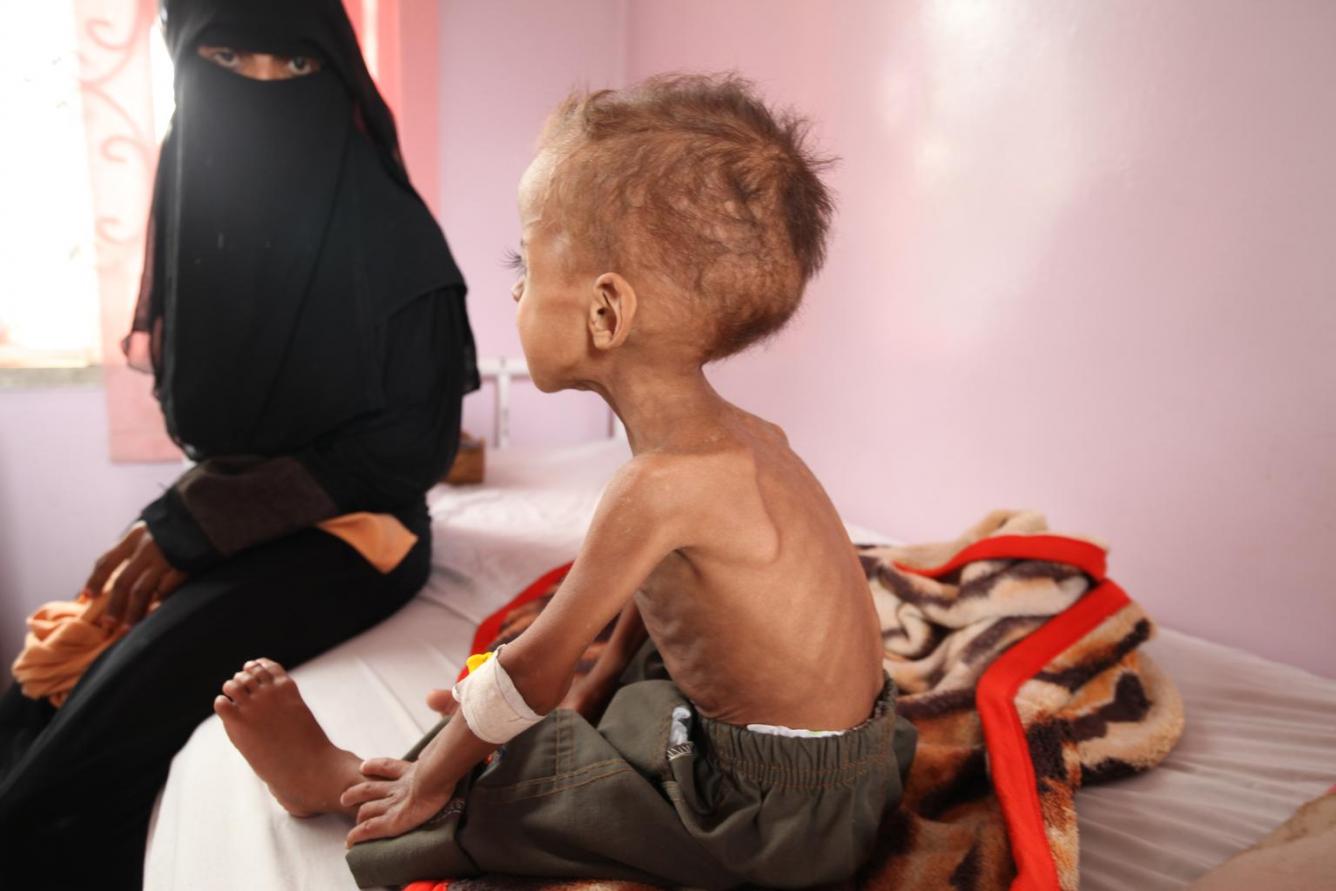 Faisal, 18-months-old, is treated for severe acute malnutrition. "I would sell everything I have to ensure my children's well-being," says his mother, who sold her small piece of land to care for Faisal and her other two young children. "What really disturbs me is how difficult it has become to get proper medical treatment. The hospitals are no longer what they used to be. The war has made all things worse, everything got more expensive, nowhere is safe even here at the hospital. I just hope that my son gets better soon so I can return home to my children."
We can help reverse this food crisis, but to save children's lives, we must act now.
Your donation options: