"Only an adult can be a soldier. It cannot be a child," says James (name changed) who knows better than most people what he is talking about after being kidnapped and used for three years by an armed group in South Sudan. "Being a soldier, [it] must be a personal and conscious choice." 
If he could, James says he would ask all child soldiers in South Sudan to immediately leave the armed group they are part of. "These children need to be released and sent to school," he adds, emphasizing the need for releasing girls "because they are abused in the armed groups."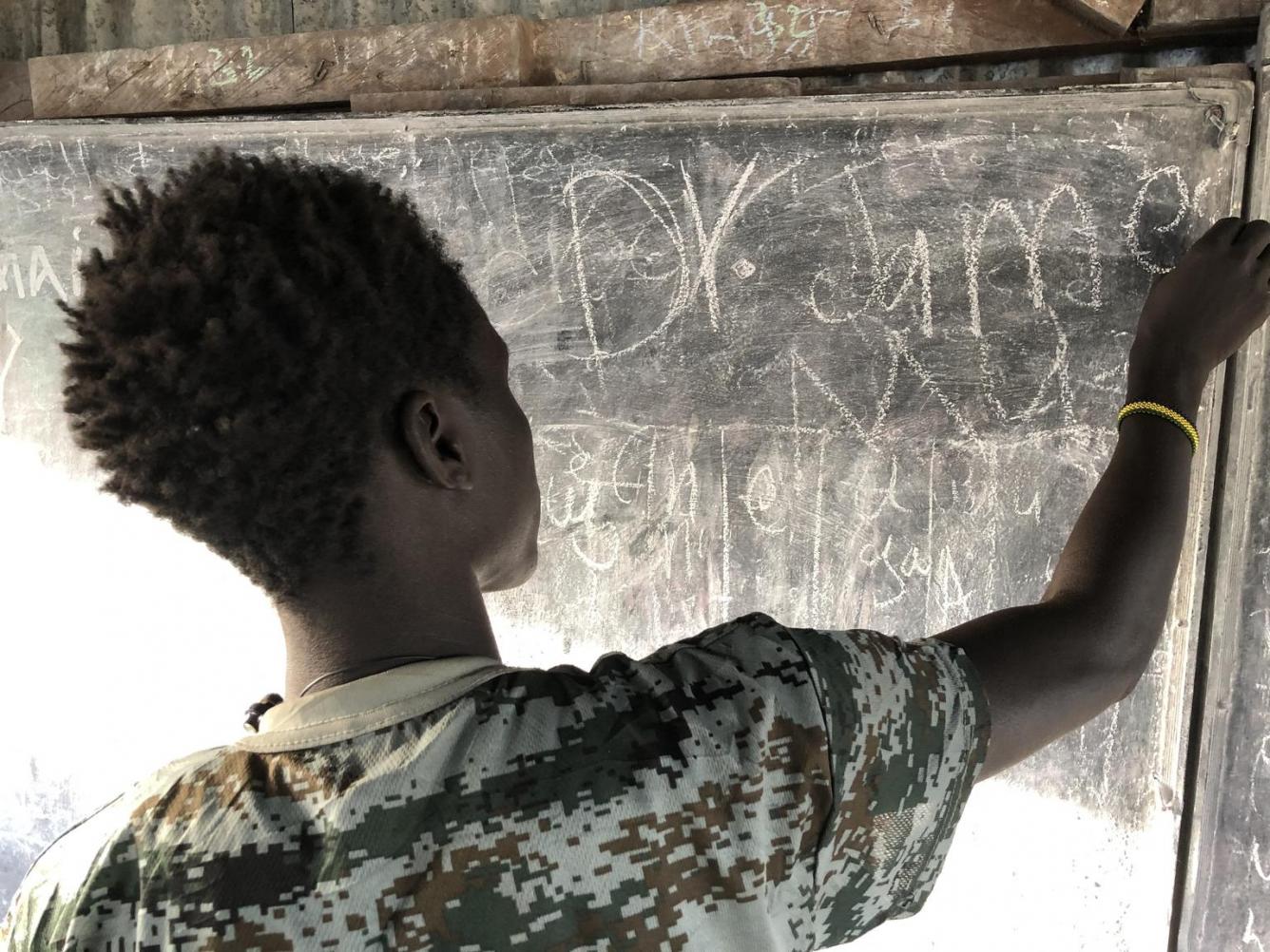 James is young but he has already lived an entire life. In 2013, when the civil war broke out in South Sudan, James was kidnapped by an armed group and used as a soldier for three years. Finally, during a battle, his leg was badly injured, and he was left for dead. An UN patrol found him and brought him to the capital Juba for treatment. With help from UNICEF, he was reunited with his family a few months later. The family now live in what is called a Protection of Civilians (PoC) site – a camp for internally displaced people – in Bentiu.
Today James is facing life with confidence, even though the living conditions are difficult. More than 120,000 people share the limited space, leaving almost no room between the huts which are organized into long white lines. Most of families living at the camp do not have a way of making any income and depend on humanitarian aid for survival. The scorching sun makes the temperature unbearable, and even gusts of wind that could bring relief instead kick up dust, making it hard to breathe. Still James is not complaining:
"I am happy because here I can go to school."
Even before the outbreak of civil war, James had never attended school. Now he has successfully completed the fourth grade of primary school. "At the final exam I was number nine out of 93 students in the class," James says with pride in his voice. The education services are part of the UNICEF supported reintegration programme for children associated with armed forces and armed groups.
Science and religion are James' favorite subjects in school. "I particularly like biology. I want to know what the body looks like inside and how everything works. Because later, I want to become a doctor. Preferably a surgeon. I want to become a doctor to keep myself healthy and to heal people who are sick. In South Sudan, too many people die from diseases such as malaria. I want to help prevent that. There are not enough doctors in South Sudan."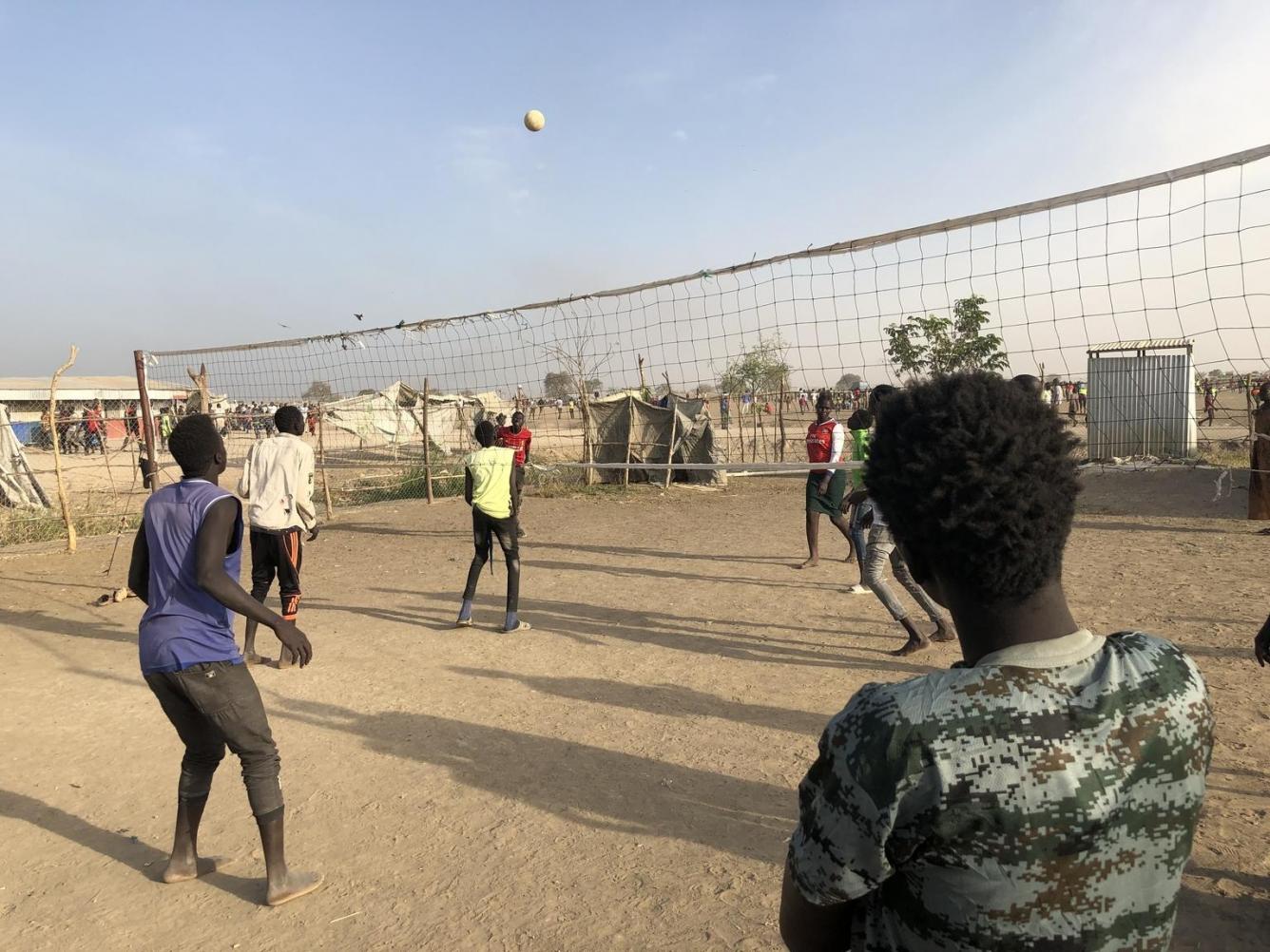 At the PoC site, UNICEF has created a child-friendly space where children can play and experience being a child. James is a regular visitor to the space after school, where he meets with friends and plays volleyball. "I used to be an avid football player, but with my leg injury, I can't play anymore."
At the child friendly space, James also meets regularly with Franka Imoya, a child protection officer for UNICEF in Bentiu, and his social worker. These meetings are of utmost importance, says Franka: "Life in the PoC is tough with minimal facilities. Children like James have a lot of material needs, but they also need psychosocial assistance. A good conversation is sometimes more important than any commodity. It gives children like James the courage and strength to move on in life and to believe in a better future."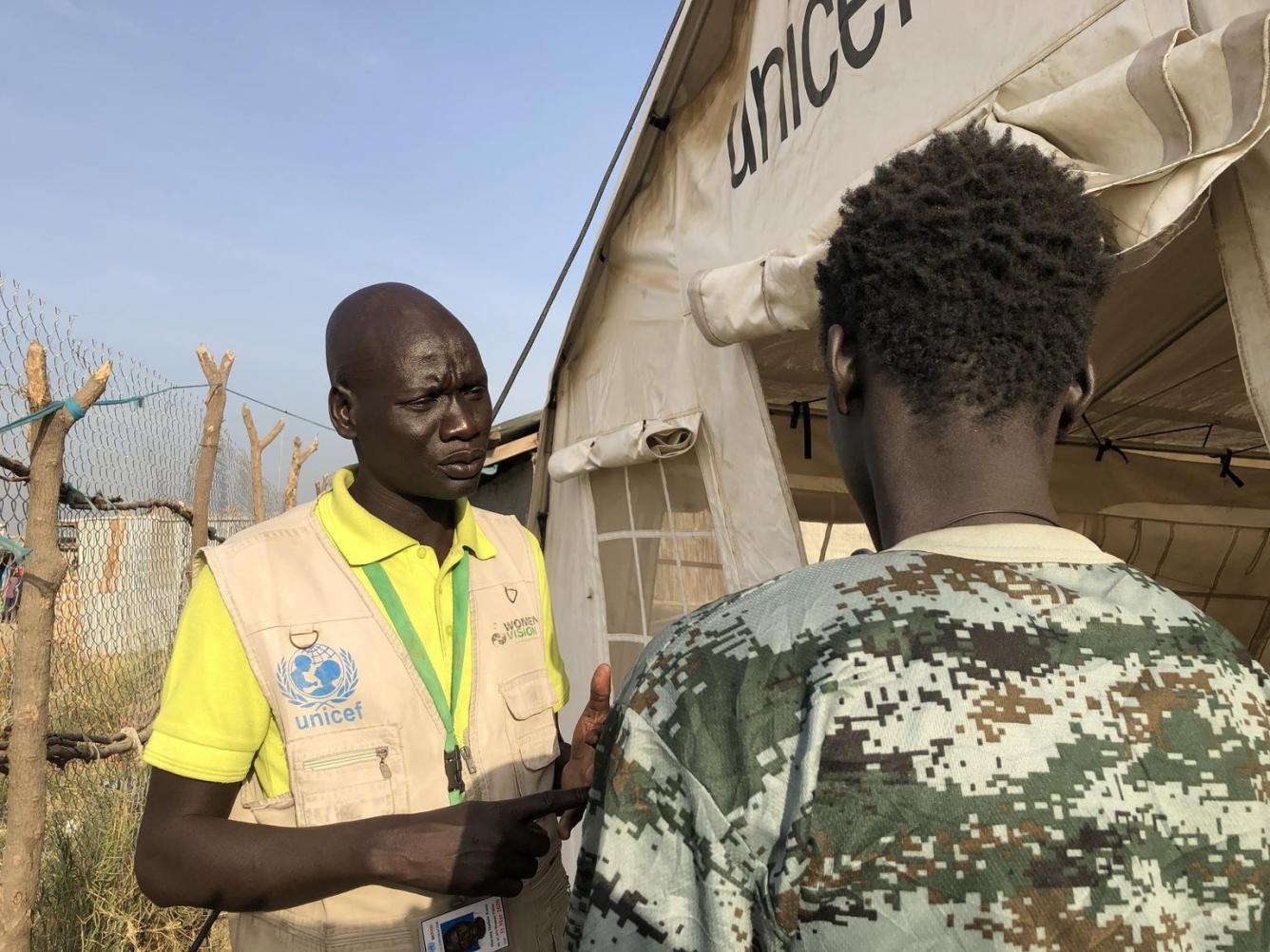 Since the conflict started in South Sudan in 2013, UNICEF has supported the release of 3677 children from armed forces and armed groups. The UNICEF reintegration programme – which James is taking part in – is three years long, providing children with basic items needed to start over, health care, psychosocial support, education and a social worker which follows them through the entire programme. Most children completing the programme has not returned to the armed groups.
James no longer thinks about his past as a child soldier: 
"When I now dream at night, I dream about positive things. Recently, I dreamed that peace had returned in my home town and that I could go back and continue my studies there. That is not possible now. Without peace, I will not be able to continue studying and my country will not be able to develop."
Unfortunately for the many children like James, the future of the child soldier programme in South Sudan is in jeopardy. There are some 900 children registered, ready to be released from armed groups and armed forces, and in urgent need of reintegration services. Without funding, UNICEF is not able to support their release and reintegration. 
With continuation of the peace agreement and prolonged stability, UNICEF expects more children to be released. However, due to lack of funding UNICEF cannot give the children the necessary support needed for reintegration to families and communities. UNICEF has used internal resources to keep the programme going, but these funds are now exhausted, and the programme might be closed.
UNICEF is especially urging the Group of Friends on children and armed conflict, including Canada, the EU, France, Germany, Norway, Sweden, the UK and the US, to take the lead on securing a future for some of the most vulnerable children in South Sudan, and helping build a more peaceful and stable future for the country.
Help reunite children with their families in South Sudan. Your donation provides services to locate families, as well as transportation and social work support.