The journey: Ensuring access to safe drinking water in Venezuela
---
Water, sanitation and hygiene are essential for the survival and development of children and their families. In the most vulnerable communities of Venezuela, access, quantity, continuity and water quality are the main concerns. This situation is aggravated with the power outages in recent months.
One of such communities is Petare, located in the outskirts of Caracas, the capital city.
Petare rises at the east end of Caracas like a massive extension of narrow, intricate alleys, crowded between piled makeshift houses and high buildings where nearly a million people live. It is considered the largest neighborhood in Latin America and also one of the most vulnerable.
Getting around Petare requires being familiar with the complex dynamics of the neighborhood, which changes from street to street.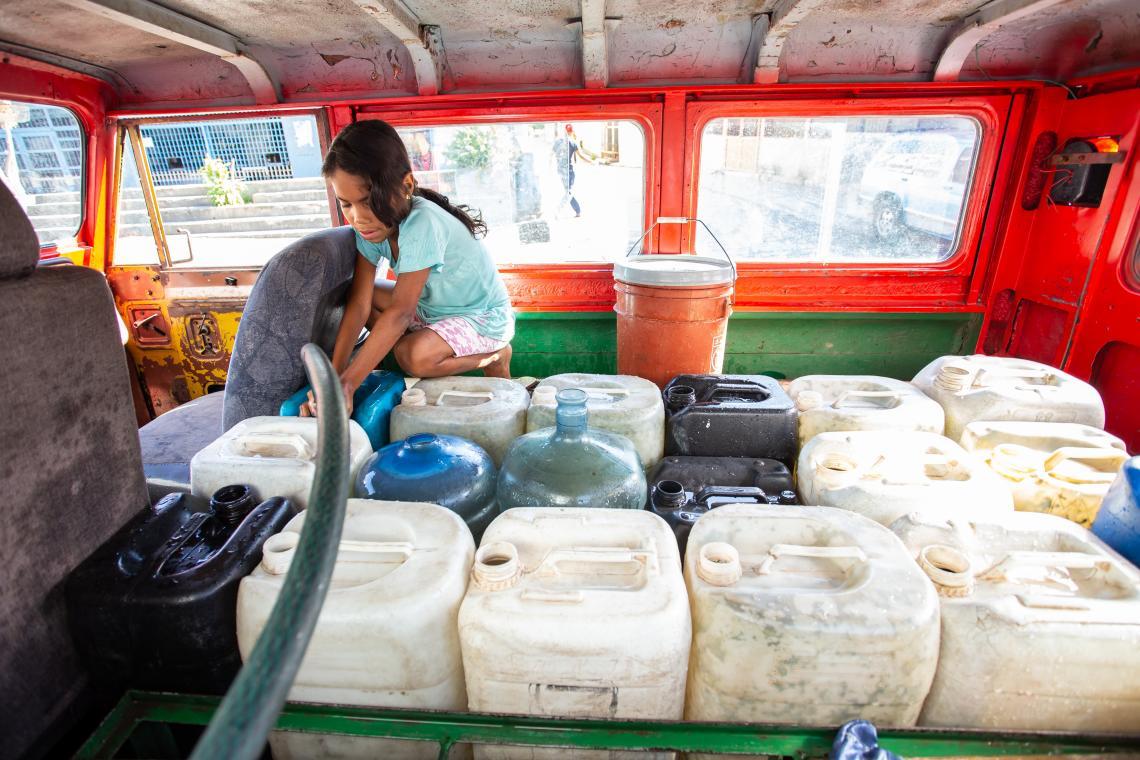 "If it rains, we grab rainwater. Sometimes the water comes clean and sometimes it comes dirty. We collect it from the pipes, and I help my dad to carry it into the house so we can store it in a tank,"  explains 9-year-old Duglianis González Sánchez. "We boil it and then we can drink it."
Duglianis has lively eyes and a radiant smile. She lives with her siblings and parents in a building in one of the sectors of the Petare neighborhood, known as Cacagüita.
Like many other families, Duglianis' family have spent months without running water, which is a daily struggle for them. Adults and children carry empty bottles and buckets down the streets and in pick-ups to public fountains, urban wells and pumping stations.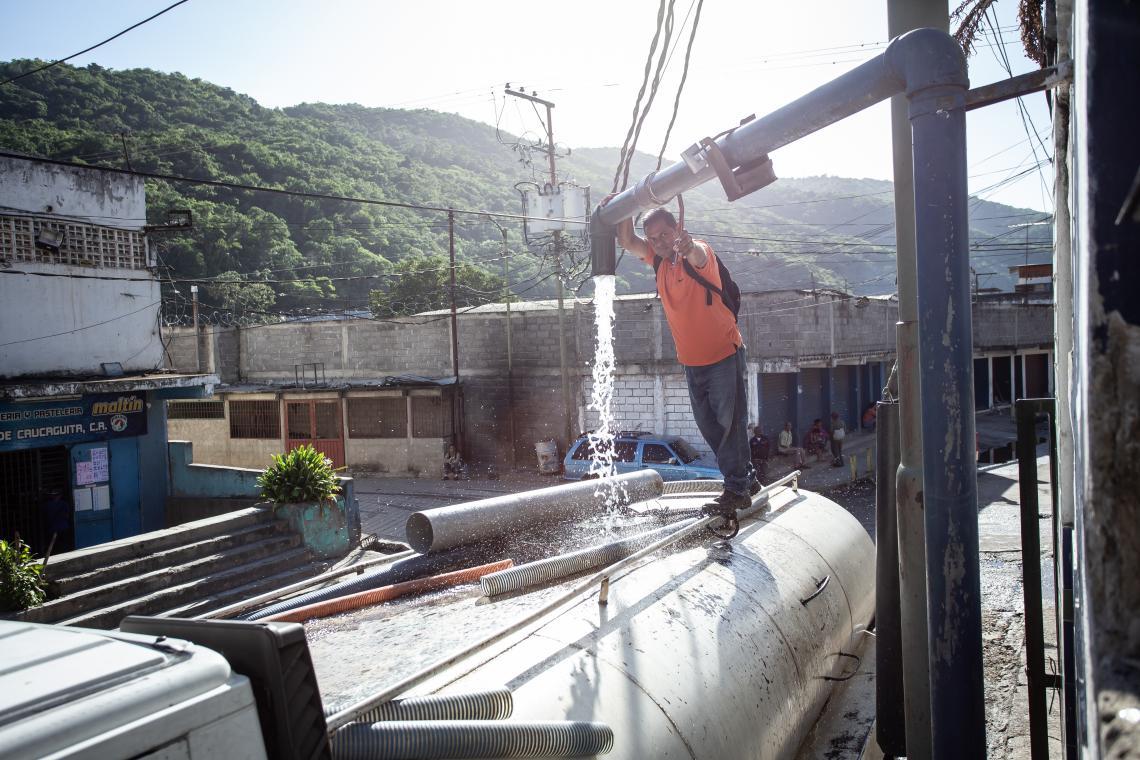 Early in the morning, water trucks begin to arrive to the pumping stations in Caracas to fill up their tanks. Once they are full, the trucks proceed with their routes to different points in the city, where families are eagerly waiting with their jerry cans.
In coordination with water authorities and partners, ensuring access to clean and safe water for children and families is a top priority for UNICEF. 
"Children are the most at risk. Unsafe water consumption causes diarrhea, amebiasis and other diseases. That is what we want to avoid at all costs," says Amilcar Espluga, UNICEF Water, Hygiene and Sanitation officer in Venezuela.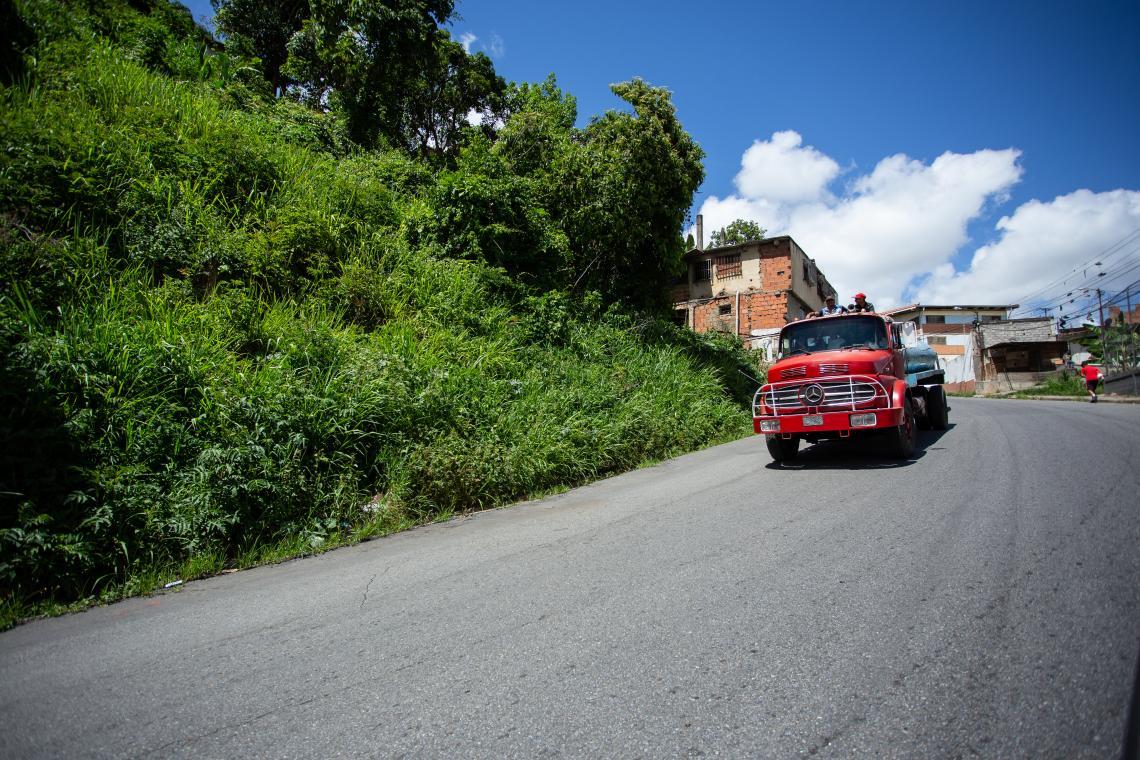 "I go to communities, schools, health centers, ambulatories and hospitals. I talk with families every day to asses the water, hygiene and sanitation situation," explains Amilcar, who is also in charge of ensuring that water-purification tablets are available in the pumping stations of El Carmen and Urbina, both in the Petare neighborhood, and that no truck leaves for its' destination without clean water in the tank.
The pumping systems of El Carmen and Urbina - which provide running water to 65 percent of the Cacagüita sector - are currently being repaired. In the meantime, the Municipal Institute of Water is responsible for supplying the water trucks, while UNICEF ensures water chlorination.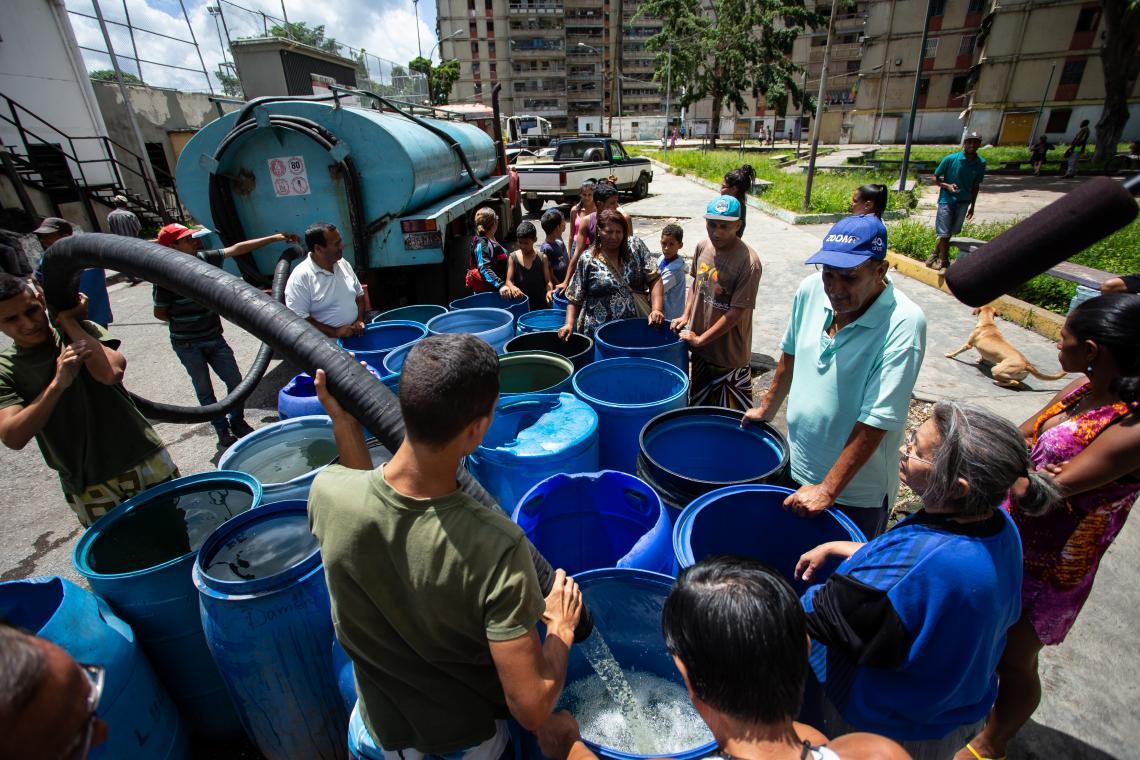 "The water truck is coming; the water truck is coming!" Duglianis shouts.
When the water truck arrives in her neighborhood, Duglianis helps her mother and father to load the jerry cans.
"When the water does not arrive, I have to go to my aunt's house. She has running water at her house. When I get home, I'm tired because the jerry cans are very heavy and I have to go up and down the hill", she says.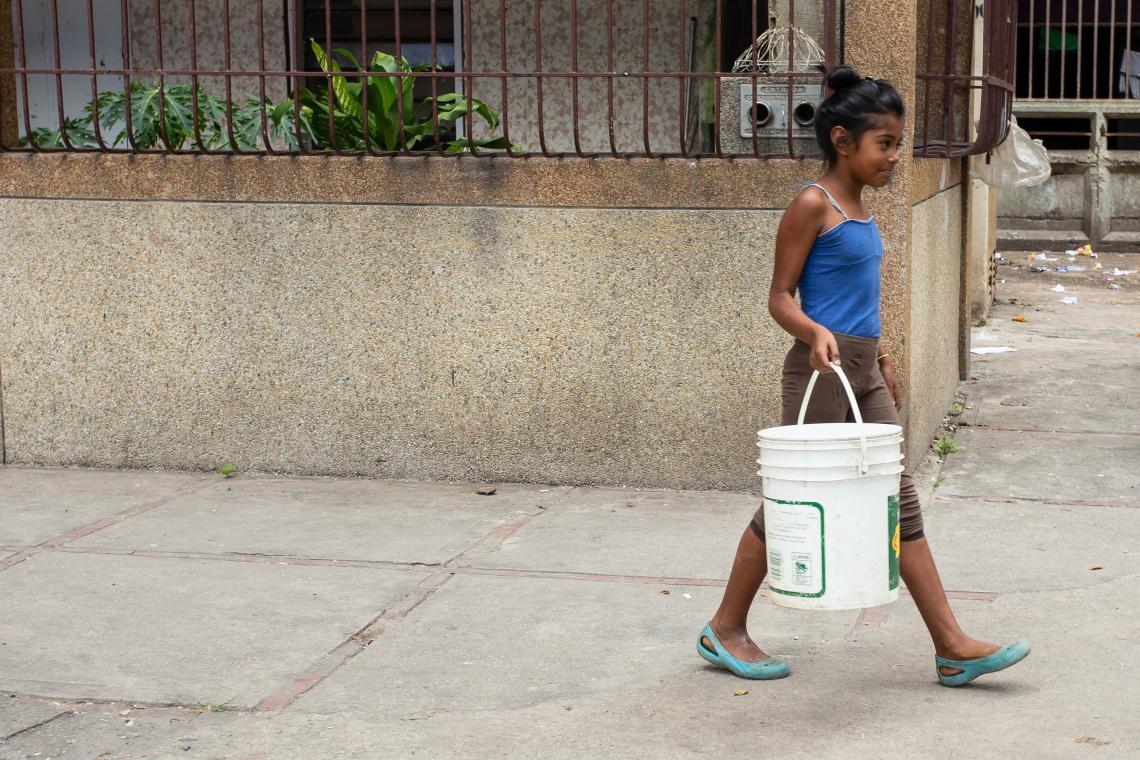 Access to drinking water is essential to prevent diseases in children and reduce infant mortality worldwide including Venezuela.
"One time I wanted to drink water and I didn't realize the water in the jerry can was dirty. I drank it. I had fever and a rash all over my body. I got very sick," Dulglianis admits.
"With clean water we can drink safely, brush our teeth and shower ourselves, my brothers and I," she says. "I help my mother at home, washing our clothes, the dishes, mopping the floor…"
Together with national and local authorities, UNICEF's work will gradually allow the rehabilitation of underground and surface water sources, the repair of distribution networks and pipelines, the distribution of water at strategic points such as hospitals and the rehabilitation of pumping stations in the country.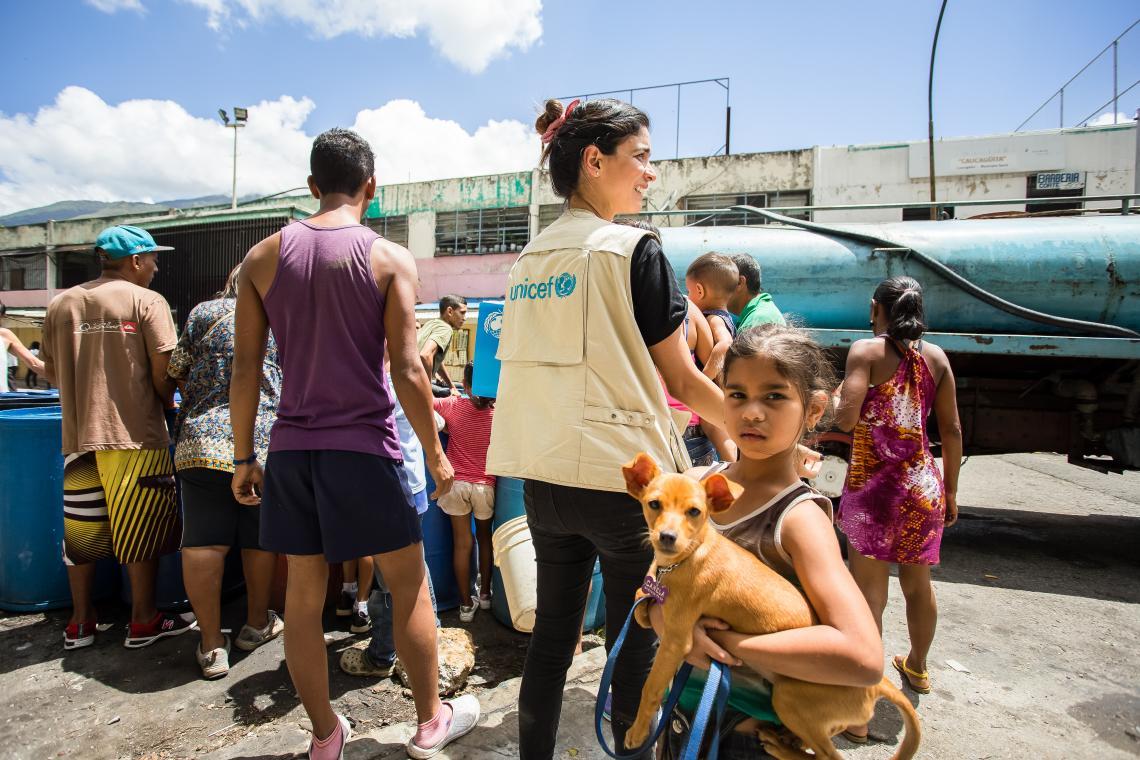 As part of an agreement with the Ministry of Water, UNICEF is working on expanding the supply of safe drinking water through systems repair and extension, water-trucking and other alternative sources, strengthening of priority sanitation systems, and providing technical assistance and cooperation in water quality monitoring, so no child is left behind.
Help give every child the right to clean water.