UNICEF is the world's leading child-focused humanitarian organization. We work in 192 countries throughout the world - our determination and reach is unparalleled. Our work for every child relies entirely on voluntary support, which is why every month we want to spotlight one of our community champions – volunteers from all across Canada who are working hard to support UNICEF's mission.
We're thrilled to introduce our first Community Champion for 2019 – Alexcia. Read on to find out more about how she got involved with UNICEF Canada.
Tell us about yourself and what inspired you to support UNICEF's work?
My name is Alexcia Cofell. I am 16 years old, live in Niagara, Ontario, and I'm an advocate for supporting children around the world. For years I grew up knowing that that UNICEF is an organization that helps disadvantaged children worldwide, that families donated to UNICEF, and every year at Halloween children came around with their little donation boxes.
Being lucky enough to have lived around the world in six different countries – including Sri Lanka, Qatar, Trinidad, Vietnam, Tunisia and Canada – because of the nature of my dad's job, I had seen childhood poverty firsthand and what it looks like when children don't have the rights they deserve. Having had the opportunity to live in six different countries changed my outlook on life, allowed me to assess the fact that happiness isn't measured by materialistic things, and allowed me to be exposed to so many different beautiful cultures.
Living in three different continents really teaches you to appreciate what you have as well as teaching you that it is important to live in the moment and to not take life for granted. This is when my passion for humanitarianism ignited. I knew that I wanted to help children in need, I just didn't know where to start; I knew that volunteering at a youth shelter, and donating money to children's rights organizations would help vulnerable children, however, I wanted to do something momentous, to reach children globally, to do something that hasn't been done before in Niagara. This is when I decided to reach out to UNICEF.
What fundraising activities have you implemented to advocate for children everywhere?
The UNICEF Niagara Club, which is the UNICEF club that I run, has executed fundraising activities such as fundraising at our local farmers market and encouraged members of our community to donate in person and online to UNICEF Canada to advocate for children everywhere.
What impact do you hope to achieve for children around the world?
The impact the UNICEF Niagara Club and I hope to achieve for children around the world is that every child is granted the right to child protection, health, nutrition, education, social inclusion, HIV & aids protection, and sanitary needs. We hope to inspire more people in our community to help children in need and raise awareness about children that are disadvantaged. 
Do you have a message for other Canadians who would like to support UNICEF's work?
My advice for Canadians who would like to support UNICEF's work is that they unquestionably should. UNICEF is an amazing organization that does amazing things for children globally. I think Canadians should be aware that children globally need our help and that UNICEF is an amazing way to support these disadvantaged children.
If you had one wish for the world's children, and our global community, what would it be?
If I had one wish for the world's children, and our global community it would be that every child deserves a safe, protected, and healthy life no matter the circumstance.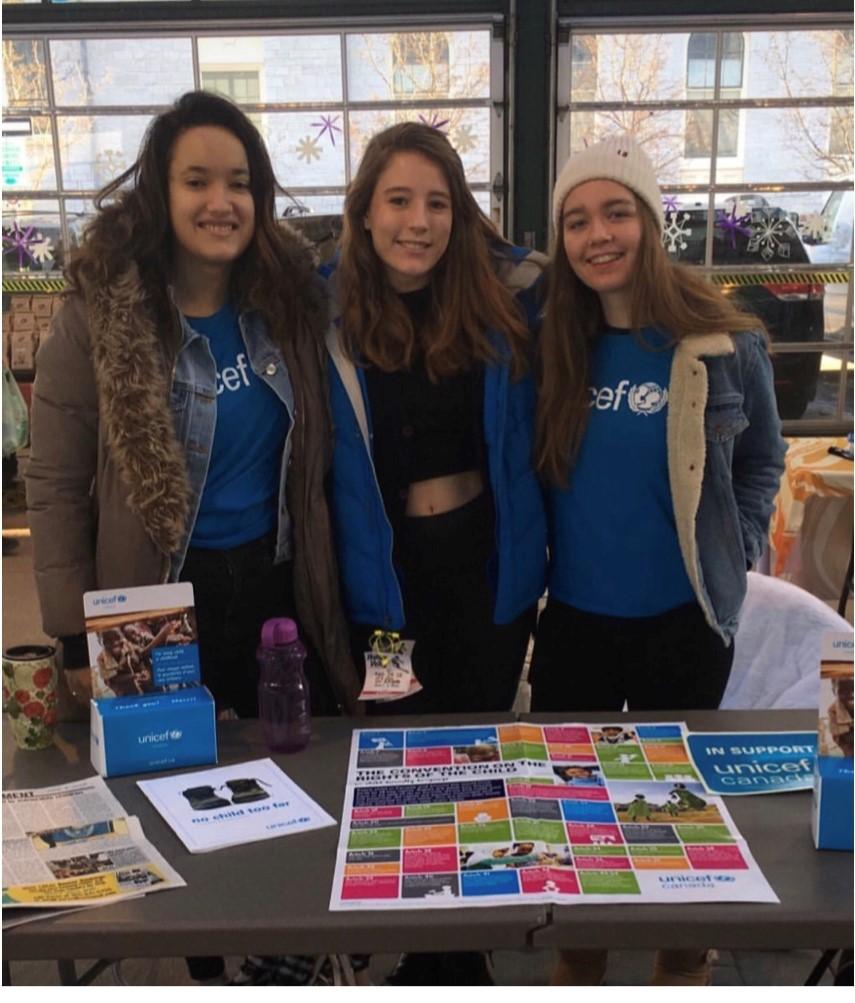 Want to know how you can be a Community Champion? Click here to get started!