UNICEF is the world's leading child-focused humanitarian organization. We work in 192 countries throughout the world - our determination and reach is unparalleled. Our work for every child relies entirely on voluntary support, which is why every month we want to spotlight one of our community champions – volunteers from all across Canada who are working hard to support UNICEF's mission.
This month our featured Community Champions are Natalie Lawrence and Abi Ravibalan, along with the other members of the University of Western Ontario's UNICEF Campus Club. Read on to find out more about how they got involved with UNICEF Canada.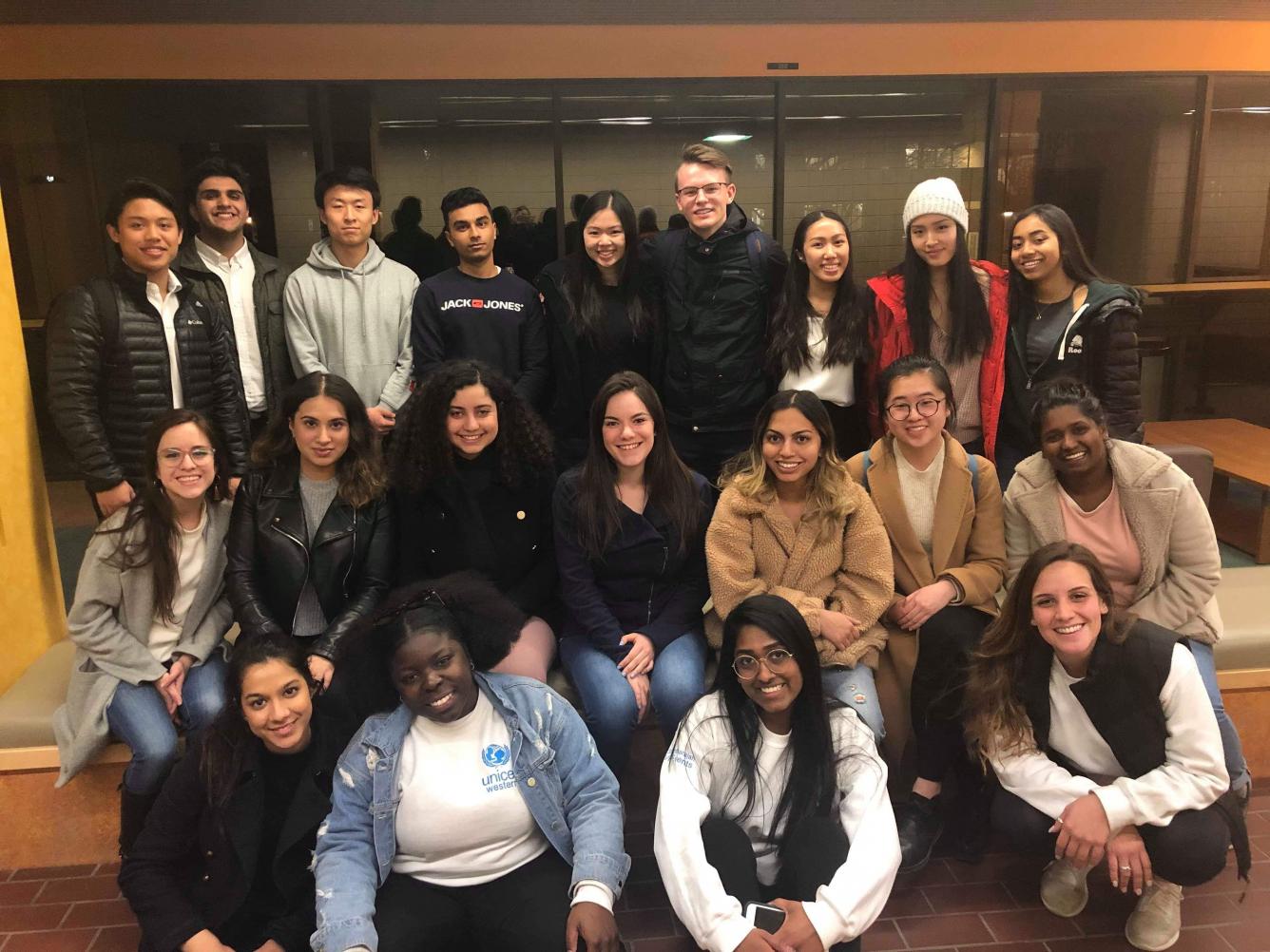 Tell us about yourself and what inspired you to support UNICEF at the University of Western.
I have been involved with UNICEF Western since 2015. As a first year university student, I wanted to find a cause I could truly support. I believe the only effective approach to a conflict-free civilization relies on the protection of a child's innocence.  It is crucial to protect their future, as too often one's too often a kid's childhood is ripped away by political, military or religious conflict.
Tell us about your FAST24 fundraiser and how it has evolved.
We originally learned about FAST 24 last year. Jonathan Guna, an exchange student from the United Kingdom, joined UNICEF Western as part of the Events portfolio, and told us about a fasting event that happens at his university every year. That is how FAST 24 was born.
Every year we pick a crisis we believe students need to be informed about. We partner up with clubs around campus we believe would be interested in the cause. This is a great way to get the word out about your event, as well as to get individuals to register for the fundraiser. Individuals register online and set an individual or team fundraising goal.
Throughout the month before the event people constantly educate their friends and family about the event, as well as the cause they are fasting for. The club organizes a Pre-fast social meal for all participants, were everyone enjoys their last meal before beginning the fast together. 24 hours later, everyone comes together once again to reflect on their fasting experience and the impact it had on them and their supporters. We then break fast together with a post-fast meal.
We were amazed by the amount of traction the event gained on its first two, raising over $6,000 on its first year. We continuously learn from the event, and are aiming to grow it by making the post-fast meal larger, with music and dance performances from students involved. We also believe this event has great potential and hope that other universities reach out to us with any questions they may have on how to get started.
Do you have a message for other students who would like to support UNICEF's work?
The work UNICEF does is one that students on campus can get involved in and feel proud of the work they have accomplished. UNICEF raises money and awareness to aid children around the world facing devastating conflicts leaving most of their environments with a lack of food, water, healthcare, shelters and the basic necessities that we don't normally think twice about.
The crises UNICEF aims to aid children in are ones with details that may sometimes be lost on the average university student living in the western world. Or many are aware of these unfortunate conditions children are living in but are unsure how to help the situation. getting involved with UNICEF helps educate yourself and provide aid for those in need. It's important for students to engage in the global community as soon to be leaders and advocates. Future generations deserve the right to flourish and experience life with their basic necessities met. We want students on campus to get involved with UNICEF so they can also help a problem they may not otherwise know about.
If you had one wish for the world's children, and our global community, what would it be?
Our world's children need to be made a priority. To be able to climb out of these conflicted and war torn areas the world's children need to be adequately nourished, educated and cared for in order to become a part of future solutions. There is immense power in encouraging, and growing the potential of future generations. However, many of the world's children are being harmed and forgotten about in the face of ethnic, religious and cultural divides. We wish that the global community puts its children first on the agenda. Protecting them from harm and allowing their growth, education and success become a part of a solution.
WANT TO KNOW HOW YOU CAN BE A COMMUNITY CHAMPION? CLICK HERE TO GET STARTED!