 Growing up, falling behind: how stunting affects children globally
Stunted growth is the consequence of chronic, long-term nutritional deficiencies. It is estimated that 180 million children worldwide suffer from this condition.
On average, children who suffer from stunting are 4-6 inches shorter than their healthy peers, and at higher risk of contracting a disease. They possess lower cognitive capacity, and have a reduced ability to learn. When they grow up, they wield less earning power.
Just 21 countries account for more than 80 percent of instances of stunted growth. In six of them – Afghanistan, Burundi, Ethiopia, Madagascar, East Timor and Yemen – 50 percent or more of children under five are stunted.
Causes of stunting
The physical and cognitive damage incurred from inadequate nutrition in utero and during the first two years of life are permanent and irreversible. But it can be prevented.
Of all the proven interventions, exclusive breastfeeding for the first six months – together with nutritious foods after six months – is one of the most important factors in healthy development and child survival, and could reduce overall under five child mortality by 19 percent.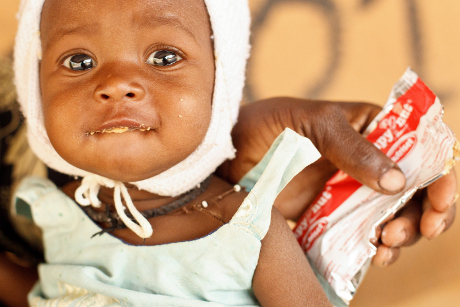 Plumpy'nut is UNICEF's first line of defense in a food crisis. Three packets a day of this peanut-based therapeutic food will help a malnourished child gain up to two pounds in a single week!
UNICEF and its partners have made huge strides in providing cost-effective solutions for undernutrition, such as vitamin A supplementation, iodized salt and therapeutic foods, to vulnerable populations worldwide.
As a result, the prevalence of childhood stunting in the developing world decreased from 40% in 1990 to 29% in 2008, yet around the world millions of children will suffer from the mental and physical disadvantages caused by stunting for the rest of their lives.
The Copenhagen Consensus of leading economic experts ranked providing young children with micronutrients to promote healthy development as the most cost-effective way to advance global welfare.
UNICEF is on the front lines combating global child undernutrition – both in times of crisis and over the long term – with micronutrient supplements, best practices like handwashing and exclusive breastfeeding, and therapeutic foods.
Our top priority is to ensure all children can grow up healthy and reach their full potential in life.
In the News