CHILDREN OF SYRIA: Canada's Response

2016 has been a year of unprecedented humanitarian emergencies, but after more than five years of unspeakable violence, the ongoing crisis in Syria has left many Canadians in shock, and with a desperate desire to help.
At UNICEF, we work to reach the world's most vulnerable children and help them survive and thrive," said David Morley, UNICEF Canada President and CEO. "Thanks to the incredible generosity and support that Canada and Canadians have shown this year, we have been able to provide life-saving assistance to millions of children affected by the Syrian crisis."
In Syria, more than 13.4 million people are currently in urgent need of help, including six million children. In neighbouring countries, more than 4.7 million Syrians have registered as refugees – nearly half of them children, having been forced to flee their homes and leave all of their possessions behind.
This time of year is especially difficult for these children. Winters in Syria can be just as harsh as in Canada, and left with little or no possessions, families are desperately trying to keep warm.
From Madaya to east Aleppo, from Homs to Deir-ez-Zor city, UNICEF is bringing emergency supplies into the hardest-to-reach and besieged areas of Syria and is ready to reach other vulnerable children with life-saving support whenever a ceasefire allows.
UNICEF continues to call on all parties to the conflict to strive for an immediate political solution to this war, to lift the sieges across Syria and to allow immediate, unconditional and sustained humanitarian access to all areas across the country.
"Life for these children is a nightmare. They are traumatized by the horrors they have witnessed and the injustices they have suffered," said Morley. "This must stop. All parties must uphold their obligations to protect children and respect international humanitarian law. A whole generation of children is at risk."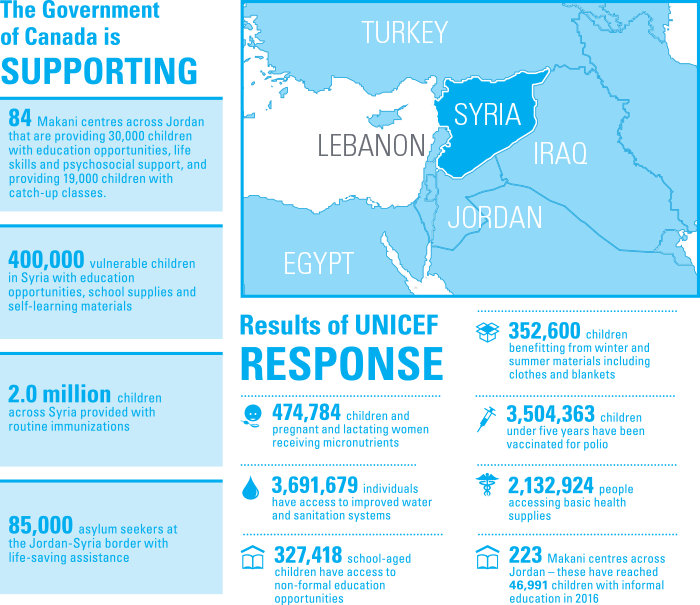 DONATE

For the children of Syria,
education is their only hope
Learn more about Sidra's story
Health and education critical in Syrian crisis response
The crisis in Syria is currently the largest humanitarian crisis in the world. After almost six years, many of the children of Syria know nothing but war.
UNICEF has been working to meet the needs of the country's most vulnerable children. UNICEF is responding to this crisis with more than 200 staff inside Syria who are reaching the most vulnerable children with health, education and protection programs, along with hundreds of staff in the region who are reaching children in camps and host communities.
Education
Education is a critical intervention that provides a return to normalcy for children who have experienced crisis, trauma and upheaval. It provides a safe space for them to heal and for kids to be kids again. In the longer term, it's a great tool to fight against poverty and build a stronger and more peaceful society. Yet, today there are almost three million Syrian children who are out of school. Thousands of schools have been destroyed and teachers have been forced to leave their posts. The future of an entire generation is at risk.
Thanks to the support of the Government of Canada, $21.8 million is supporting 84 Makani centres across Jordan. Makani centres provide children with education opportunities, life skills and psychosocial support to help them recover and rebuild their lives. This funding will directly help ensure 30,000 children do not miss out on their education due to war.
A further $6 million is increasing education opportunities and providing school supplies and self-learning materials to 400,000 vulnerable children inside Syria, including those living in hard-to-reach and besieged areas where it's not safe to go to school.
Canada's support to the future of Syria's children builds on the long-term support it has shown to the No Lost Generation initiative, which is helping ensure an entire generation does not miss out on their education. This initiative provides practical ways to avoid a generation of children being shaped by violence, displacement and persistent lack of opportunities by increasing learning and skills and providing a protective environment for children and adolescents. Since 2014, the Government of Canada has committed $238 million to providing a better future for children affected by the Syrian crisis through No Lost Generation, including $78 million announced by Prime Minister Trudeau in September 2016.
Health
When war and conflict break out, the health of children is put at risk not only due to violence, but also due to a lack of health services—particularly life-saving essentials like immunizations. In Syria, immunization rates for children have plummeted since the war began close to six years ago, decreasing from 90 per cent to 57 per cent, putting Syria's children at risk for life-threatening diseases.
Canada and Canadians are helping to change that. The federal government's contribution of $4 million is supporting a nationwide immunization campaign in Syria, and helping to provide routine vaccinations to up to 2.9 million children in conflict-affected areas.
The children of Syria now have a better chance of surviving and building the futures they dream of.
Berm
More than 85,000 people are trapped and living in makeshift shelters along the border area between Jordan and Syria known as the "Berm." Unable to cross the border into Jordan or turn back into Syria, the situation facing these families grows more dangerous by the day. Exposed to bitter cold temperatures, and without sufficient food or water, they are in urgent need of humanitarian assistance. During winter months these children stranded at the border are more susceptible to acute respiratory infections and other winter-related illnesses. UNICEF and partners are responding with humanitarian supplies, including winterization kits and much more.
Thanks to Canada's generous contribution of $2.35 million, UNICEF's urgent relief operations are also providing desperately-needed food, water and hygiene items to this highly vulnerable population.
DONATE

Millions of children at risk as winter approaches
Learn more about UNICEF's winterization efforts in Syria