 Time is running out for children.
Food crisis in Nigeria, Somalia, South Sudan and Yemen puts children at risk.  You can help.
Donate to UNICEF's dedicated food crisis relief fund to send donations directly to the crisis.
Hunger crisis puts millions of children in danger
No child should die of starvation. After the famine in South Sudan last year, children across the country and in Nigeria, Somalia, and Yemen are still at severe risk of food shortages, increasing the risk of death from starvation and preventable diseases like cholera and measles. This year UNICEF is aiming to reach more than 4 million children with treatment for acute malnutrition. 
Why are these countries facing the risk of famine?
Years of violence and conflict
Inflation
Severe drought
Prolonged wars and conflict are devastating the lives of millions of children and their families and contributing to the risk of famine. Warring parties are forcing people from their homes, destroying crops and livelihoods, and blocking humanitarian agencies' efforts to reach those in desperate need with life-saving assistance such as food and clean water. Ongoing armed conflict and displacement have been exacerbated by drought and water scarcity, weak health services and inadequate water and sanitation systems.
The most affected children and families include displaced households, those who are attempting to return after fleeing their homes and low income earners. As well, previously prosperous households are no longer able to cope after enduring years of conflict and inflation. Having depleted their assets, they too have become vulnerable.
Situation Overview by Country
Nigeria
Food crisis in Nigeria is impacting a growing number of children and families in the country. An estimated 7.7 million people need humanitarian assistance in the country. This includes 4.5 million vulnerable children. Food and water shortages combined with ongoing conflict have contributed to mass displacement, with 1.7 million Internally Displaced Persons (IDPs) in the three states of Adamawa, Borno and Yobe. 
Somalia
Hunger in Somalia is affecting a growing number of children. Currently, 1.2 million children under the age of five are currently, or at risk of being, acutely malnourished. Drought and water shortages have also contributed to a rise in disease, with thousands of cases of acute watery diarrhoea (AWD)/cholera currently reported. Overall, 5.4 million people in Somalia are in need of humanitarian assistance.
South Sudan
Famine in South Sudan was declared in February 2017 and remained until late June. Since this time, continued food shortages, drought, and disease have affected millions. Currently 7.1 million South Sudanese are food insecure. In response to the food shortages, many have fled to surrounding countries, with 2.47 million south Sudanese refugees living in neighbouring regions.
Yemen
The situation for children in Yemen remains dire. Over 22 million people are in need of humanitarian assistance – half of them are children. So far in 2018, UNICEF has treated more than 61,000 children with severe acute malnutrition.
UNICEF's response to the food crisis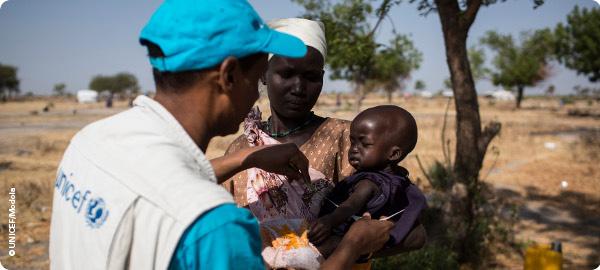 In areas affected by food insecurity and in hard-to-reach areas, UNICEF, in collaboration with the World Food Programme and partners, is working to reach the most vulnerable children suffering from acute malnutrition. This is being done through Rapid Response Missions and efforts to re-establish services in areas with relative calm. Further missions are planned in the coming weeks to address the nutrition crisis.
Securing immediate access to basic health services, adequate treatment and care for those suffering from trauma/injuries caused by conflict and for malnourished children and families is also of utmost importance, and UNICEF is working around the clock to save lives.
How you can help: support UNICEF's humanitarian aid efforts
By donating to UNICEF Canada's food crisis Relief Fund, you will allow us to deliver life-saving support and supplies where they are currently the most needed. You can save children's lives by donating today.
Map of the countries most affected by the food crisis in Africa: