What is malnutrition?
Malnutrition or malnourishment is a condition that results from eating a diet lacking in nutrients. Malnutrition in children is especially harmful. The damage to physical and cognitive development during the first two years of a child's life is largely irreversible. Malnutrition also leads to poor school performance, which can result in future income reduction. Adults who were undernourished as children are at risk of developing diseases such as obesity, diabetes and cardiovascular issues.
Bill Gates called malnutrition the biggest missed opportunity in global health. In famine-stricken South Sudan, from Nigeria to Yemen, and in places around the world, the most extreme form of malnutrition—severe acute malnutrition—ends many young lives. And it's entirely preventable.
So why is preventing malnutrition so difficult? Deeply intertwined with poverty and lack of access to basic services, the causes of malnutrition are wide-ranging and complex.
But one thing is certain: Ending it could be a watershed moment in global health, helping an entire generation of children escape hunger and poverty and reach their full potential.
Malnutrition's complicated genesis comes into focus through the story of one child: Samba.
Born in Mali, Samba was a cheerful and bubbly baby, but his mother Sayon knew she would have to fight for his survival in their impoverished and conflict-ridden hometown.
At eight months old, Samba fell ill. Sayon watched in fear as her bouncing baby grew more listless and gaunt every day.
Malnutrition's impact on children
Samba was battling to survive severe acute malnutrition (SAM), an extreme condition that leaves its young victims frail and even skeletal — and requires immediate treatment. He was desperately thin, and his odds of survival were tragically low.

Death is the worst outcome of malnutrition's ugly grasp, but it's not the only outcome. Children who survive can face a long list of devastating side effects that last a lifetime, preventing them from achieving success in school and pursuing meaningful work in adulthood. Such effects of malnutrition include increased vulnerability to diseases, developmental delays, stunted growth and even blindness.

Why was Samba malnourished? Causes of malnutrition
The causes of malnutrition go far beyond simply lacking food. It's a combination of complicated factors that relate to:
Poverty
Political context
Climate change
Feeding practices
Disease
Contaminated water
Poor sanitation and much more

In Mali, where Samba was born, 49 per cent of the population lives below the poverty line. Food prices are unstable and families often lack the purchasing power to buy healthy, nutritious staples. Extreme weather events further impact food availability. Meanwhile, only 38 per cent of children in Mali are exclusively breastfed in the first six months of life, a practice that reduces child deaths from malnutrition.
What's more, Samba's mother Sayon contended with nutrition setbacks long before she became pregnant with Samba. Nutrition cycles cross generations, as a mother's nutrition impacts her child's development in the womb, birth weight and health during infancy. For women like Sayon, malnutrition is exacerbated by gender-based issues like lack of education, early marriage, violence and discrimination.
Lastly, conflict has contributed to Samba's malnutrition by destabilizing the community in which he lives. In recent years, extremist groups have engaged in conflict across the region, and many families have been displaced. This kind of upheaval prevents mothers and children from accessing good nutrition, and prevents the government from responding to nutrition crises.
How to prevent malnutrition - a global calamity
Sambas's story is not unique to children in Mali. Right now in Nigeria, Somalia, South Sudan, Yemen and many other countries in crisis, similar challenges are driving deadly malnutrition rates among children.
Related: The impact of famine on children
Ending malnutrition in these countries is a complex social and political challenge. But by collaborating with local governments, partners on the ground, and communities, UNICEF is investing in massive efforts to end malnutrition and save lives. UNICEF's role in these partnerships consists of delivering a variety of nutrition programs and innovative strategies. Here's a snapshot of just a few of those initiatives:

Promoting breastfeeding
Breastfeeding is described as a "magic bullet" for child survival. Breastfeeding – until age two or longer – has the potential to save more than 800,000 children's lives. Through education in hospitals and communities in 40 countries, UNICEF is striving to increase the global rate of exclusive breastfeeding for infants to at least 50 per cent.
Addressing micronutrient deficiencies
Food without adequate vitamins, minerals and nutrients can be as deadly as no food at all. UNICEF provides Vitamin A to children, folic acid to pregnant moms, and runs many more programs designed to address the "hidden hunger" caused by micronutrient deficiencies.
Rapidly responding to Severe Acute Malnutrition (SAM)
UNICEF supports health facilities around the world to diagnose, treat and end SAM, and distributes life-saving therapeutic foods to help children regain strength and recover from severe acute malnutrition.
Prioritizing the first 1,000 days
One in four children under age five is chronically malnourished, or stunted. Stunting, defined as low weight for age, affects 155 million children under age five . This has lifelong implications. Recognizing that a child's most significant development takes place during the first 1,000 days, UNICEF works with governments, communities and families themselves to prioritize nutrition as a central part of early childhood development.

Through these efforts, UNICEF is already achieving powerful results. But our work is hardly over — as you read this, the threat of famine looms in Nigeria, Somalia and Yemen, and has already reached South Sudan.
A happy ending for Samba
For Samba and Sayon, UNICEF's global efforts to prevent and end malnutrition resulted in a miracle.
Samba was admitted to a UNICEF-supported clinic, where he received urgently needed treatment to counter the devastating impact of severe acute malnutrition.

With the help of Plumpy'Nut®, a peanut based therapeutic food that replenishes nutrition in children affected by severe acute malnutrition, Samba began to recover. Today he is completely healed and back to his normal weight. Sayon and Samba get a weekly ration of this life-saving food to ensure he stays in good health.
UNICEF also provides families like Samba's with counseling, access to nutrient-rich foods and clean water to ensure that babies can stay safe and get the nutrition they need to thrive.
Mom and baby eagerly look to the brighter future that now lays ahead for Samba.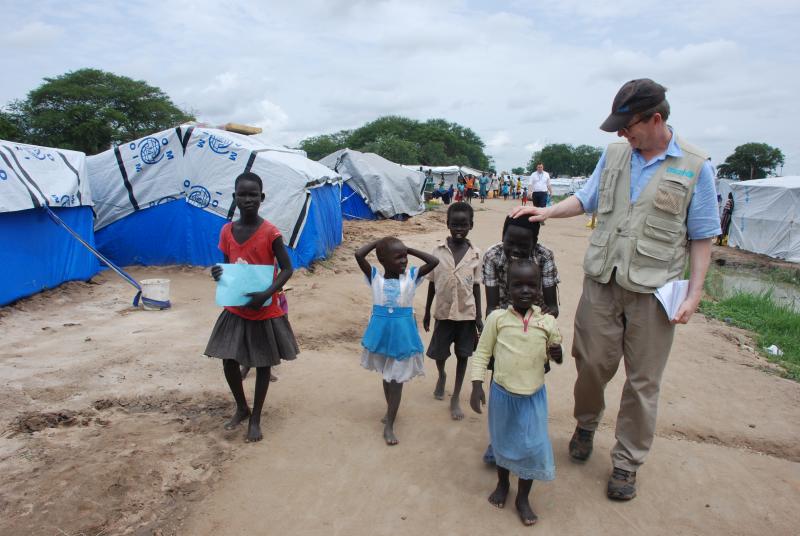 Report: Improving Child Nutrition: The achievable imperative for global progress
Stunting affects 165 million children under 5 years of age around the world, and it can trap those children in a vicious cycle of poverty and undernutrition. Learn more »
Donate now »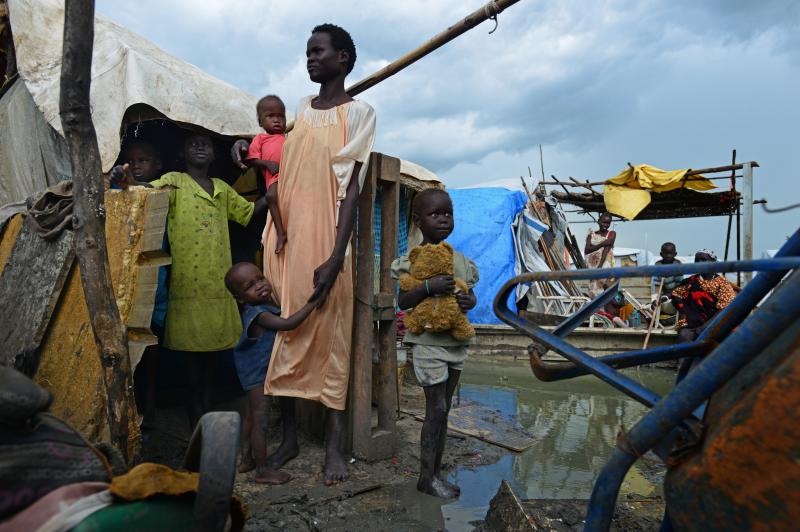 What is a famine?
It takes a lot for a famine to be declared but by the time a famine is declared, it is often too late. Find out how one is declared and why we should never reach one. Learn more »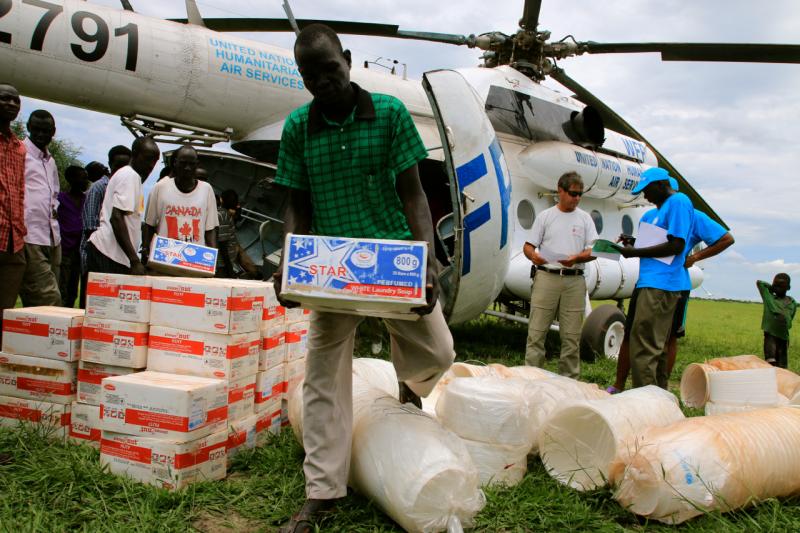 Gifts of Food
When food is scarce, these UNICEF gifts provide life-saving nutrition. Help now »