Ahmed's story: overcoming food shortage in Mauritania
In Mauritania, lack of rain has led to a terrible food shortage that has left hundreds of thousands of children hungry.
UNICEF Kid Power - Malnutrition Story from UNICEF USA on Vimeo.
Most families in Mauritania rely on farming and animals to survive. Without rain, their pastures have dried up and the animals are dying. Those animals still alive are wasting away so families try to keep them alive, even if they themselves must go hungry.
This is Mauritania, one of eight countries in Africa's Sahel region, where drought has led to the worst food shortage in years. As many as 700,000 families in Mauritania don't have enough food to eat each day and 35,000 children are malnourished.*
At a local feeding center supported by UNICEF, a group of mothers watch over their children carefully, hoping for a sign that they are getting stronger. Deida Bussab, a mother of worries about her son Ahmed Salim. Ahmed is almost a year old and weighs just 11 pounds (a healthy child weighs more than 20 pounds at this age).
"We used to farm," says Deida, "but now we have no rain. It's so hard for us and for the animals because we can't grow crops and the animals have nothing to eat… All of the families are suffering."
Mothers like Deida are lucky to have somewhere to turn. UNICEF and its partners are working together to save the lives of children. They're providing special kinds of milk, peanut butter, and other foods that are loaded with vitamins and minerals to help children grow healthy.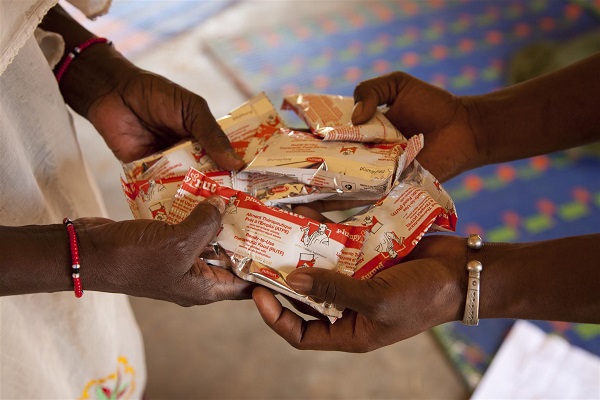 © UNICEF/NYHQ2012-0470/Brandt
Once a malnourished child gains weight and the doctors say it's safe, parents can take their children home. One of those happy mothers is Rougui Sall. She is finally able to take two-year-old Idy Oumar home to his brothers and sisters. But the problems in her village continue. As long as food is in short supply, Idy will continue to need help.
"This year I don't have milk because my cows died," says Rougui. "Last year I had milk to feed my children but now that's gone. I'm afraid because everything is dependent on the rain."
Rougui continues to feed Idy special foods provided by UNICEF, but the rest of her family must survive on a daily meal of porridge made of corn, sugar, and water. Rougui spoons out only half a portion for herself so she can give her children as much as possible.
"These mothers that are here are like all mothers," says a local doctor. "They love their children. That's why we're here to help…but we need more support to save the lives of these children…who are like all children."
Here are 3 ways to help mothers like Deida care for babies like Ahmed:
Share Ahmed's story with your friends and family on social media, using the Twitter and Facebook buttons above.
Send life-saving therapeutic food and therapeutic milk to children like Ahmed.
Make a donation to help UNICEF provide additional aid to mothers and children in similar situations.

Thanks to UNICEF USA for originally sharing Ahmed's story.
*Statistics are from 2012.
Categories:
Geographic Regions: