Bringing healthcare to hard-to-reach communities in Nigeria
---
In Niger state which is located in northcentral Nigeria, more than 35,000 children under the age of five die every year with 40 percent not surviving past their first birthday. Moreover, only 20% of the children in state are protected with vaccines required for their age. Without proper intervention, newborn mortality rates could keep rising unrestrained. 
Over 4,000 settlements in Niger State are categorized as hard-to-reach. These are settlements that are cut off from basic healthcare services by distance, difficult terrains, and lack of access to roads. Today, 850 of these settlements – home to over 100,000 children (under the age of five) and over 35,000 women of child-bearing age – are supported by UNICEF's hard-to-reach project, which is funded by Global Affairs Canada.
17 teams, with 85 well-trained health workers have been deployed to deliver integrated, mobile outreach services to targeted communities. The mobile teams help to ensure that children receive vaccinations – including against measles, meningitis, and other diseases – whilst also providing basic health services, including medications to fight infections, and health promotion activities.
Help end preventable newborn deaths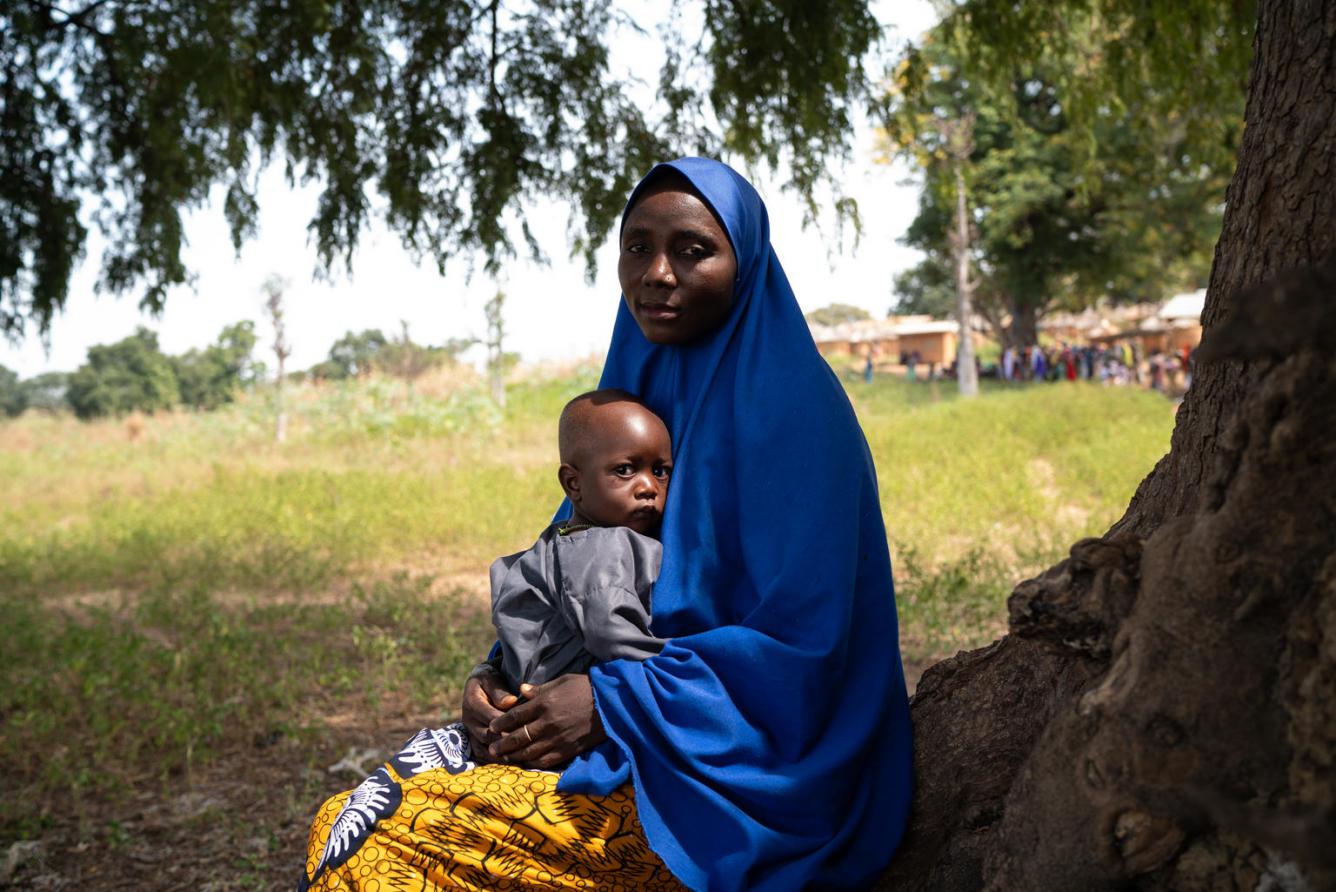 Saratu Sani, 30 years old, a volunteer community mobilizer sits for a photo with her son after helping organize a UNICEF-supported mobile MCH clinic in Kadaura settlement, Niger State.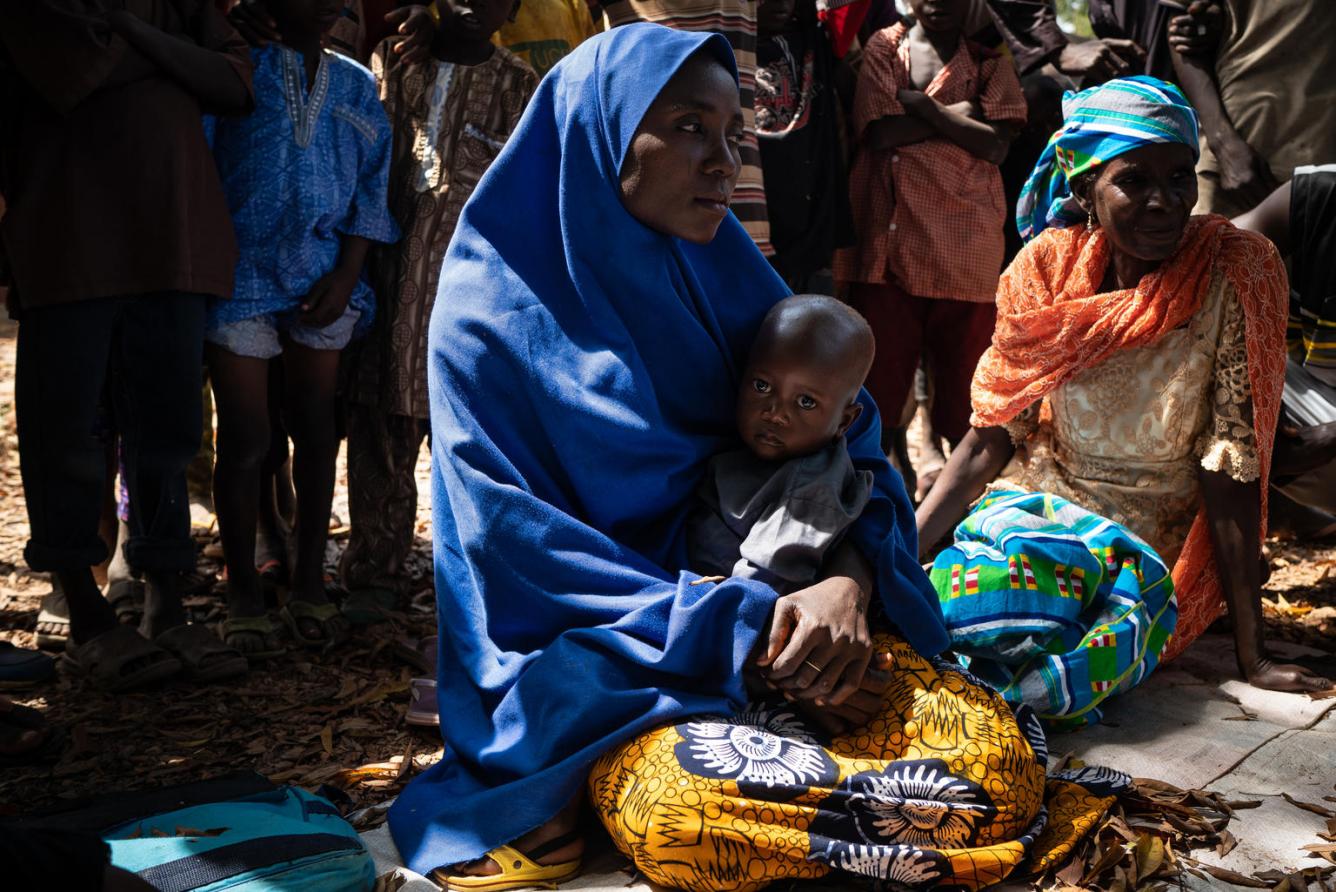 "I brought little Yusuf to the clinic today to be vaccinated. I also rally other women in the community to come and bring their babies for vaccinations and check-ups," said Saratu Sani.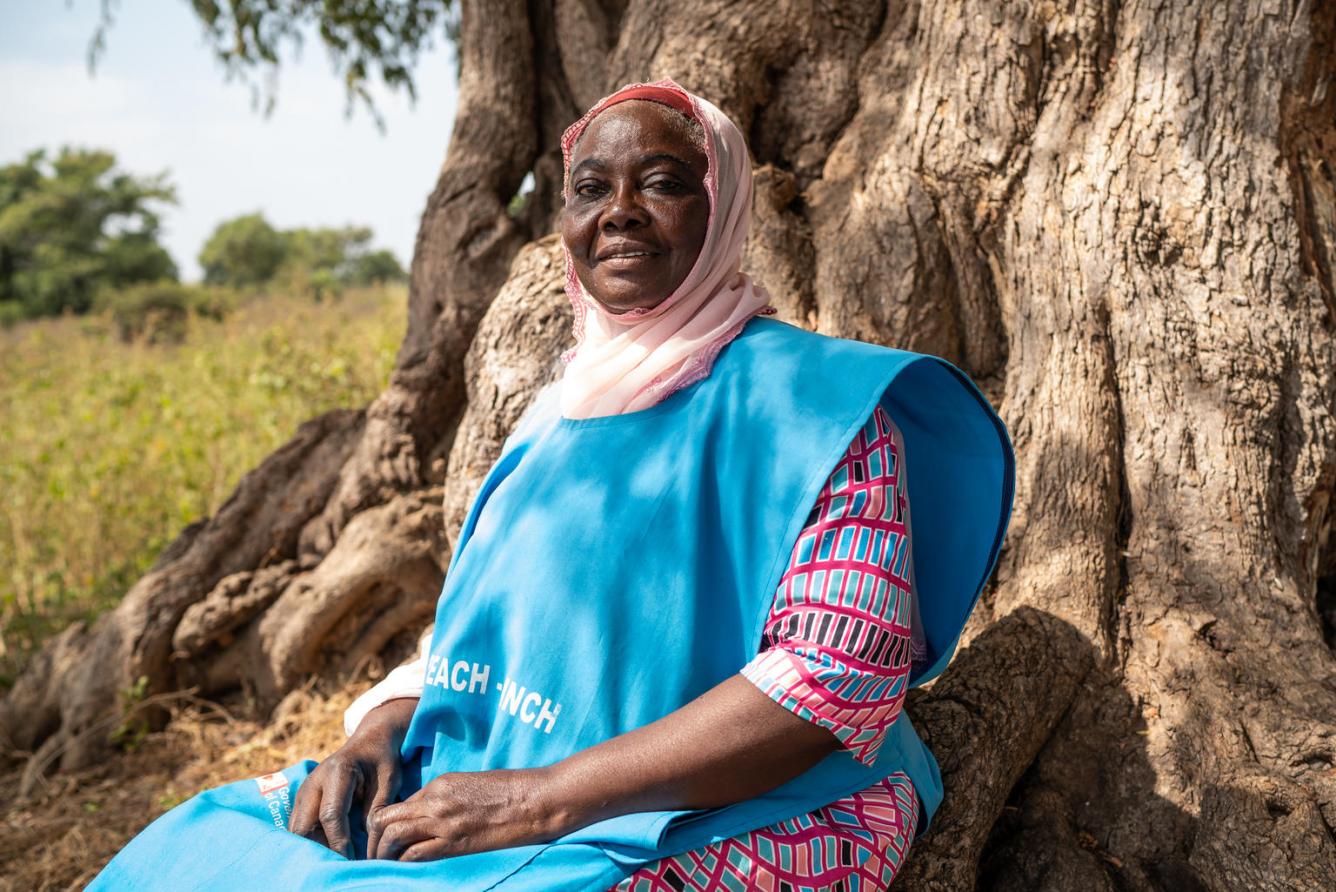 Hajiya Marufat Yusuf poses for a portrait after finishing a day working with her team at a UNICEF-supported mobile MCH clinic in Kadaura settlement, Niger State. Hajiya is a nurse, a midwife, and the leader of her team.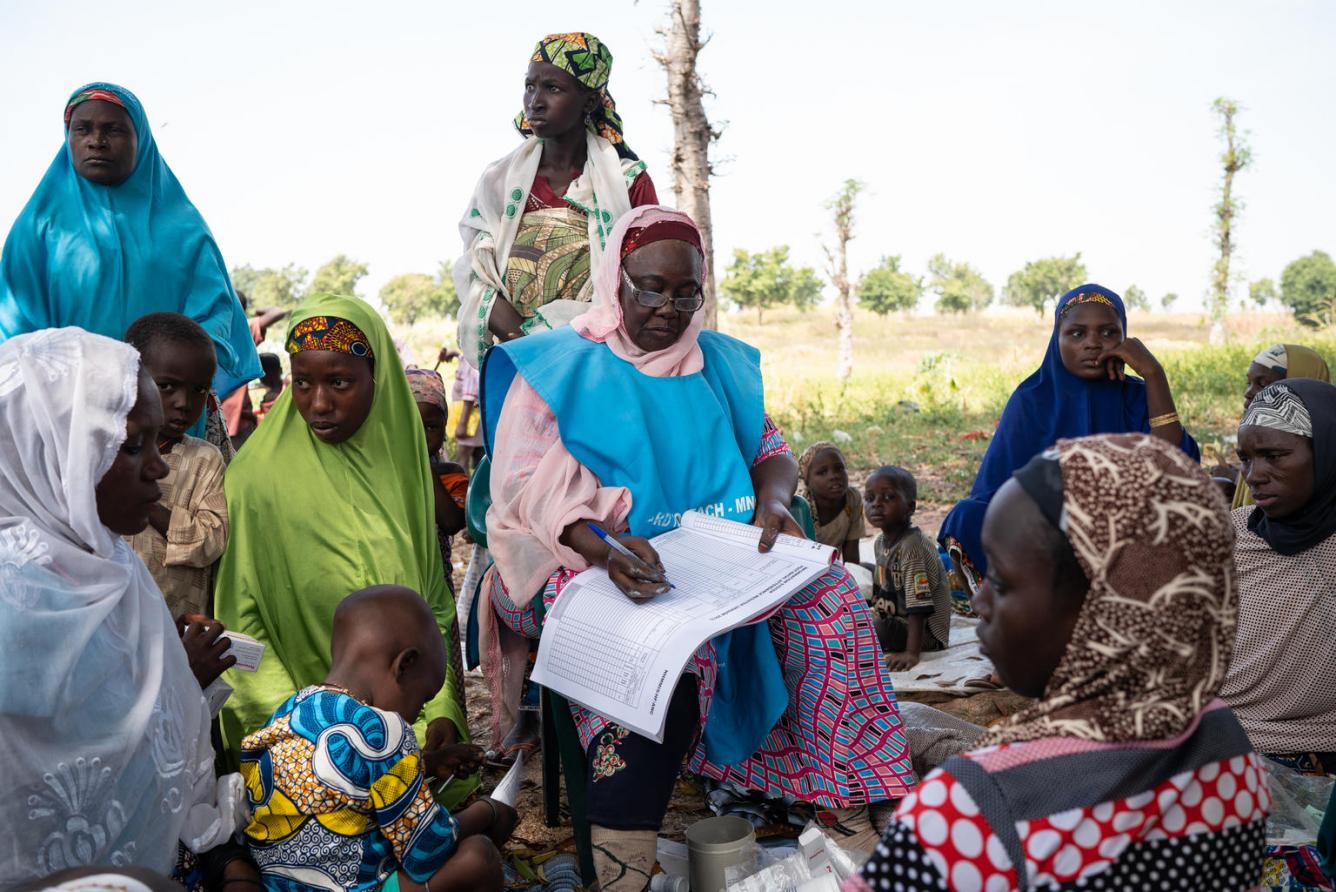 "I saw and consulted 26 pregnant women today. Three of them are expected to deliver before my next visit. I encouraged them all to go to the nearest primary healthcare facility for the delivery," said Hajiya Marufat Yusuf describing her tasks during the clinic hours.
What is Every Child Alive? >>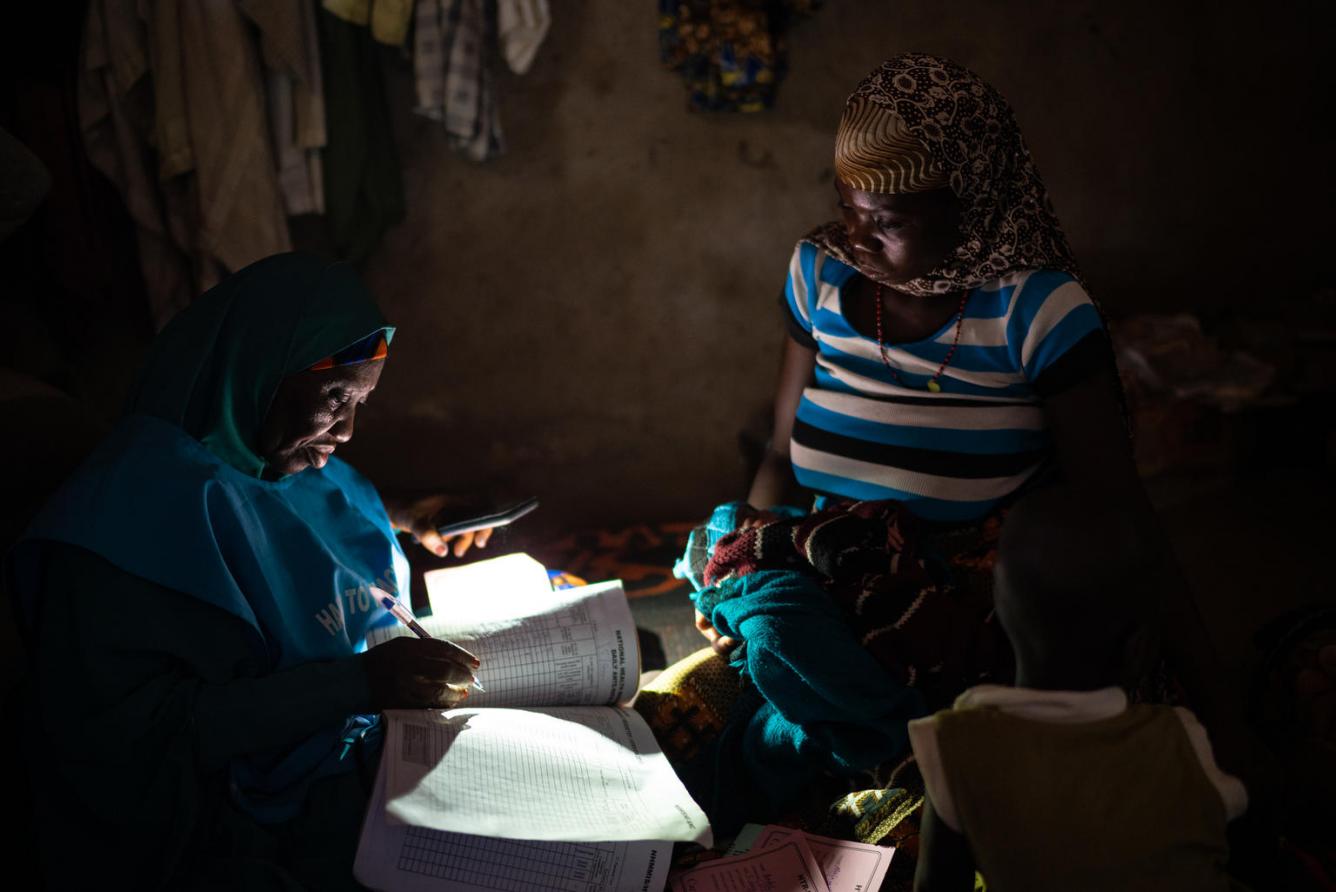 A midwife writes down data from a new mother during a home visit in Tungan Mallam settlement, Niger State.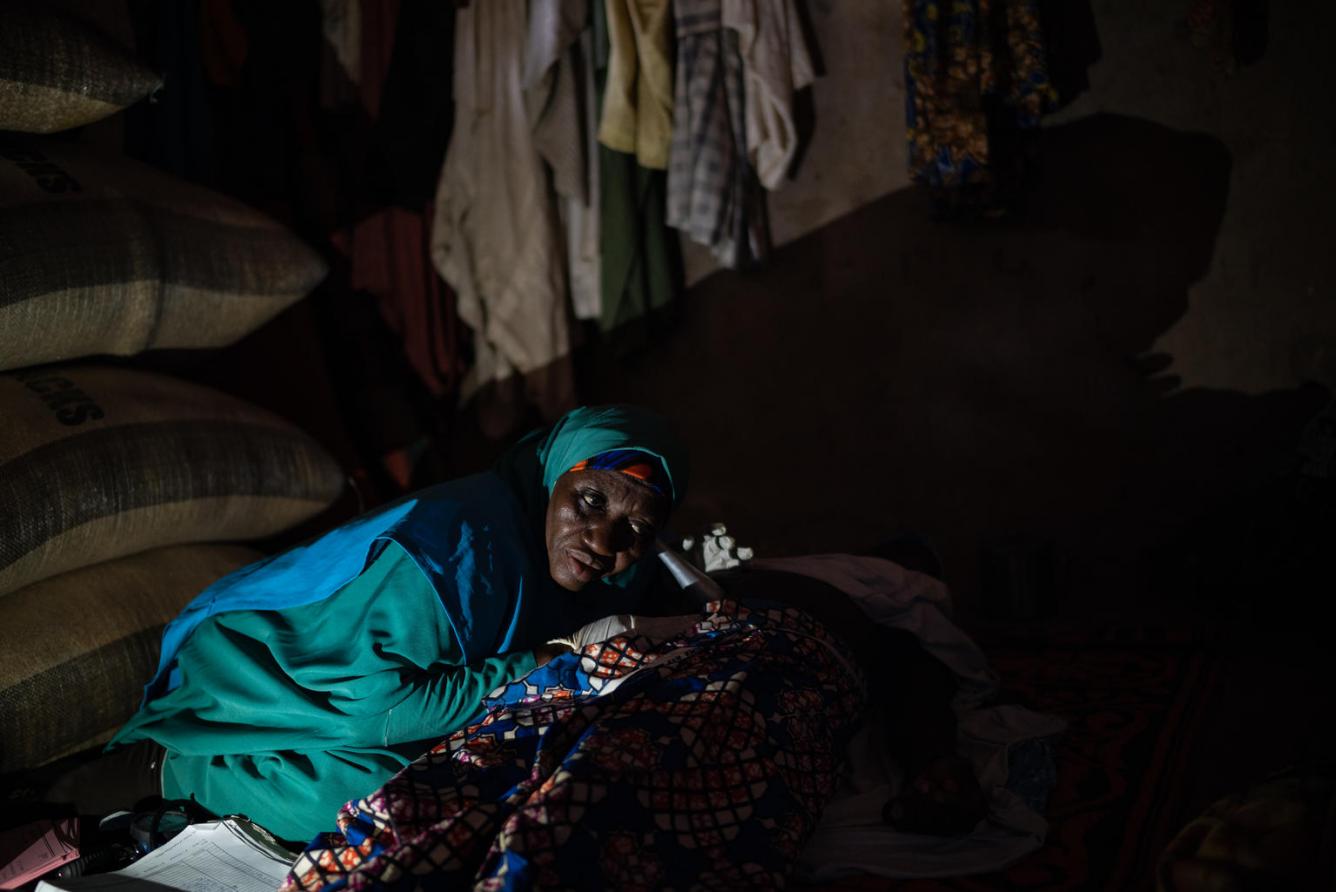 "I have been a nurse and a midwife for over 35 years," said 58-year old Ramatu Saba, the team leader of one of the mobile health clinics. "I have been part of this team from the very beginning and seen how we bring healthcare to the doorsteps of these very remote communities. I register all the pregnant women and keep a record of their antenatal visits. Their names, their children's names, information on miscarriages and child deaths can be all found from my book."
"I've seen more than 10 pregnant women today. I check their health and I listen to the baby's heartbeat. I tell the women about the importance of good hygiene and breastfeeding as well as sleeping under the mosquito net. These short talks can make a significant difference."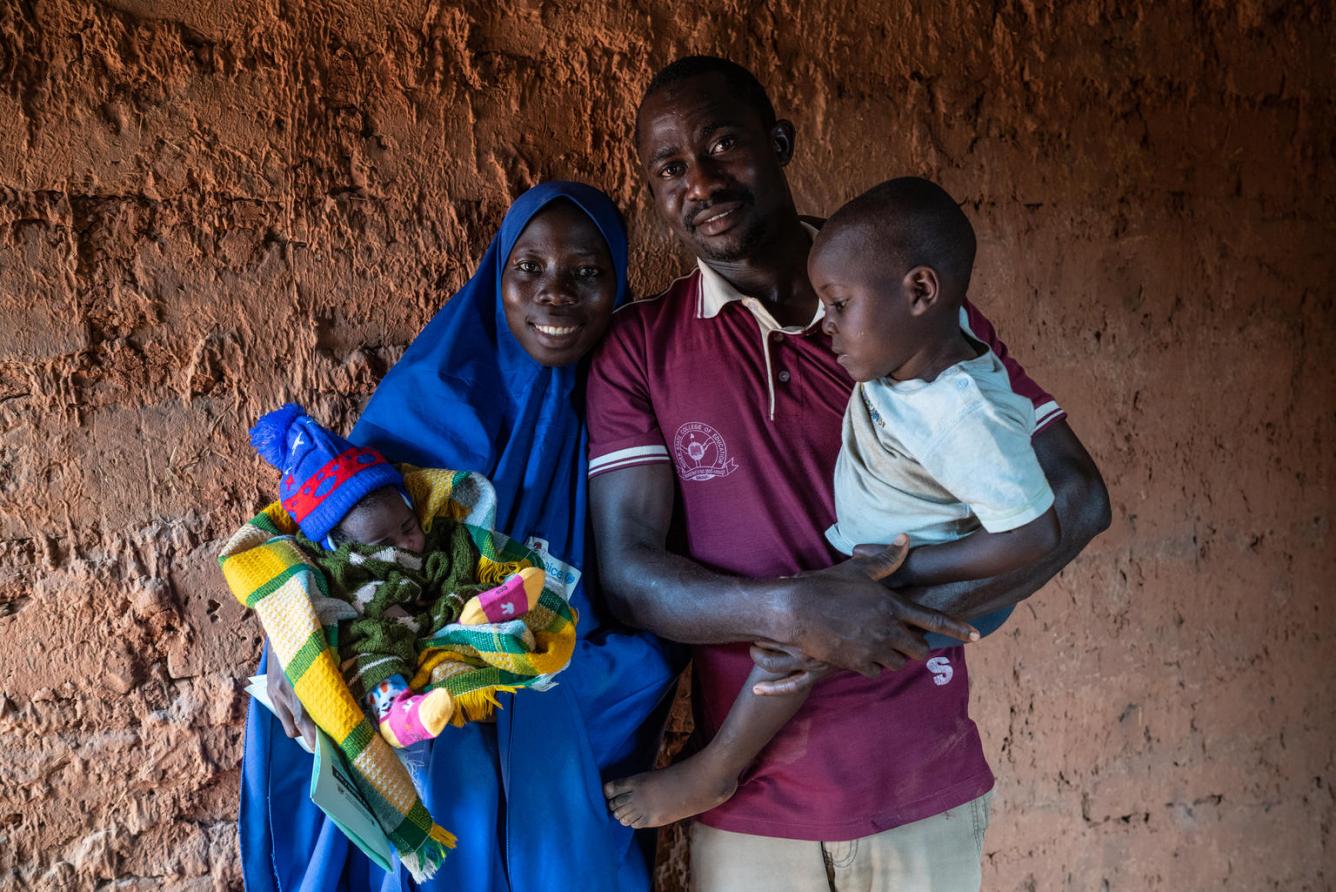 Maimuna Zakari cradles her one-day-old daughter as her husband, Zakari Gana carries his three-year-old son after attending a UNICEF-supported mobile MCH clinic in Gayankpa settlement, Niger State. Maimuna is a volunteer community mobilizer and works in the community with her husband. Just one day after giving birth to her daughter, she was at the mobile MCH clinic to get her vaccinated.
"When the clinic comes to the community, I mobilize everyone to come. The drugs are free – and so is the good advice," explained Maimuna Zakari her role as the community volunteer mobilizer.
"Me and my husband want to make sure our children grow health. My three-year old son has completed the routine immunization schedule with the help of the mobile clinic and I brought my little girl here today to get her first vaccines," she said.
During the past three years, the project has had an incredibly positive impact –
Conducted 7,198 outreach sessions in the state
Delivered 267,915 doses of vaccines
Provided the first contact to vaccinations for 17,776 children
82,705 courses of antimalarial treatment has been provided to children in the supported settlements
43,003 treatment courses have been rendered to treat diarrhoea and 39,113 treatment courses to treat pneumonia
With the support of the Government of Canada, UNICEF Nigeria is working to reach all the children and mothers-to-be in rural Niger state – to help ensure they stay healthy.
You can easily help the program go a step ahead.
Sign the petition and help support vulnerable newborn babies.