Changing history: 5 things to know about the SDGs
Today, 193 world leaders at the United Nations General Assembly (UNGA) set a plan in motion to improve the lives of millions of people around the world.
It's an historic moment, as we're collectively standing upon the precipice of change. Once the world commits to the Global Goals or Sustainable Development Goals (SDGs), we'll have an opportunity to advance the rights and well-being of every child, as well as secure a healthy planet for generations to come.
Here are 5 things you should know to better understand the Global Goals or SDGs.
1. The Millennium Development Goals (MDGs) were the foundation for global change.
In 1990, nearly half of the population in the developing world lived on less than $1.25 a day. World leaders vowed to put an end to this, acknowledging that human development was the key to sustaining social and economic progress and global security. In 2000, at the UN Millennium Summit, 189 UN member states drafted eight MDGs to change the world by 2015.
In the 15 years that followed, global partners (from governments to development agencies like UNICEF to communities) worked diligently to achieve these goals, making significant advances for children and families around the world. The number of people living in extreme poverty was halved. Twice the number of children were living to see their fifth birthdays. New HIV infections were reduced by 40%, over two billion people gained access to clean water, and 43 million more children enrolled in school.
However, our work was far from over. The Global Goals were needed to build upon the progress we made.
2. The poorest, most vulnerable children and families were left behind.
While we achieved many of the MDGs, the data showed that far too many children were being left behind. The poorest and most vulnerable children were hidden in national averages – invisible to most of the world.
UNICEF firmly placed these children at the heart of our work. If 80% of children were vaccinated, we focused our efforts on the 20% who were the hardest-to-reach. If children were excluded because of gender, disability or geography, we tailored programs and influenced policies to give them a better chance in life. Every child deserved every opportunity, no exceptions. Equity was our driving force – and it had to be the guiding principle for the Global Goals.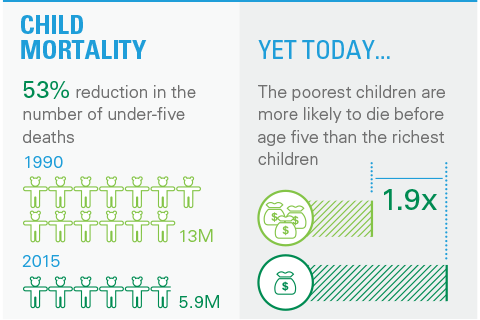 3. The Global Goals will help this generation and generations to come.
The Global Goals are a new universal set of 17 goals that every UN member will be expected to use to frame their own agendas and political policies over the next 15 years. Including Canada. Only then can we have a more prosperous, sustainable and equitable world.
UNICEF Executive Director Anthony Lake reminds us that, "We will measure our progress, yes, through statistics. But the true measure will be in every child lifted out of poverty; through every mother who survives childbirth; every girl who does not lose her childhood to early marriage."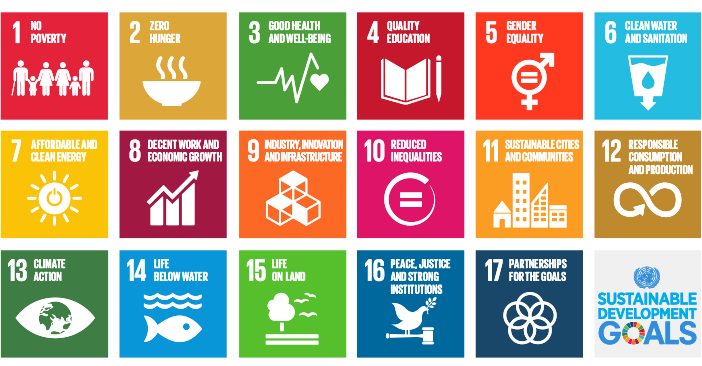 We must focus our collective attention on reaching children affected by violence, disaster, poverty, discrimination and climate change. It's not just the right thing to do – it helps everyone reach their full potential and contribute to the economic and social growth of their societies.
4. The Global Goals touch everyone.
Because these universal goals affect virtually every country, people around the world are rallying support for the Global Goals. This week Shakira, a UNICEF Goodwill Ambassador, asked world leaders to 'Do what they can to guarantee every child has best start in life.' Malala called on world leaders to support every girl's right to education. The Pope called attention to climate change and world peace. And David Beckham, UNICEF Goodwill Ambassador, encouraged world leaders to end violence against children.
Young people are being heard too. Thanks to a special UNICEF-Google initiative, their thoughts and opinions were heard at the UNGA.
5. YOU have the power to help end extreme poverty and injustice.
We can be the first generation to fight extreme poverty and injustice, and the last generation to prevent the worst impacts for climate change. The Global Goals are not just for governments or developing nations – all of us have a role to play to create a better world.
Join the "We The People" movement. Speak out on social media (#GlobalGoals), or share UNICEF Canada's social media posts. And donate to save and transform lives.
We can create the world we want for every child.
Changing History: 5 things about Sustainable Development Goals http://t.co/XnEVMlvDvo #GlobalGoals #UNGA #action2015 pic.twitter.com/w39zQCSUml

— UNICEF Canada Live (@UNICEFLive) September 25, 2015
Categories: