Close to me: Breastfeeding in Canada
By Rebecca Charron
M.Sc., Co-Chair Halton Baby-Friendly Initiative
With all the coverage infant feeding receives in the media here in Canada, it is sometimes easy to lose sight of what that IS exactly; a relationship between a mother and her babe. Breastfeeding is an amazing opportunity for a mother to nourish her child from her own body, bringing that child closer to her in a very physical and profound way.
I recently had the privilege of supporting an adoptive mother who felt cheated by not being able to breastfeed her children. She was unable to carry or birth her own child so she relied on the strength and gifts of another woman to provide that for her, but what she felt she lost most was the chance to nurse her babies. I told her of some commercial devices called lactation aids that would allow her to use her donor milk at her own breast to feed her newborn boy. Needless to say she has run with the idea and has now nursed her baby boy for his first month of life! She speaks to me often of the bond she feels with her son at her breast, in awe of how close she feels to him.
The Baby-Friendly Initiative of Canada (breastfeedingcanada.ca) has been making great strides in bringing donor milk to mothers by supporting milk banks in British Columbia (bcwomensmilkbank.ca), Alberta (calgarymothersmilkbank.ca) and now in Ontario (milkbankontario.ca) too! In addition to the active milk banks, three additional provinces are investigating implementation opportunities for their own milk banks. All of these provinces are bringing more and more babies and their mothers closer to being able to use donor milk when the need arises.
BFI Canada has also helped six provinces put a Breastfeeding/BFI strategy in place and five provinces now have BFI designated facilities including hospitals and birthing centres. The implementation of BFI allows for the education of not only breastfeeding mothers, but also of their support system; partners, family, nurses, midwives, doulas and all health practitioners that a mother and her breastfeeding child will see. With consistent and accurate messaging, more and more people will have the chance to experience parenting at the breast, bringing all members of the family closer together.
BFI Canada is committed to improving the 87.5% breastfeeding initiation rate by supporting many provincial measures. Some of the recent and important outcomes include ALL of British Columbia's health authorities working towards implementing BFI, Nova Scotia's website devoted to answering questions and supporting mothers during the first six weeks of their baby's life (first6weeks.ca), Ontario Halton region's newly redesigned webpage including its wonderful article What You Don't Need (babyfriendlyhalton.ca/about-breastfeeding/what-you-dont-need), and of course Newfoundland and Labrador's fantastic poster campaign (babyfriendlynl.ca/our-campaign).
As World Breastfeeding Week arrives in Canada this year, lets step back from the inflammatory media depictions and let moms nurse their babies. Let's support mothers in holding their babies close and respect the relationship they are building together.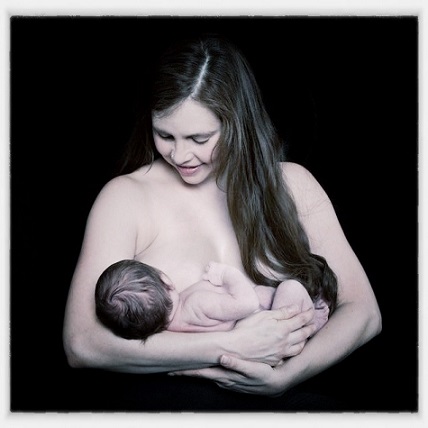 Rebecca has a background in experimental and medical physics, and is working towards becoming a Lactation Consultant. She proudly nursed her eldest son until he was a bit past three years old and is planning to nurse her youngest son until he is good and ready to stop on his own.
Categories:
Geographic Regions: