A Day in the Sign of Water
Jeremy - The day starts with clean water and concludes with clean water. Together with NGO partner ACTED we visit two of the 25 emergency shelters where some of the families whose homes have been destroyed by Matthew found refuge. An average of 250 to 500 people stay in each location, cohabitating on very little space. Ensuring clean water and appropriate hygiene conditions is more crucial than ever to avoid epidemics.

Mostly these shelters are in schools that have withstand the hurricane thanks to solid construction. The five shelters where the largest numbers of people are concentrated are managed by ACTED. Here three agents work every day from morning till nightfall, cleaning up the environment, the water cistern and the toilets. "I am staying here with my four children. Matthew destroyed what we had. No idea how I can start to rebuild our house. I have no money to buy building materials." Tells me Rose, 37 years old, who stays in the shelter of CHO which was previously a school and a church.

To counter the looming risk of cholera UNICEF is supporting the Government in the organization of various prevention interventions. After an increase in diarrhea cases in two of the shelters people were given yesterday evening a prophylaxis to temporarily increase their immune shield. Hygiene education is done in parallel.

The shelters are a critical junction between relief and return. While the objective is to support the people in the present acute crises, the aim is to prepare their return home as soon as possible.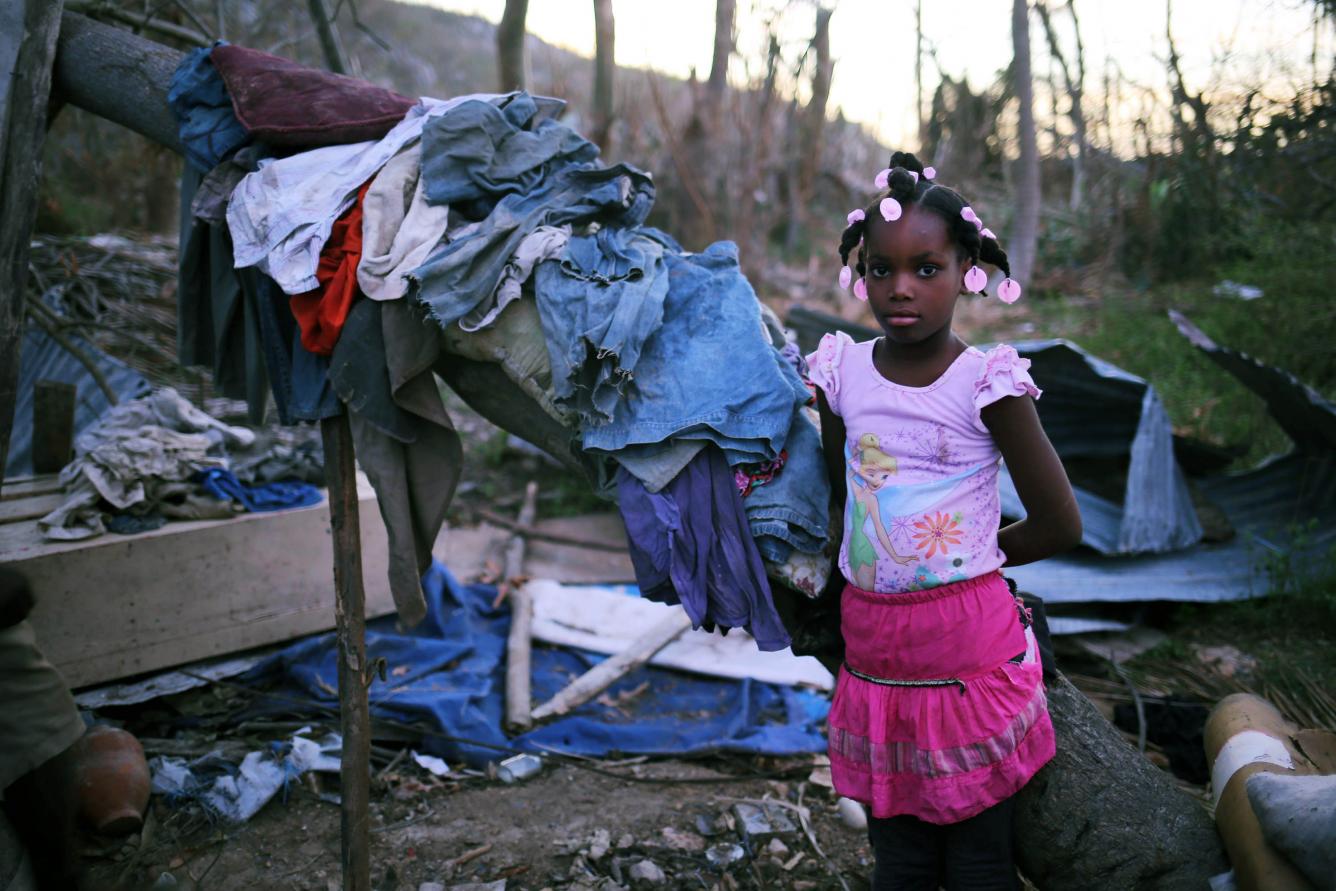 Next we move to the water treatment station, La Digue, which is the go to place where most of the inhabitants of Jeremy get their water. Chlore is put in every single water trucks that fetches water, which will then be delivered to the areas where the most vulnerable people live, such as the Shelter of CHO. Not an easy job. "I work every day from 7 am until 7 pm. No matter if it rains or of if its hot like today. Before Matthew I was studying mechanics. The storm has destroyed my house and i need money to rebuild it, so I started working here." Explains Alicien, 24 years old. He earns 400 gourds per day (less than $6.-).

From La Digue we follow Honore, a technical expert of DINEPA (the Government entity in charge of water and sanitation, one of our key partners) who tours the different water distribution points in the city of Jeremy on his motorcycle. Wherever he arrives people are waiting patiently, buckets in hand, until the tabs are opened. The water is safe and free. A blessing in the midst of uncertainty and lacking resources. In Rozeau, a popular part of Jeremy I meet Josiane. "Before I had to walk two hours to La Digue to get our water, and then back again. This distribution in my part of town makes it so much easier." She tells me. Like so many other her house has been damaged. "The roof just flew away with the wind; and everything was under water. Instead of the roof we now have plastic sheeting to protect us from the rain." (Rozeau means bamboo, and there is a beautiful Creole proverbe that seems to encapsulate the resilience of the Haitian people: 'M se Rouzeau. Menm si mwen pliye m pap kase'. I am a bamboo, even when I'm bend I am not broken').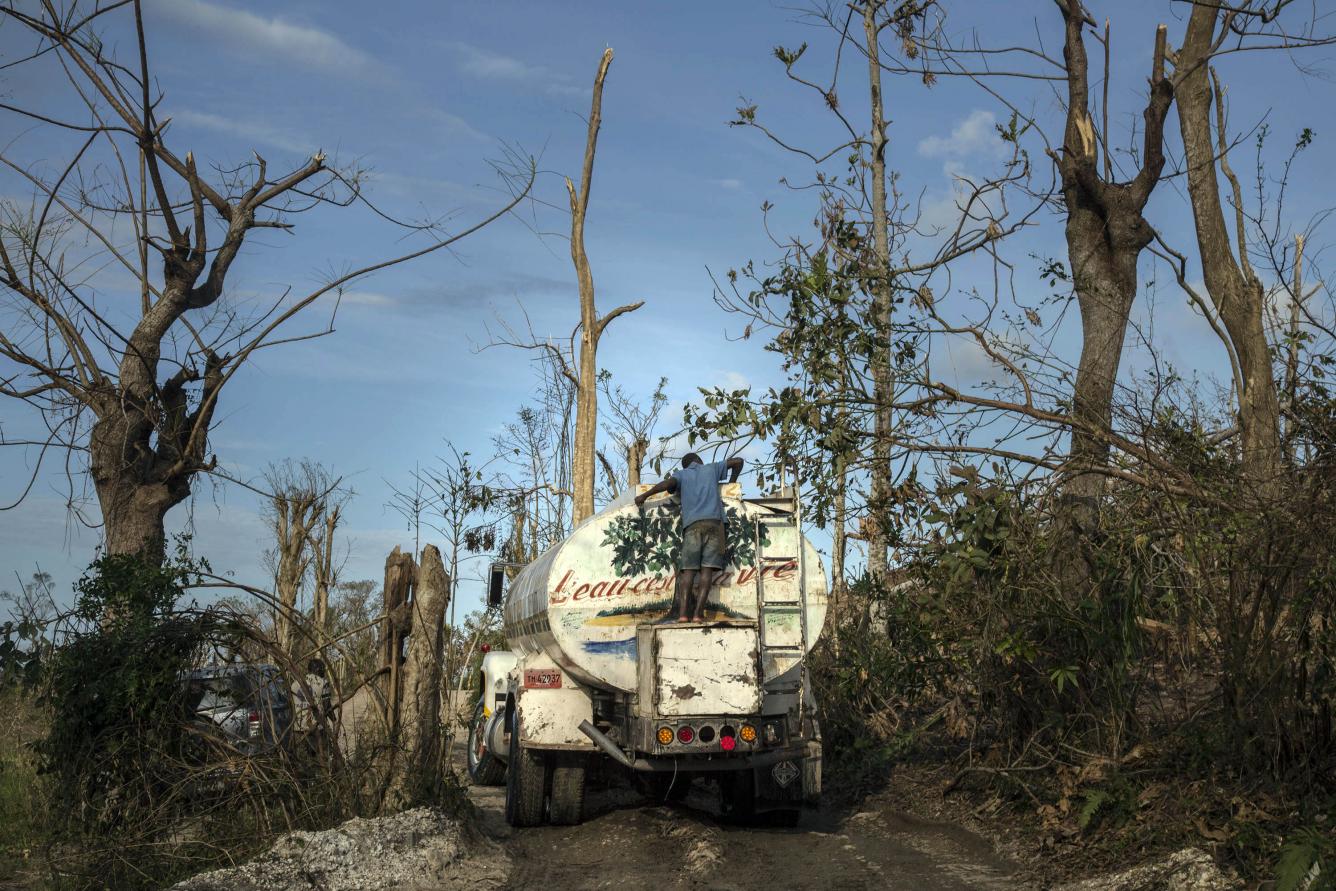 The day concludes with a briefing with the French military on a water treatment system that has been flown in from France and is on its way to Jeremy as I write. During three weeks the two units will provide 400 cubic meters of clean water (based on the estimate of 10 liters per day this will benefit 20.000 people), a precious transition to support the Government until a more viable solution can be established. It is a great illustration of the value of complementary resources and partnerships. The French Government lends the equipment and the personal to operate it, UNICEF ensures the coordination between civil and military partners, and organises the distribution in collaboration with DINEPA, and finally the UN peacekeeping mission MINUSTHA which covers the security of the convoy from Port au Prince to Jeremy (over the past days an increasing number of attacks on trucks that deliver aid has been reported in the South and Grand Anse. As people, in particular those in very remote areas feel that nobody is coming to their rescue, they stop the trucks. Usually they take what they need, and then allow the driver to continue with the remaining supplies to his destination..) So many children must be reached, every drop of clean water is a drop to eventually fill the half full glass to the rim.
Thank you & Mesi anpil.
Cornelia Walther is Chief of Communications for UNICEF Haiti.
You can help us respond and help those in the hardest hit areas of Haiti by making a donation here.
Categories:
Geographic Regions: