Happy Birthday Nelson Mandela!
"We owe our children, the most vulnerable citizens in our society, a life free of violence and fear." –Nelson Mandela
For 67 years, Nelson Mandela dedicated his life to the betterment of humanity – as a human rights lawyer, an international peacemaker, a prisoner of conscience, and the first democratically elected president of South Africa.
This year, the United Nations is partnering with the Nelson Mandela Foundation to advance a special call to action: devoting 67 minutes of your time to helping others.
Nelson Mandela International Day was first established in 2009 by the United Nations General Assembly in recognition of the former South African President's unparalleled contributions in the service of humanity.
Not least among them is his unflagging belief in the rights of children – especially that of equal access to quality education.
"No child in Africa, and in fact anywhere in the world, should be denied education." –Nelson Mandela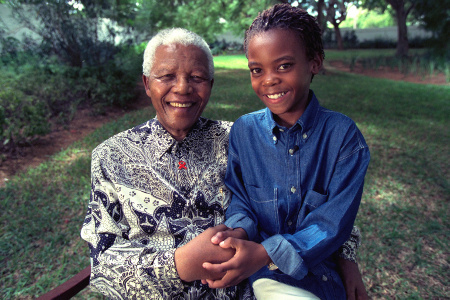 © UNICEF/NYHQ2001-0213/Pirozzi
The Nelson Mandela Foundation was a partner in UNICEF's 'Schools for Africa' campaign, launched in 2004. The initiative successfully enhanced education systems across six African nations through improved learning environments, the construction and rehabilitation of classrooms, the provision of learning materials and furniture like blackboards, desks and chairs, as well as accessibility to safe drinking water and separate sanitation facilities for girls and boys.
By the time the program concluded in 2010, more than 115,000 teachers had been professionally trained, and 5.5 million children were receiving better educations.
"Education is the most powerful weapon which you can use to change the world." –Nelson Mandela
Schools for Africa – Thank You:
Categories: