Happy Birthday, UNICEF!
The United Nations Children's Fund was founded 66 years ago today in the aftermath of the Second World War. It was launched with a special mandate to provide relief and support to children in European countries devastated by the war, who were left vulnerable to famine and disease.
By 1953, the UN General Assembly had extended our mandate indefinitely. Over the following decades, UNICEF worked tirelessly to help children and their families, and to ensure each child in every corner of the world could grow up safe, healthy and educated.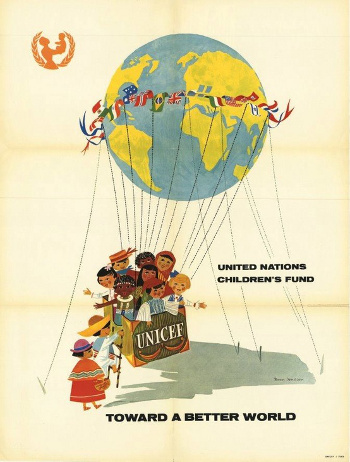 A UNICEF poster circa 1979. See more vitage UNICEF posters here.
Since its establishment, UNICEF has saved more children's lives than any other humanitarian organization.
We will do whatever it takes and go wherever it takes to make sure children survive. Our determination and our reach are unparalleled. We believe nowhere is too far to go to help a child survive.
We couldn't do what we do without donors like you. Thank you for all your support!
photo credit: dilshil.com
Categories: