Interview with Terry Ananny, Featured Artist, UNICEF Canada Holiday Cards
Terry Ananny is an artist from Toronto whose bright and colourful paintings have been collected by Canadian Prime Ministers, Governor Generals and the Government of Canada. Her work has been commissioned for a Canadian coin and selected each year for a UNICEF Holiday Card since 1998, sales of which go towards supporting our work to reach the most vulnerable children around the world and helping them survive and thrive. We asked her a few questions to get to know her better.
Where are you from?
Born 1956 in Willowdale, Toronto, Ontario.
Why did you decide to become an artist?
I don't remember actually making a conscious decision to become an artist but I always remember having a desire to create. There were a few events that stand out in my mind that may have propelled me in the direction of becoming an artist. My great-uncle Charles Cole Wakefield was a professional artist during the era of the Group of Seven and I often visited his studio in Morningside, Toronto while growing up. We had some of his landscape paintings in our home which I found interesting and inspired me to want to paint. I also enjoyed visiting the McMichael gallery in Kleinburg, Ontario where I saw the beautiful works of Quebec artist Clarence Gagnon's watercolour illustrations for Louise Hémon's novel Maria Chapdelaine displayed.
What kind of artwork do you enjoy doing most?
I like to paint scenes of seasonal Canadian villages and children at play in the outdoors using acrylic paint on canvas or wood panel.
What inspires you as an artist?
I spent some summers visiting Quebec in the areas of Charlevoix and Eastern Townships. I loved the rolling Quebec landscape and picturesque villages and was inspired to paint them. I am also a fan of winter sports such as hockey, skating and skiing which find expression in my work. I have also found inspiration from many Canadian artists such as Henri Masson, Marc A Fortin and the Beaver Hall Group of Painters.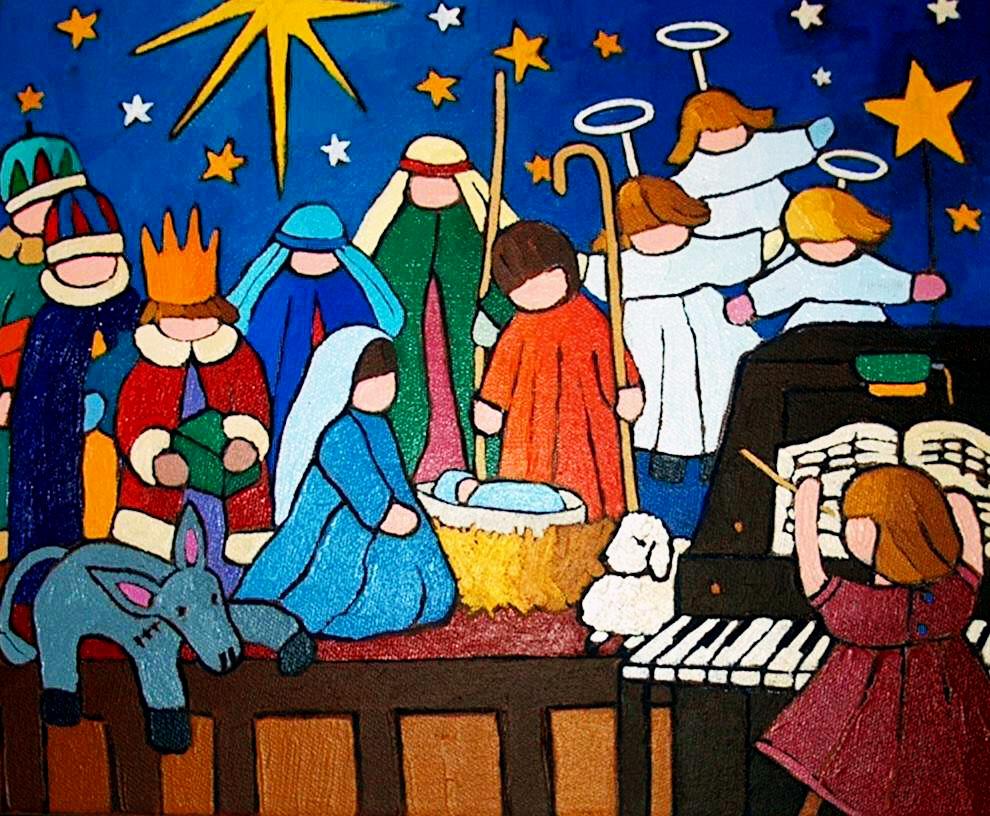 When did you first become aware of UNICEF?
I first learned of UNICEF when I was a quite young. Our elementary school participated in the UNICEF Halloween Orange Box Program. A great many of us back then carried the orange UNICEF boxes while we went trick-or-treating at Halloween and collected money for UNICEF. The program taught us about charitable works in a fun way. I also knew of UNICEF by the lovely UNICEF cards that were sent during the holiday season.
When did you decide to lend your artwork to UNICEF?
I was contacted by UNICEF and asked if I would like to submit some of my work for the holiday card program. When my first design was selected I remember feeling totally amazed that my art had been selected for a UNICEF card and that I would now be contributing to helping children in need worldwide. From 1998 to 2016 I have been lending my artwork to UNICEF and my art has appeared on fourteen holiday cards.
What is the best thing about seeing your work on these cards?
I remember being so excited when the first delivery of complimentary UNICEF cards arrived at my studio. The cards were made with excellent quality and I thought that my artwork looked beautiful on them! I couldn't wait to share them with my family and friends.
What aspect of UNICEF'S work speaks most to you?
I like all aspects of UNICEF's commitment to the well-being of children. I like the way UNICEF responds to emergency situations in the world by being on the scene with aid and relief.
What do you hope people think/feel when they see your art on the holiday cards?
I hope that my art on the holiday cards will make people smile and bring back fond memories of past holiday seasons. I would like to think that people might describe the artwork as joyful and that they get a feeling of peace and hope from them.
If you could give one message to Canadians this holiday season what would it be?
Be kind to one another.
To purchase a UNICEF Canada holiday card featuring Terry's work, click here.
Categories:
Geographic Regions: