No child marriage for Arjina
Fourteen-year old Arjina wants to become a doctor one day, but a few months ago her dream nearly shattered. Arjina's parents – her mother a housewife, her father a daily wage laborer – were constantly struggling to make ends meet. They were also continually worried if they did enough to protect their daughter from harassment from boys and men.
Then one day, a marriage proposal was given to Arjina's father. In Rangpur district in northwestern Bangladesh where Arjina and her family lived, parents commonly arranged the marriage of their daughters during adolescence, and nearly half of all girls were married by the age of 15. In light of this tradition of early marriage for girls, and considering their dire financial situation and their concerns for their daughter's safety, Arjina's parents decided to accept the marriage proposal.
Arjina told her mother that she did not agree to get married so young - but it had no effect. Arjina then sought help from the Community Worker, Giribala Roy, who she knew from community dialogue sessions on child marriage. Giribala works to change harmful behaviours and social norms in the community, such as child marriage, with support from UNICEF.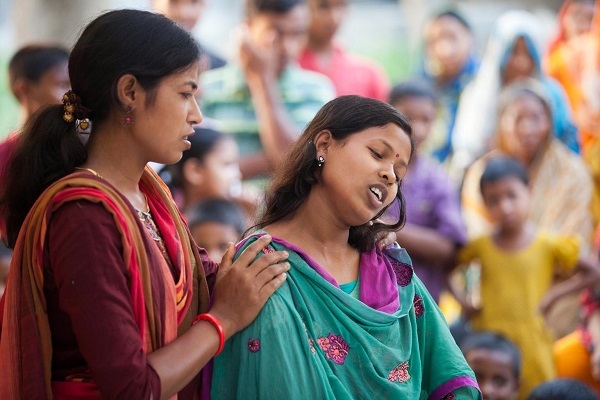 Women participate in an Interactive Popular Theatre show in Bangladesh to raise awareness about child marriage and other social issues.
© UNICEF/BANA2014-01329/Paul
Giribala alerted the local Ward Development Committee and government authorities at sub-district level and together they visited Arjina's parents. They argued that adolescent girls were physically and mentally not ready yet for marriage and childbirth. They also talked about the penalties for parents who marry their children before the legal age of 18. The local skilled birth attendant discussed the increased health risks when adolescents get pregnant.
Experiencing community pressure and listening to the arguments against child marriage, Arjina's parents agreed to delay their daughter's marriage until she reached the age of 18.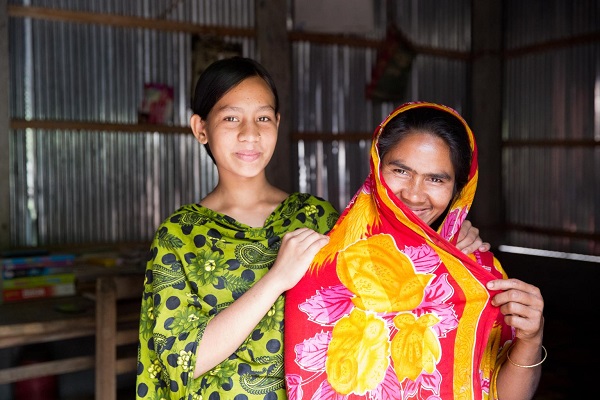 Arjina stands with her mother Josna in front of their house, in Chowrapara, Bangladesh. © UNICEF/BANA2014-01288/Paul
Each year, an estimated 15 million girls under the age of 18 are forced to marry. That is 15 million girls like Arjina who are less likely to remain in school, and more likely to experience domestic violence and complications in pregnancy and childbirth. A staggering 15 million girls who may never reach their full potential.
We need to break the cycles that perpetuate child marriage and deny so many girls a fair chance in life.
In Bangladesh, for example, UNICEF is helping girls to develop the skills and support networks needed to oppose child marriage and violence, but we need to invest more in these girls, families and communities.
Help us end the practice of child marriage and help girls stay in school longer so they can learn, grow and become empowered.
Empowered and educated girls are better able to nourish and care for their children, leading to healthier, smaller families and more productive societies.
When girls are allowed to be girls, everybody wins.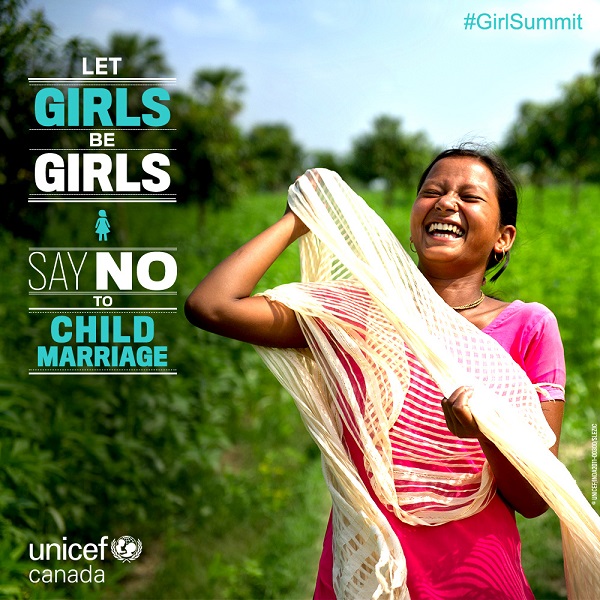 Categories:
Geographic Regions: