Typhoon Haiyan diary: Safe Spaces for Children
By Kent Page, UNICEF Communication Specialist
A great morning in Tacloban where we opened our first child friendly space for children at the Rizal Central School. The school is now an evacuation point and shelter for hundreds of families whose homes were wiped out by Haiyan. It is cluttered with their meager belongings, and surrounded by the debris and wreckage of the typhoon.

But, now there is an oasis just outside the school - a brand new, clean white tent that is filled with about 40 children, laughing, singing, playing and learning under the gentle guidance of two trained daycare workers.

It's a chance for the children to be children, to have a sense of normality in a completely abnormal situation. It's a place to feel safe and protected and loved. And hearing their laughter and voices is something beautiful to behold in a town that otherwise looks like a post-apocalyptic world film set.

But it isn't, it's the new reality for these children while the town and people try to rebuild their lives.

UNICEF is planning to open many more of these child friendly spaces in Tacloban and well beyond - the utter destruction carries on and on and on, far beyond where the eye can see.

Recreation and early childhood learning kits will make the child friendly spaces even more enjoyable for the kids, with their games and learning materials. But sometimes all it takes is a place to sit and sing, clap hand and play jokes on each other in a nice, clean tent that protects from both the blazing sun and pouring rain ... Both which occur every day here.

I am quite sure that Tacloban was a beautiful town before Haiyan and that it will be an even more beautiful town as it begins to rebuild. But for now it is not, with cars lying in trees, boats on top of the ruins of houses hundreds of meters on shore, the smell of debris and bodies that are still being discovered as crews and people try to clear away the wreckage. But the child friendly space tent offers some respite for the children from it all. A place where they can laugh and play and dream about a better tomorrow for their home-town.

By providing the basic support needed in the areas of health, nutrition, education, child protection, clean water and good sanitation, children can be incredibly resilient and can bounce back from such a natural disaster. By doing so, families and communities become more resilient leading to a better future. Child friendly spaces are one important helping to reinforce that resilience.
You can support our work by making a donation at www.unicef.ca/haiyan.
If you're reading this and you've already donated to UNICEF or another organization that is helping the children of the Philippines, thank you, and rest assured your money is making a positive difference in the lives of Philippine children every day.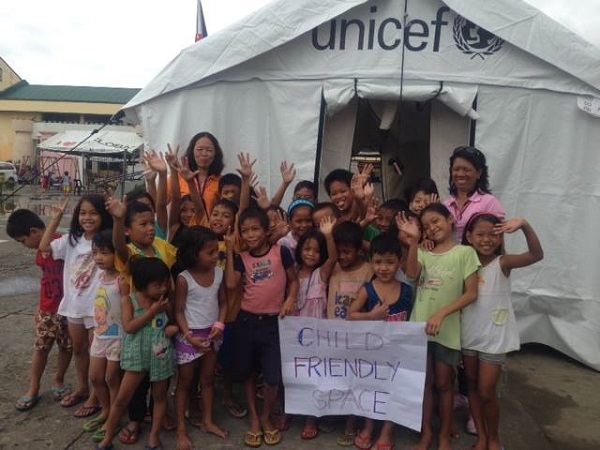 Categories:
Geographic Regions: