World Refugee Day: refugee stories from around the world
Meet people who have the same hopes and dreams as you and I
Every day, in the news, we see violence and disaster threatening communities around the world. From terrorist groups in Nigeria to the war in Syria, the horrors on our screen reflect an unfathomable reality.
It's hard to understand the politics at play, but in the midst of this refugee crisis (just like with every crisis) there are families just like ours struggling to survive. There are boys and girls just like our children, grandchildren, nieces and nephews losing their lives, parents and homes. And there are children on the move – displaced inside their own country or lost across borders – who are vulnerable to exploitation and abuse.
65 million people around the world are forcibly displaced from their homes – half of them are children
Click the map to view in full size.
On World Refugee Day, take a closer look at the refugees and internally displaced people who have the same hopes and dreams as you and I.
Afghanistan – Zahra and Zaineb's story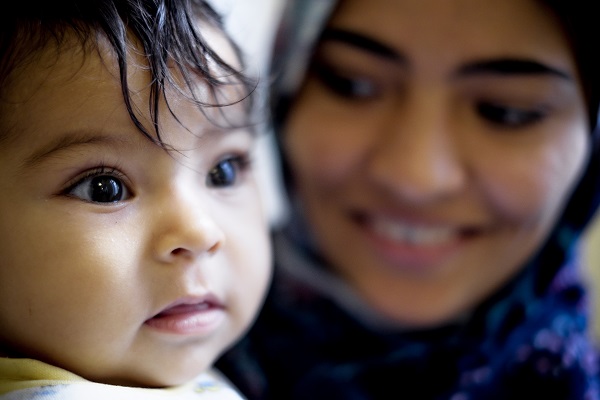 © UNICEF/UN05473/Gilbertson VII Photo
Zahra Husseini, 18, holds her baby daughter Zaineb in their room at an emergency shelter in Vienna. They left their home in Ghazni, Afghanistan with Zaineb's father, Abbas, to find safety, shelter and the possibility of a peaceful life. Vienna's refugee housing is at capacity, but UNICEF and volunteers are providing life-saving support to those arriving with nowhere to stay. Approximately 3.7 million people like Zahra are on the move inside or outside of Afghanistan.
Burundi – Celeste's story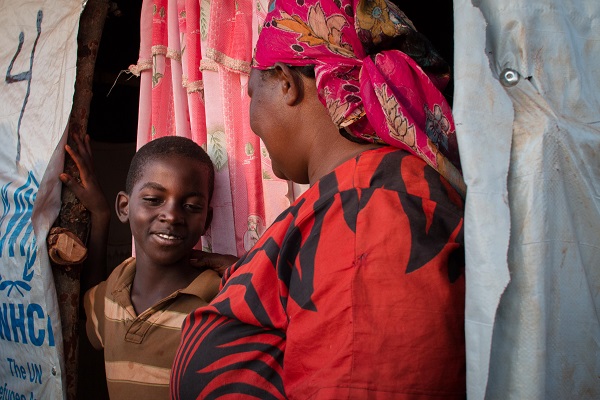 © UNICEF/UNI186132/Calvin
Celeste Niyonkuru, 13, stands next to a neighbour of his foster family in Nyarugusu refugee camp, in the Kigoma Region of Tanzania. While still in Burundi, he arrived home one day to find that his father had been killed. He ran away, sleeping on the road and eating at markets until he finally reached Tanzania, where he is now living with his foster family in Nyarugusu. UNICEF and partners are providing essential services in the camp, including family tracing. More than 300,000 people like Celeste are on the move inside or outside of Burundi.
Central African Republic – Adamou's story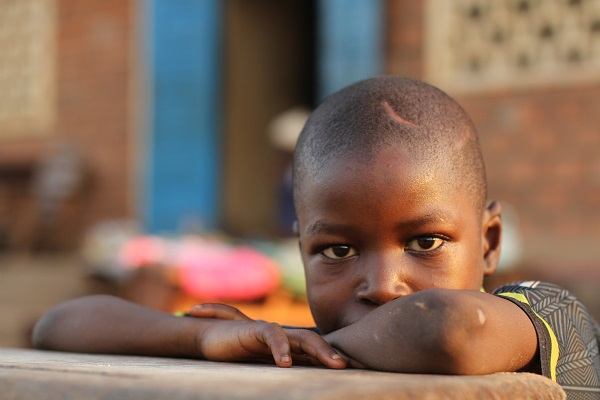 © UNICEF/UNI153490/Menezes
Adamou Bouba, his older brother Oumarou and mother found shelter at the École Liberté site in the Bossangoa camp in the conflict-affected, north-western region of Central African Republic. They fled to the bush after the family was attacked at home by an armed group – where they stayed for weeks. Adamou sustained a machete injury, and their father and older brother were killed during the attack. UNICEF and partners are providing water, emergency supplies, medicines and more in the camp they now call 'home'. More than 900,000 people like Adamou are on the move inside or outside of Central African Republic
Iraq – Avan, Elina and Mestan's story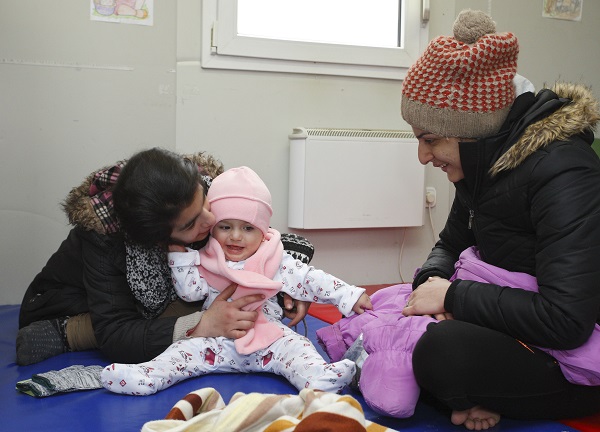 © UNICEF/UN08804/Vas
Avan Jamal and her daughters Elina and Mestan, are finally resting in a UNICEF-supported child-friendly space in the Miratovac Refugee Aid Point after a month-long journey. Before reaching Serbia, conflict in Iraq drove them from their homes, with their journey taking them to Turkey, Greece and the former Yugoslav Republic of Macedonia. UNICEF is providing health, nutrition, water and child protection services. Nearly 3.8 million Iraqi refugees like Avan are on the move inside or outside of Iraq.
Nigeria – Binta, Mahamadou and Khadidja's story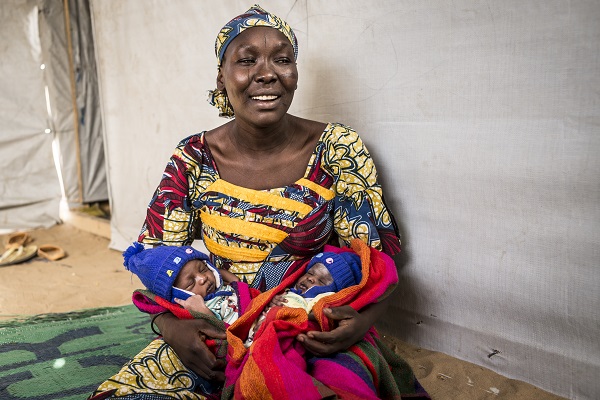 © UNICEF/UNI185044/Cherkaoui
Binta Mahamadou cradles her twin son and daughter, Mahamadou and Khadidja, inside her family's tent shelter in the Dar es Salam camp in Chad. Binta, who has six children in all, was pregnant with her two youngest children when her family fled from their home in Nigeria to escape the conflict. She gave birth to the twins, who are in good health, in the district hospital in Baga Sola three weeks after her family arrived in the country. Her family, which receives support from UNICEF, is among more than 4,900 Nigerian refugees currently sheltering in the camp. More than 2.5 million people like Binta are on the move inside or outside of Nigeria.
Syria – Aya's story

© UNICEF/UNI180422/Romenzi
Aya, a toddler, stands inside the Marj El Khokh camp in Lebanon for Syrian refugees. When her house was destroyed by shelling, Aya and her mother Maha fled the country in search of safety – not wanting to return unless the war had stopped. Maha's only wish for her daughter, Aya, is that she can grow up in a peaceful Syria. UNICEF is reaching children in Syria and across the region to meet immediate water, health and nutrition needs. UNICEF's education and child protection programs are also helping to prevent a lost generation. Approximately 11.4 million people like Aya are on the move inside or outside of Syria.
South Sudan – Tasloch's story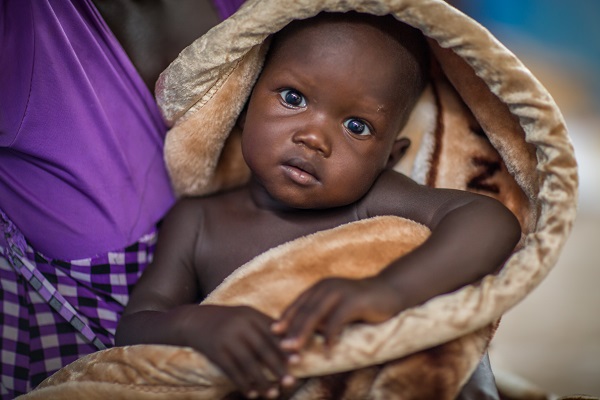 © UNICEF/UN022007/Ayene
Baby girl Tasloch Char and her mother Anakhor fled violence in South Sudan for safe shelter at the Tierkidi refugee camp in Gambela, Ethiopia. Here, they have peace – and health checks, supplemental food and screenings for malnutrition. More than 2.5 million people like Tasloch are on the move inside or outside of South Sudan.
Yemen – Sabah's story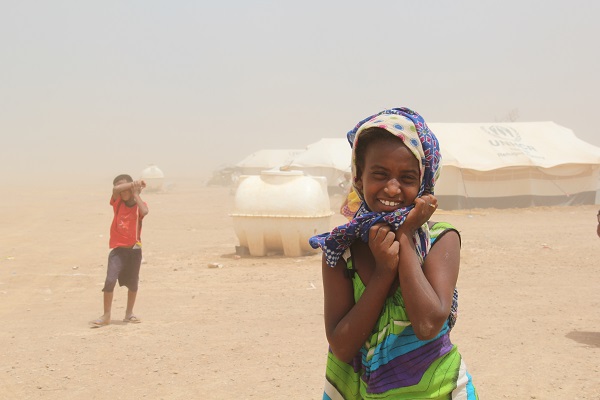 © UNICEF/UNI191725/Rita
Sabah, 11 years old, lives at the Markazi refugee camp for Yemenis in Obock, Djibouti. The war in Yemen – or rockets, more specifically – destroyed her home. She and her mother escaped armed groups by taking a perilous boat ride to Djibouti. She misses home, her clothes, her doll and her comforts, but she still has her dreams. She wants to become a doctor in the future so that she help her mother. Vaccines, clean water, therapeutic food, education and more are provided to children like Sabah to help them survive in this difficult crisis. More than 2.7 million people like Sabah are on the move inside or outside of Yemen.
Categories: