 The Equalizer: How Education Creates Fairness for Children in Canada  
MEASURING THE RIGHTS AND WELL-BEING OF A GENERATION 
UNICEF has measured the rights and well-being of children in rich countries in 15 Report Cards over the past 18 years.  We compare countries so we can learn and do better. The 2018 UNICEF Report Card 15 is focused on equality in education. 
Download the 2018 UNICEF Report Card 15 (Canadian Companion)
IN EDUCATION, FAIRNESS COUNTS AS MUCH AS GREATNESS
Canada is one of the top ten rich countries in educational equality, ranking 9th among 38 countries. UNICEF Report Card 15  shows that Canada's public education system helps many young people achieve.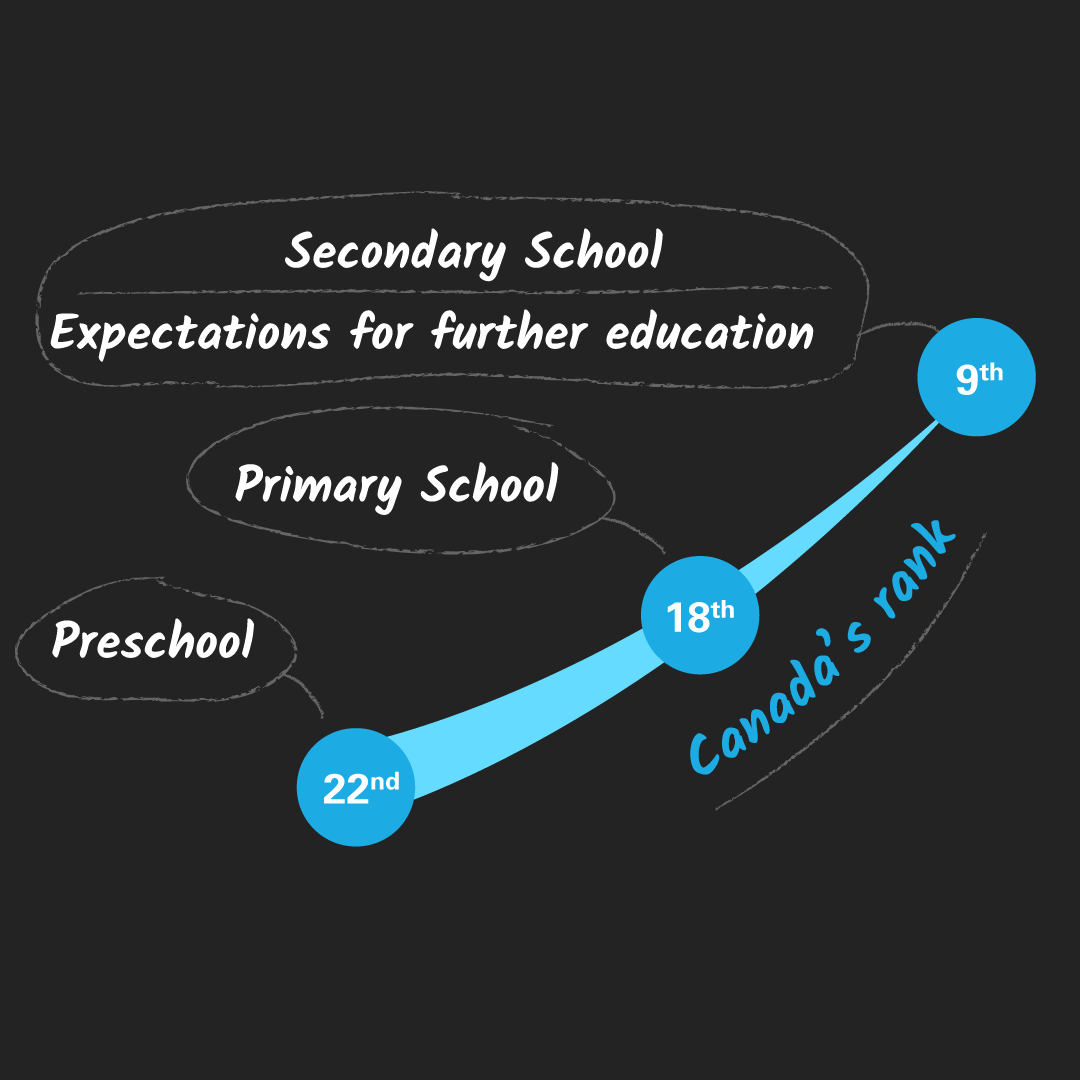 Children in Canada spend their early years with unequal opportunities for nurturing, health, protection and access to preschool. They start school with wide gaps in their skills. But between primary and secondary school the gap in reading achievement gets smaller compared to other rich countries, and most young people are thinking about further education. Migrant children tend to do well in Canadian schools. But some children are more likely to be at the bottom of the education gap including boys, Indigenous children and children with disabilities.
There are growing threats to Canada's fairness and high standards in education. But there are big opportunities to improve learning and broader well-being for young people on both sides of the achievement gap.
Students may spend countless hours studying and stressing just to "boost" their average a couple of percentage points. I have seen many people, including my close friends, break down and lose hours of sleep, night after night. Too many students have been affected by this for it to be considered a small issue.
Yash, age 17
See what else Canada's kids have to say about education at Kids of Canada
 
WHEN CANADA HAS BIG DREAMS
How can we help every child dream and achieve? How can we protect the equalizing power of Canada's schools?
Reduce income inequality and child poverty;
Expand high-quality early childcare and learning;
Make learning more inclusive and support the well-being of every child
Download the 2018 Report Card 15 results
GET THE CANADIAN COMPANION TO UNICEF REPORT CARD 15

UNICEF Report Card 15

Infographics

Kids of Canada

8 important things about education in Canada

DENZEL WASHINGTON IS NOT THE ONLY "EQUALIZER": HOW YOU CAN HELP MAKE CANADA A GREAT COUNTRY FOR EVERY CHILD
It's up to all of us to sustain our commitment to Canada's great equalizer, our public education systems, and ensure they work for every child.
Join UNICEF Canada's One Youth campaign and help us make Canada the #1 place in the world to grow up in. We bring young people together with caring adults, organizations and decision-makers to understand and work on some of Canada's greatest challenges to child and youth well-being.
If you are 13-24 years old, join U-Report and speak out on issues that matter to you and inform decisions that affect you
Write a blog on your school experience or something you are passionate about for our Kids of Canada series
Sign up for our One Youth Newsletter to learn more about what we're up to: www.unicef.ca/en/unicefs-work-canada
Hungry for Learning?
Canada ranks 37th of 41 wealthy countries in hunger in UNICEF Report Card 14 because one in six children (four in six Inuit children) doesn't have enough nutritious food and one in three has unhealthy weight. Nutrition is a widespread problem: one in three elementary school students and two in three secondary school students don't eat a nutritious breakfast. When children go to school hungry they are more likely to repeat a grade and less likely to graduate high school.
Say YES to help every child get a nutritious meal during the school day.
U-REPORT: School Meal Programs
We asked young U-Reporters for their thoughts on school meal programs. Here's what they told us:
Most young people (64%) say their school doesn't have a meal program.
Most young people (70%) think students in their schools would benefit from a school meal program.
Visit here for more information and to sign up for U-Report.

School is a Time for Dreams
Every child in Canada has a right to education. School should be a time and space to have big dreams and learn what is necessary to achieve them. Many First Nations young people living on reserves do not get the same opportunities to learn or to achieve their dreams as others do because there is less funding for their education.

Show support for equity in education for First Nations and all young people in the country.
Tips for Parents
There are four key things parents can do to help their children learn the critical skills they need today and for the future. Helping with homework isn't one of them!
Have high expectations – someone who believes in them shapes the expectations children have to achieve their own goals
Talk about school – ask about thoughts, experiences and goals; celebrate effort; and support problem-solving in non-judgmental ways
Build positive attitudes and habits – for sleep, nutrition, school work and free time
Read and eat together as often as you can