Finding Light in the Dark: Top 5 Stories of Success in 2020
---
2020 has been a difficult year because of the COVID-19 pandemic. Children faced unique challenges- with global school closures, cessation of important services like vaccination campaigns, rising economic and food insecurity. Threats like natural disasters and outbreaks of conflict created further hardships for children around the world. 
Although most of us will probably be happy to leave 2020 behind - we'd like to shine a little light in the darkness by sharing our top stories of success for children. Because in spite of the ongoing COVID-19 pandemic, UNICEF continued to make strides in protecting every child's right to a childhood.
1) Finding new ways to reach children with life-saving vaccines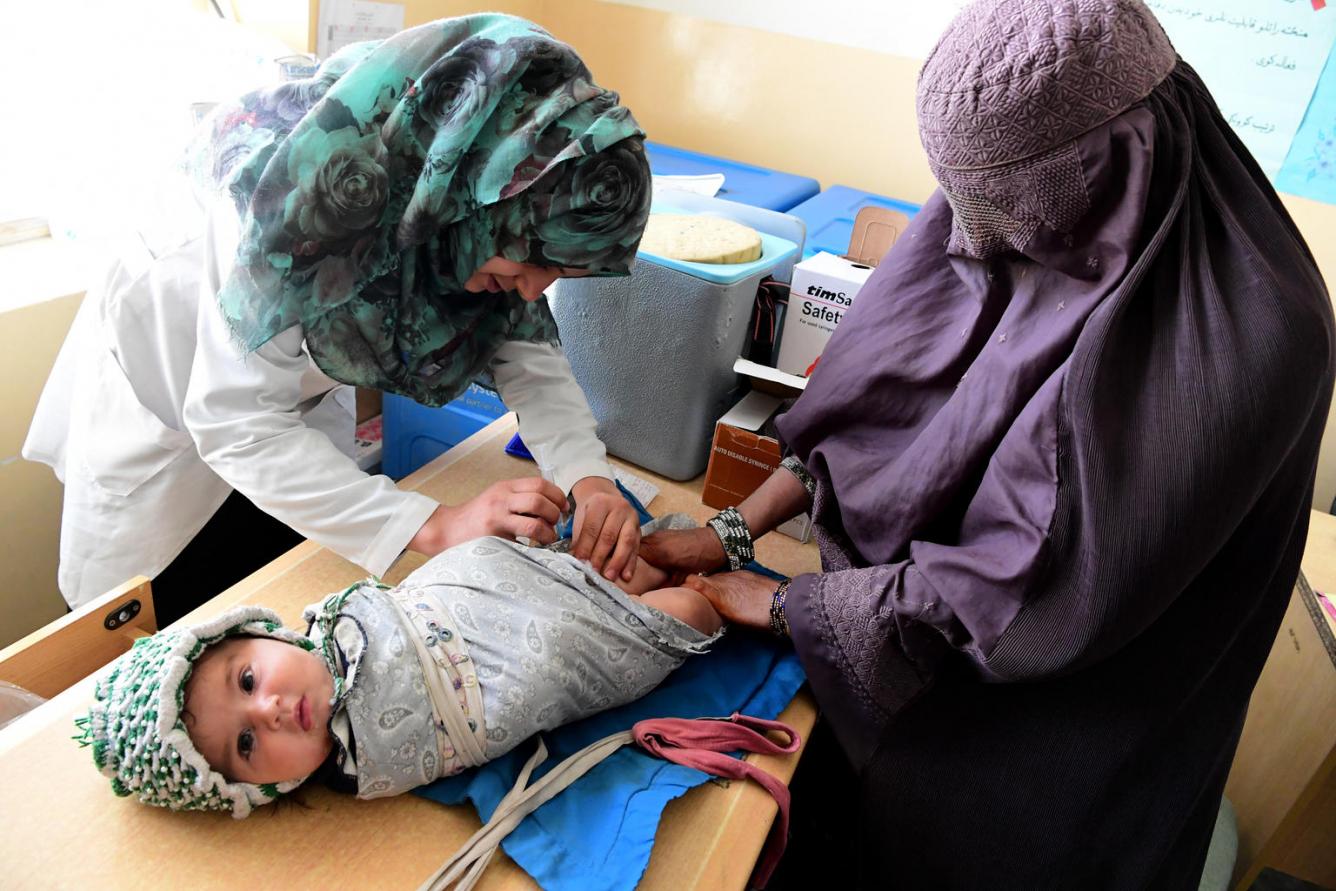 The outbreak of COVID-19 initially resulted in the cessation of vital vaccination campaigns but recognizing the importance for children to receive routine vaccines, UNICEF began developing new methods for delivering vaccinations, to ensure the health and safety of children, families and healthcare workers.
In Venezuela, UNICEF was able to reach 1,300 children of the Eñepá and Hoti indigenous groups with polio, yellow fever, and measles vaccines, transporting the vaccines and healthcare workers first by light plane and then canoe to the Eñepá and Hoti communities. In the Democratic Republic of Congo, UNICEF vaccinated over 150,000 children, ages 6 months to 5 years against the ongoing measles outbreak. Finally in Fall 2020, healthcare workers in Pakistan went door-to-door to vaccinate 39 million children under the age of 5 around the country against polio.
2) Amplifying the voices of Canadian youth and providing them a platform to speak out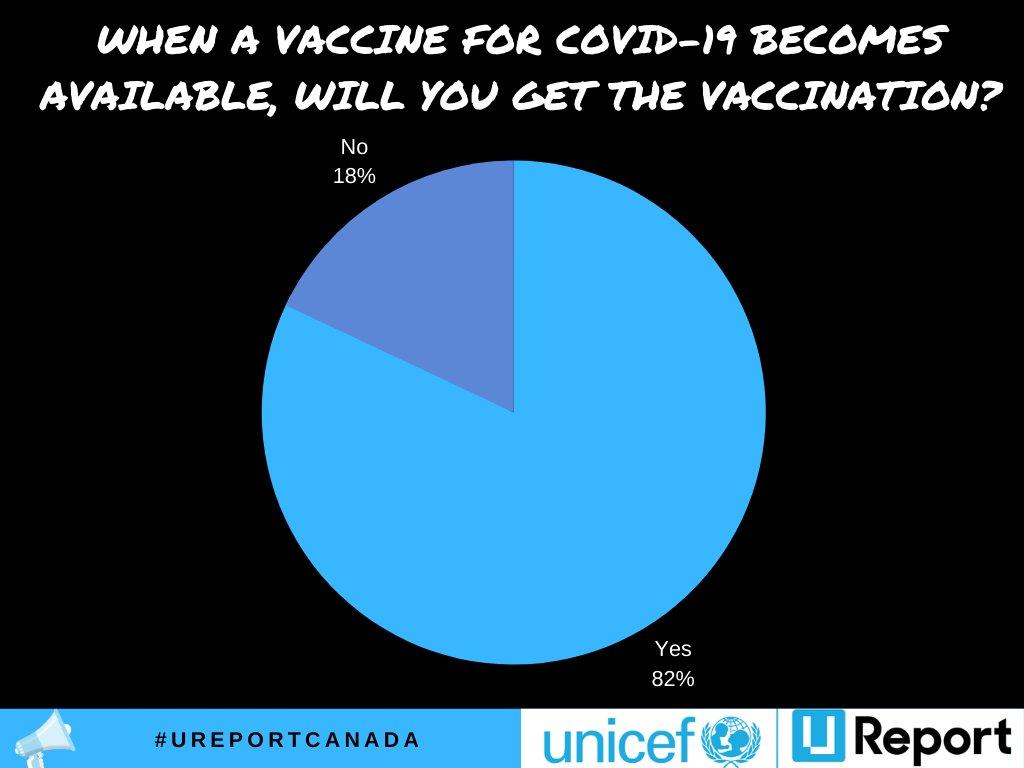 2020 was a tough year for children and youth in Canada. An entire generation of kids missed on the key milestones of being young: graduations, proms, sports, and clubs. More importantly, they missed months of school and social interaction with their friends and family. 7 out of 10 young people reported that COVID-19 had negatively impacted their mental health. 
Yet, young people in Canada showed that the pandemic was no match for the power of youth voice and stayed in to speak out on the issues that matter most to them. While adults were working to build back better, young people were working on reimagine the future. Youth in Canada spoke out on COVID-19 through their Kids of Canada blogs, answered questions on the pandemic through our U-Report platform and made recommendations to improve the future of Canada. The Reimagine Playbook, written by youth who participated in UNICEF Canada's National Child Day event, sought to inspire a better future for young people in Canada with recommendations on education, mental health, Indigenous sovereignty, climate change, democracy, and systemic racism.
3) Protection for migrant and refugee children, returning home and abroad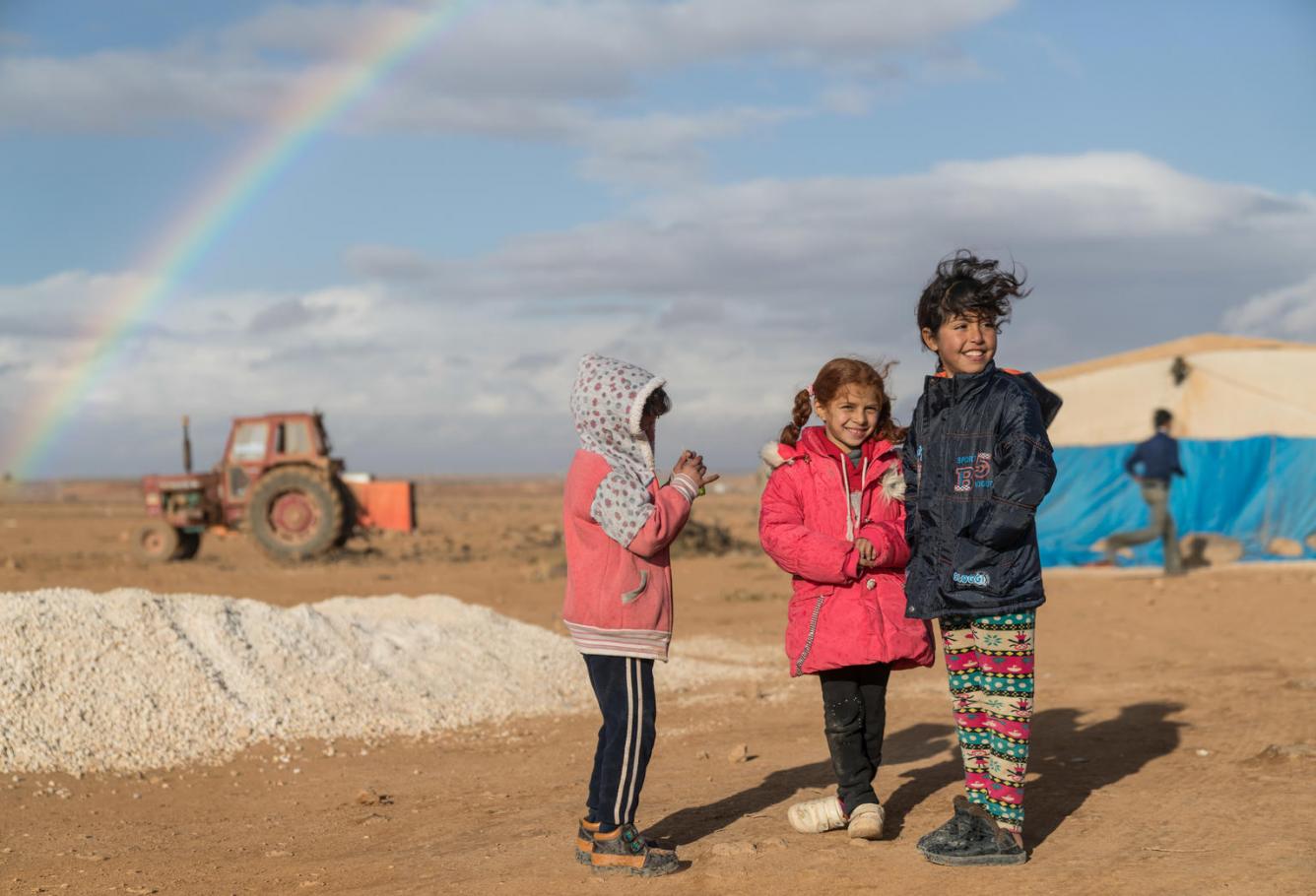 One of the biggest questions UNICEF faced in our child protection response during COVID-19 was how do you shelter at home when home is a temporary shelter in a refugee or internally displaced persons (IDP) camp, or a foreign city, far from your home country?
To support children and families, UNICEF Syria partnered their Curriculum B program – designed to accelerate learning for children who have been out of school due to the ongoing conflict – with an World Food Program electronic voucher program which allowed families whose children were enrolled in Curriculum B to purchase food items and cleaning supplies. UNICEF Honduras worked to provide rapid COVID-19 testing as well as psychosocial support, including kids' help telephone lines, for children and young people who had returned to Honduras after being deported. And in Ethiopia, UNICEF-supported social workers worked with young people undergoing quarantine following deportation, to ensure that they would have access to essential supplies and services upon release.  
4) Supplying the fight against COVID-19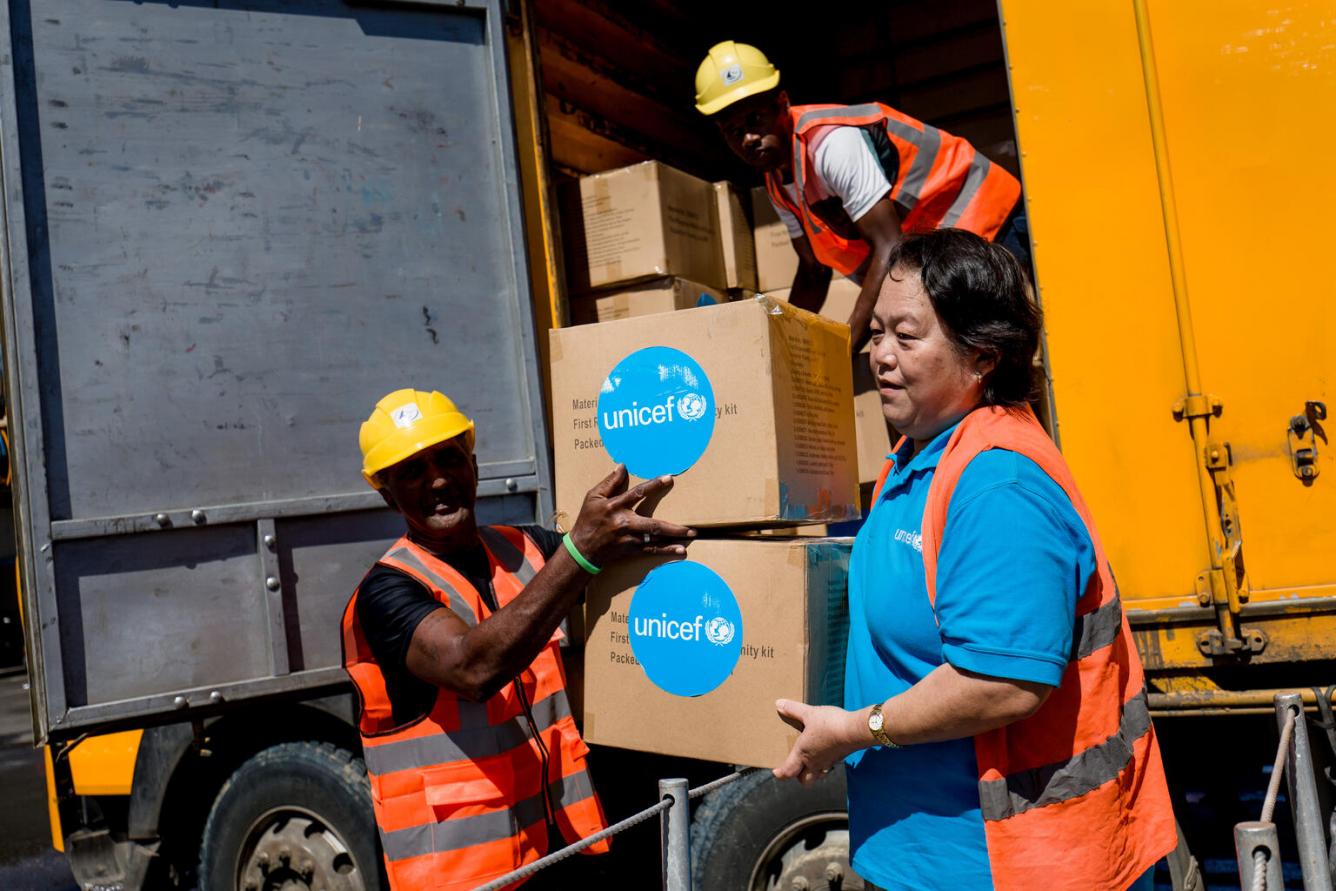 Ensuring that doctors, nurses and other healthcare workers – as well as community volunteers and social workers – had the proper equipment to protect themselves and patients, while continuing vital work during the pandemic was an important goal of UNICEF's in 2020.
From our global supply division warehouses, we distributed personal protective equipment (PPE), water, sanitation and health (WASH) supplies and vaccines, among other essential supplies. In Spring 2020, UNICEF Spain donated more than 400,000 face masks, as well as more than 1 million gloves, 100,000 virus detection kits and 1,000 sets of personal protective equipment, to equip Spain's response to COVID-19. In Syria, UNICEF offered sewing lessons at a UNICEF-supported youth centre, where young people can learn trade skills, to produce masks for children and families around the country. Finally in Burundi, where hygiene and sanitation supplies like soap are a luxury for the majority of the population, UNICEF partnered with one of the largest soap manufacturers in the country, to produce a special, low-cost soap which would also be distributed for free to the most vulnerable children.
5) Defending every child's right to a childhood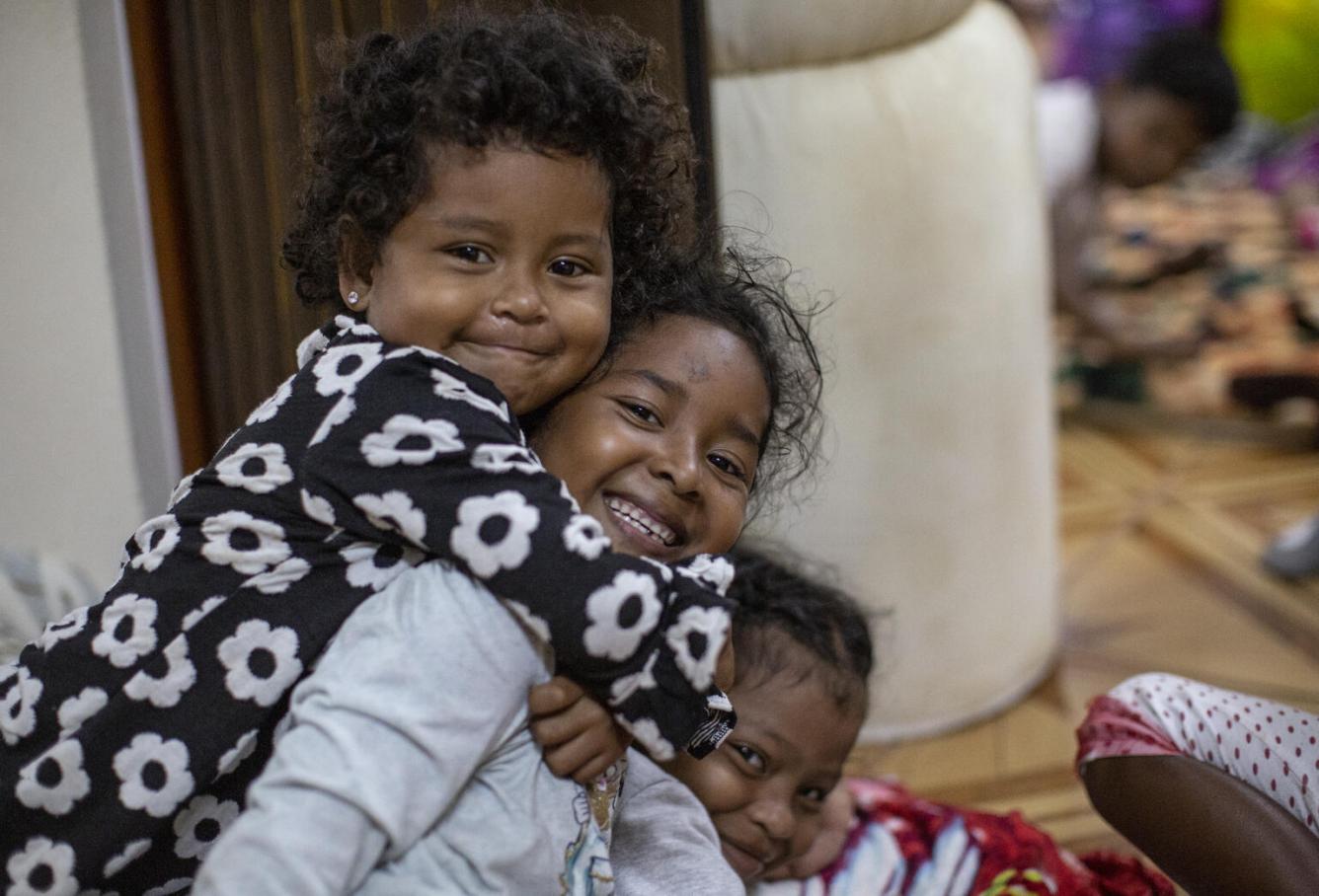 While much of UNICEF's work in 2020 was responding to the COVID-19 pandemic, UNICEF staff around the world were also hard at work ensuring that children did not miss out on important aspects of their childhoods – whether because of COVID-19 or other pre-existing challenge such as conflict and natural disasters.
Civil registrar Chioma Agudosi – who lives in Nigeria and works at a UNICEF-supported health clinic – made it her mission to ensure that babies born in 2020 were still being registered; an important first step in ensuring every child's right to an identity. In Kyrgyzstan, UNICEF volunteers worked with the Government of Education to transcribe and translate online lessons; ensuring that every child in the country could continue their education, regardless of the language they spoke. And in Brazil, UNICEF distributed food baskets – as well as COVID-19 information and hygiene supplies – to vulnerable families in need.